by John Nyaradi
Newton's First Law Of Motion suggests that an object in motion tends to stay in motion unless acted upon by an outside force and in the world of ETFs, this is known as "the trend is your friend," since investment classes in motion tend to stay in motion until something acts upon them to change the trend.
April turned out to be a very lucrative month for many investors. The S&P 500 (NYSEARCA:SPY) advanced 1.8 percent during the month Many stocks, sectors and ETFs made big gains. On the other hand, while the bulls were on the rampage, many ETFs and sectors were left in the dust. Worse yet, many sectors and ETFs actually declined during April. This would be easy to understand if we were talking about inverse ETFs. Unfortunately, some sectors had no excuse for falling in April. They were simply the wrong place to be last month. Unfortunately, many investors remained in those positions for too long, believing that those investments would follow the rest of the market. Unfortunately, that never happened.
Hot ETFs and Sectors For April
Contrary to what many investors expected, low-risk, defensive sectors did best and the higher-risk areas underperformed. As the chart below indicates, the best-performing area was the utilities sector (chart courtesy of Stockcharts.com).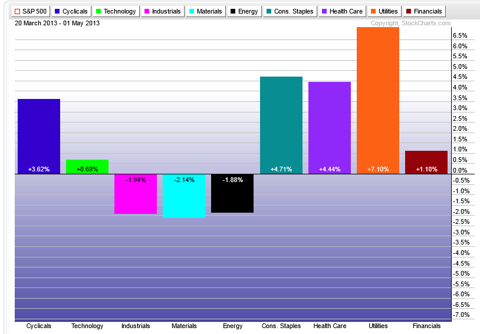 As the chart indicates, the utilities sector advanced 7.10 percent between March 20 and May 1. Investors who purchased shares in the Utilities Select Sector SPDR ETF (NYSEARCA:XLU) on March 31, realized a gain of 5.95 percent by the closing bell on April 30.
Investors in the Consumer Staples Select Sector SPDR ETF (NYSEARCA:XLP) realized a gain of 3.04 percent during April. In case you haven't noticed by now, the last eleven days of March added a bit more impact for the chart than we would have seen if it had been limited to the thirty days of April.
Many investors in the solar sector who were fortunate enough to have owned some shares in the Guggenheim Solar ETF (NYSEARCA:TAN) during April saw the share price jump 28.9 percent during that month. Rumors that Warren Buffett was interested in buying Suntech Power (NYSE:STP) helped fuel the surge.
International ETFs had a good run during April. Those who were willing to chase beta and bet on Italy had a good month. Investors in the iShares MSCI Italy Index ETF (NYSEARCA:EWI) saw the share price climb 11.9 percent during April. Although Germany may have seemed like a "no brainer", the iShares MSCI Germany Index ETF (NYSEARCA:EWG) advanced by a more modest 4.42 percent during April. On the other hand, those who had faith in "Abenomics" – Prime Minister Shinzo Abe's program for rescuing Japan's economy – saw their shares in the iShares MSCI Japan Index ETF (NYSEARCA:EWJ) jump 11.3 percent.
Cold ETFs and Sectors For April
Those who were persuaded by all of those advertisements about investing in gold had a very unpleasant April. Investors in the Market Vectors Junior Gold Miners ETF (NYSEARCA:GDXJ) watched their position become 15 percent less valuable than an investment in rolls of shiny quarters, available at any bank. The "big league" gold miners didn't fare much better. The Market Vectors Gold Miners ETF (NYSEARCA:GDX) retreated by 13 percent during April. Despite the hype silver had been receiving, "old school" pro photographers who still use film would have enjoyed a great month if film manufacturers passed their savings along to the customer in the same manner as occasionally practiced by the petroleum industry. Silver prices sank. The iShares Silver Trust ETF (NYSEARCA:SLV) fell 11.5 percent during April.
Bottom line: April produced winners and losers, as every month does, and a careful look at these winners and losers can point the way to potential gains as April showers turn into May flowers. Although investors understood that the market was in a "risk on" mode through most of April, risk did not necessarily pay. Those who stuck with low-risk defensive sectors and ETFs did well, while those who placed their faith in tech, the materials sector and industrials spent too much of the month looking at red numbers.

Disclosure: Wall Street Sector Selector actively trades a wide range of exchange traded funds and positions can change at any time.
Disclaimer: The content included herein is for educational and informational purposes only, and readers agree to Wall Street Sector Selector's Disclaimer, Terms of Service, and Privacy Policy before accessing or using this or any other publication by Wall Street Sector Selector or Ridgeline Media Group, LLC.