This article was written on a Surface RT and edited on my Nokia Lumia 822. If I sound harsh in this article, it's tough love by a Microsoft enthusiast.
For those of us who are bullish on Microsoft (NASDAQ:MSFT), the last few weeks have felt like finding an oasis in a desert of bad news and forecasts of doom. Last week, the company beat (admittedly lowered) earnings expectations by .04 cents per share. Then, hedge fund ValueAct took a $2 billion stake in the company. The price has rallied on both pieces of news. However, what I personally am the most excited about is a new report from Strategy Analytics indicating that Microsoft's Windows 8 and RT operating systems had managed to carve out a 7.4-5 (the rounding is different for different sources) market share for new tablets sold. This amounts to approximately 3 million total units over the course of Windows 8's 6 month lifespan (assuming that any units sold from October-December last year were also lumped in. If not, the total numbers since the Windows 8 launch could be higher).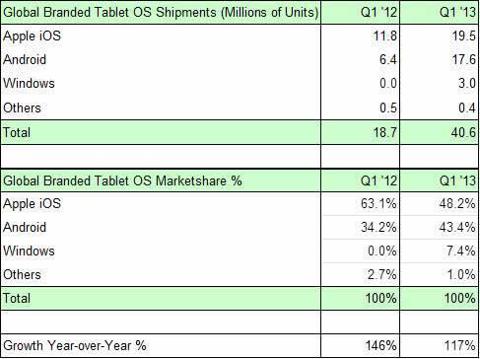 Click to enlarge
(Source: Strategy Analytics)
There are a few implications that we can draw from these numbers for old Mr. Softie. I would sum them up as: all that was working against you and you still managed to take third? Wow.
As the Strategy Analytics report points out, this accomplishment is in spite of (to paraphrase them) a lack of popular apps and confusion caused by the presence of Windows 8 and Windows RT on the market at the same time. Three million tablet users, on top of users of Windows 8 PCs and laptops, could go a long way towards fixing the first problem by encouraging developers. The second issue is thornier, since at first glance there is no obvious way to tell the two operating systems apart. The interface is the same and the form factors on the tablets are pretty well indistinguishable. Someone who doesn't follow the tech news could easily buy an RT tablet as a laptop replacement, only to discover that they're limited to the Windows App Store. This is an issue that needs to be addressed going forward, either through more specific advertising or, as some have advocated, scrapping Windows RT in favor of Intel Atom based full Windows 8 tablets.
The 7.5% market share is also in spite of limited distribution for all models. If you wanted to buy a Windows 8 tablet, your venues are limited. In the United States, if you prefer to buy your technology in person, you can get an iPad and/or an Android tablet at Wal-Mart (NYSE:WMT), Target (NYSE:TGT), the Apple Store (NASDAQ:AAPL), Barnes & Noble (NYSE:BKS) and Fred Meyer (a branch of Kroger (NYSE:KR)). The Surface, the flagship Windows tablet, is limited to Best Buy (NYSE:BBY), Staples (NASDAQ:SPLS) and 60-odd Microsoft stores. Best Buy and Staples aren't small players by any means, but they're dwarfed by the likes of Wal-Mart. Internationally, the Surface RT is available in a limited number of markets and the Surface Pro is currently only available in the United States, Canada and China. This is changing, but it is still slow going. Other models from OEMs like Samsung (OTC:SSNLF) are available from other retailers, but the pickings are still limited.
Another stumbling block is the price of many of these Windows 8 tablets. Many 10-11.5 inch tablets with 2 GB of RAM and 64 GB hard drives can sell for upwards of $600 (note the original price). For $600, a customer could get a touch screen laptop with thrice the RAM and a 500 GB hard drive. There are significant differences (the performance boost of having a solid state drive on the tablet, for instance), but the fact remains: the current crop of Windows tablets simply can't match a good laptop for the same price. You're paying for portability at the expense of performance. Compounding the issue is the fact that tablets are mainly media consumption devices, so given the choice of a Surface RT for $499 or a Kindle Fire HD 8.9 inch tablet for $269, a lot of people are going to choose the Kindle Fire. (The prices have begun to come down for many older models, which could lead to stronger sales going forward. This, however, was not the case during the January-March period).
Finally, and this is related to the price issue, Microsoft's operating systems don't currently support 7-8 inch screen sizes. Customers adore these mini tablets, due in part to their lower price and greater portability (I can fit my Nook Tablet in my jacket pocket… my Surface, not so much). Apple released the iPad Mini and the sales were so strong that they made a significant dent in regular iPad sales. This is a key part of the market and Microsoft currently has no offerings in it.
And do I even need to mention that it would be the height of charity to describe the reviewer and customer reaction to Windows 8 as tepid?
In summary, Microsoft's tablet initiative suffered from releasing two identical looking but very different operating systems on the market at the same time in the same form factors, a small and incomplete pool of apps, and being too big and expensive for current market tastes. And yet, Microsoft has made a very respectable third place in its first full quarter of Windows 8 tablets. This is like winning a bronze medal at the Olympics despite showing up late and having lead weights strapped to your legs. The appeal of a tablet that can run Windows programs, especially Microsoft Office, is apparently just that strong.
Can Microsoft rest on its laurels at this point? Heck no. Samsung has scrapped plans for Windows RT tablets in the U.S., public consciousness of Windows tablets outside of the Surface is weak and, to draw on my personal experience, some people use the word "iPad" to describe all tablets in the same way that the word "Kleenex" has come to mean "tissue paper." But this is a phenomenal start given Microsoft's disadvantages, and as the Windows Blue update (giving OEMs the ability to put Windows 8 and RT on smaller form factors) starts to chip away at those handicaps, I expect good things from Microsoft in tablets.
Disclosure: I am long MSFT. I wrote this article myself, and it expresses my own opinions. I am not receiving compensation for it (other than from Seeking Alpha). I have no business relationship with any company whose stock is mentioned in this article.