U.S. auto recovery is well on track with Ford (NYSE:F) reporting an 18% increase in sales in April. The reported number was above analyst estimates for a 17% gain. A Detroit News article reports there is pent-up demand for vehicles, and that it is not a driving sales force yet. The average age of vehicles on the road increased to 11.2 years in 2012 from 10.8 years in 2011, suggesting that hundreds of thousands of vehicles need to be replaced. Ford also reported earnings on April 24th, beating analyst estimates. The housing and auto recovery are the driving force of the sluggish economic recovery, and Ford is one of the beneficiaries.
Earnings highlights
Ford reported net income of $0.41 per share, beating analyst estimates. Revenue increased 10% to $35.8 billion, also beating estimates. North America was the strongest region with a 20% increase in revenue in the first quarter, followed by a 13% rise in the Asia-Pacific region. South America and Europe were weak, with 4% and 7% decrease in revenue in the quarter.
Operating margins decreased in South America due to the devaluation of the currency in Venezuela. Operating margins were also lower in North America and Europe. Europe was impacted by higher pension costs, while the company is adding workers to keep up with demand in North America and the shift to smaller cars affects the margins. Ford still expects to lose $2 billion in Europe this year, and expects to swing to profitability by mid-decade. With addition to higher pension costs in Europe, market factors and exchange rates were also unfavorable.
Ford has shown exceptional strength with April U.S. sales rising 18%, above the expected 17% rise. Fusion and Escape established sales records, with sales increases of 24% and 52% respectively. F-series pickup sales also increased 24% to 59,030, the best level since 2006.
Competition and price performance
General Motors (NYSE:GM) also reported earnings above analyst estimates. GM seems to be doing better in Europe with its turnaround efforts. The company also expects to turn profitable in Europe around 2015, and reported an adjusted loss of $0.2 billion, compared to $0.3 billion in the first quarter of 2012. GM's adjusted earnings were lower than a year before, as the company is investing heavily and expects to refresh 70% of its 2012 portfolio. GM reported an 11% increase in April U.S. sales, topping analyst estimates for a 10% rise.
Ford is lagging GM recently, and the stock price is having trouble reaching its 52-week highs it achieved at the start of the year. GM reached new 52-week highs recently. I consider relative strength very important, and it points to GM being a better choice right now, as it is performing better than Ford. GM is also my favorite as explained in my early January article. The reasons in favor of GM then were: higher expected growth rates, lower PEG ratio and GM being purchased by famous value investors, like Warren Buffett and David Einhorn. Those reasons are still present today, with addition of relative strength.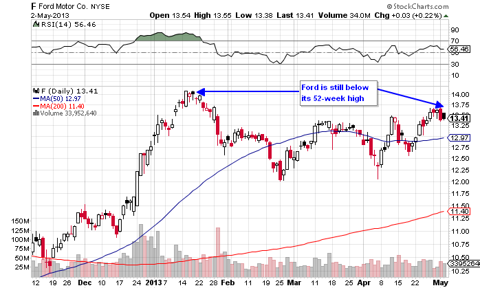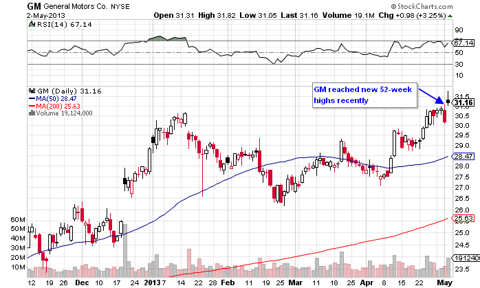 Source: Stockcharts
Conclusion
Although GM might be a better choice of investment, Ford is not much behind. The company keeps delivering strong U.S. growth, and Europe remains the weakest spot for the company, with elevated turnaround efforts. The greatest short-term obstacle is the $14 price level, and it would be very positive for the stock if it could break out to new 52-week highs.
Disclosure: I have no positions in any stocks mentioned, and no plans to initiate any positions within the next 72 hours. I wrote this article myself, and it expresses my own opinions. I am not receiving compensation for it (other than from Seeking Alpha). I have no business relationship with any company whose stock is mentioned in this article.