In previous articles that I wrote at the end of last year and at the very beginning of this year, I provided some quick pick lists of dividend stocks. This article will take a look at four of the stocks highlighted previously, and collectively these stocks have trounced the return of the S&P 500 from January 1, 2013 through today, May 3, 2013. We will look at how and why the stock price has increased, what dividend the stocks currently pay, and potential catalysts for continued positive performance.
In an article that was published on here on December 26, 2012, I wrote about five dividend stocks with 7% or higher dividend yields. Those stocks were found using a stock screener. Calumet Specialty Product Partners, L.P (NASDAQ:CLMT) was one of the stocks from that article. Its stock price closed on December 26, 2012 at $29.40. As of 9:12 AM Pacific Time on May 3, 2013, the stock price is currently at $37.16. It currently has a dividend yield of 7.2%.
On December 29, 2012, an article I wrote was published on here presenting four dividend stocks also with 7% or higher dividend or distribution yields. Apollo Commercial Real Est. Finance Inc (NYSE:ARI), Global Partners LP (NYSE:GLP), and Martin Midstream Partners LP (NASDAQ:MMLP) were three of the four stocks discussed there. Apollo Commercial Real Estate closed the day of December 28, 2012 at $15.80 per share and is currently trading on May 3, 2013 at $17.89. It has a dividend yield of 9.2%. Global Partners finished the day of December 28, 2012 trading at $24.48 per share and is currently at a staggering $34.53 per share on May 3rd. It has a distribution yield currently of 6.5%. Martin Midstream Partners was trading on December 28, 2012 at $29.86 per share and has risen to $41.06 per share currently on May 3, 2013.
The following is a chart of these five stocks' performances from January 1, 2013, through the current time of day on May 3, 2013, and it is compared against the performance of the S&P 500 for that same time period.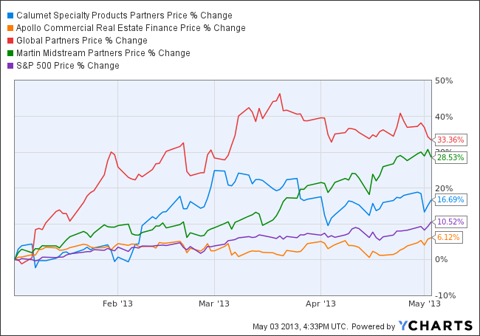 The average return of the four stocks thus far this year, using the chart above, is 21.17%. That does not include dividends. These stocks have outperformed the S&P 500 by a lot.
Calumet Specialty Partners has had things go right for it this year, price wise and news wise, and if it can continue this, the price can continue to rise. In its most recent earnings release for the fourth quarter of 2012, it met earnings expectations by analysts. It releases its first quarter 2013 earnings on May 8th. The biggest thing that I see that has gone right for the company is that for this upcoming earnings release, the consensus analyst estimate called for $0.70 per share 90 days ago, and is currently at $1.04 per share. The full year 2013 estimate was at $3.68 per share 90 days ago, and is now at $4.45 per share. If it can continue to deliver on its earnings estimates, it should be able to maintain a high yield and continue to rise if earnings increase further. Beating analysts' estimates for its upcoming earnings release could push this stock to new highs as it is less than 10% away from its 52 week high.
Apollo Commercial Real Estate has been the worst performing stock of the four highlighted here. It does pay a 9.2% dividend yield though, and when factoring that in, it has about matched the performance of the S&P 500 thus far this year. As pointed out in this Dividend Channel article published on Forbes, Apollo recently was selling below its book value. Value investors and dividend investors alike could take a strong look at this stock, and any increased buys in the company's stock could increase its popularity among investors and lead to price increases. In its most recent earnings release, it was mentioned that its $688 million investment portfolio produced a nice internal rate of return of 12.9%. Strong earnings in the future can help the company maintain and grow its dividend and cause more people to invest in the stock, which would help it continue to rise in price.
Global Partners has been the best performing stock of these four so far in 2013. Its earnings for the quarter ending in December of 2012 obliterated analyst expectations. It earned $0.81 per share compared to an estimate of $0.50 per share. Its next earnings release is on May 9, 2013, and beating expectations again could boost the stock price even further. The company recently increased its quarterly distribution yield, which should make investors happy as everyone is enjoying its great earnings.
Martin Midstream Partners has had a great return thus far in 2013. It reports earnings on May 6, 2013. Jim Cramer just recently recommended the stock and said it is a "buy." It also increased its next distribution amount to shareholders. As highlighted in this article, Martin Midstream Partners' subsidiary was selected to distribute oil for Shell in a project. More contracts and deals with larger companies could help Martin Midstream Partners do even better and could potentially even lead to a merger.
Disclaimer: Please conduct your own research and due diligence before deciding whether or not to invest in any of these stocks.
Disclosure: I have no positions in any stocks mentioned, and no plans to initiate any positions within the next 72 hours. I wrote this article myself, and it expresses my own opinions. I am not receiving compensation for it (other than from Seeking Alpha). I have no business relationship with any company whose stock is mentioned in this article.