This week commences with a number of important data points ahead of the Royal Bank of Australia (RBA) interest rate decision on May 6th. First are the inflation and retail sales numbers for Australia, with recent inflation numbers trending down and retail sales numbers staying strong. If inflation continues to trend down, it provides further room for a rate cut leading to downward pressure on the AUD (NYSEARCA:FXA), and if retail numbers stay strong, the AUD should strengthen.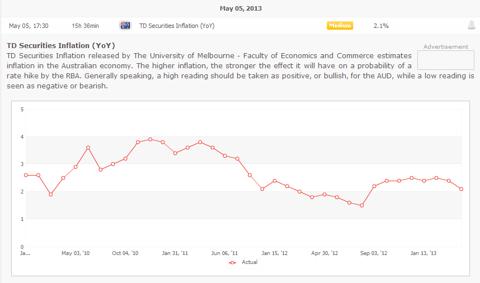 Click to enlarge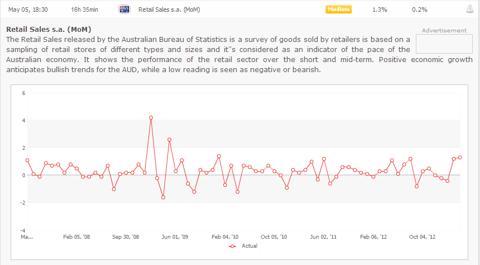 Click to enlarge
Next up is the HSBC China Services PMI, which will also have ramifications for the AUD and New Zealand Dollar (NZD). But more importantly, the strength of this number will provide insight into how the transition from manufacturing to services is progressing, or outward versus inward growth, in China. This number has been in the expansionary zone (above 50) for the past year.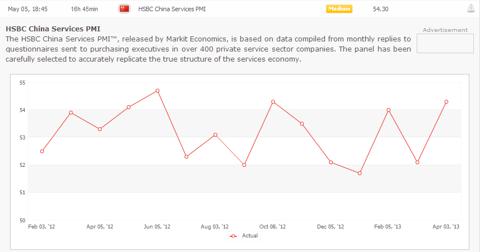 Click to enlarge
The morning of May 6th Pacific Standard Time (PST) sees a number of Canadian data releases that will impact the CAD (NYSEARCA:FXC). Namely building permits and the Ivey Purchasing Managers Index, both forecasted for lower prints than they saw at the beginning of April. With the recent strength of the CAD, these will be particularly important, as strong numbers in both of these could see the CAD break parity with the USD.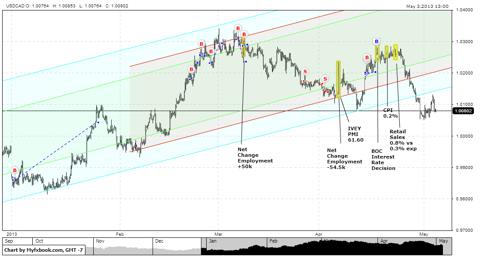 Click to enlarge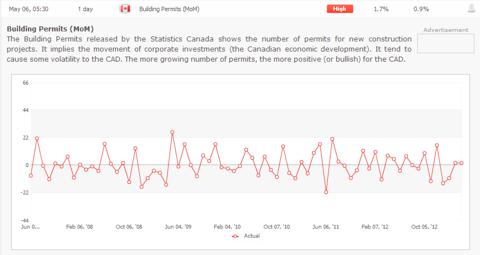 Click to enlarge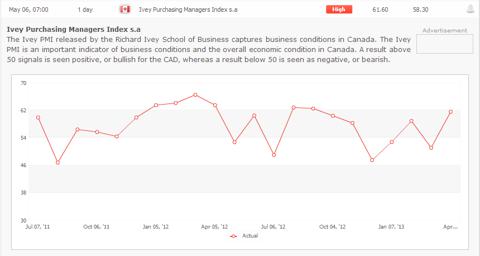 Click to enlarge
The evening of May 6th PST features the marquee event of the week, the RBA interest rate decision. This is precluded by the Australian Trade Balance a few hours earlier, which I'll be watching closely. If the AUD trade balance continues to deteriorate, the rate cut becomes much more likely, and if not that, at least a dovish statement from the RBA. In any event, with unemployment at 5.6%, there isn't a sense of urgency for a rate cut as of yet, although the trend in employment is worsening.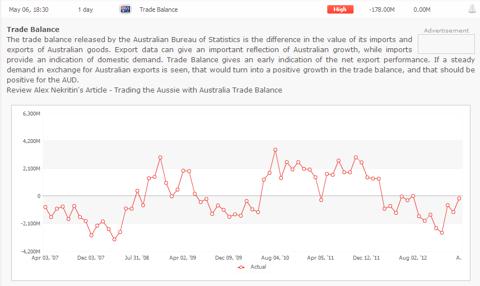 Click to enlarge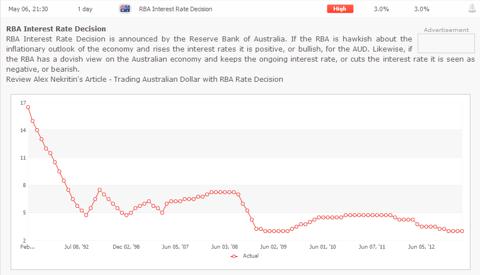 Click to enlarge
Things aren't looking good for the trade balance though, as exports and new orders have been taking a hit in Australia.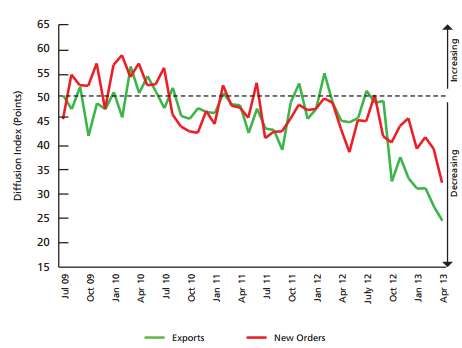 Source: Sober Look
The event I'll be watching closely on May 7th is China's trade balance. It has seen a number of successively lower prints, which may be partly seasonal given the same downtrend was seen around January of last year. A worsening trade balance signals further slowing down in China and bad news for the AUD, in addition for commodities.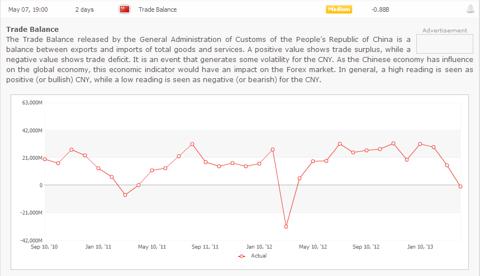 Click to enlarge
May 8th features employment numbers for New Zealand and the employment change for Australia. I consider any data being released within a few days of a central bank interest rate announcement to already be in the hands of the central bank, therefore if there is a dovish statement from the RBA, I'd expect a poor employment number later in the week and further selling of the AUD.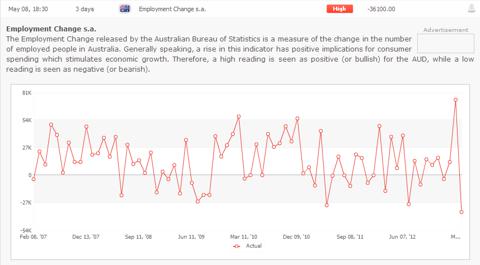 Click to enlarge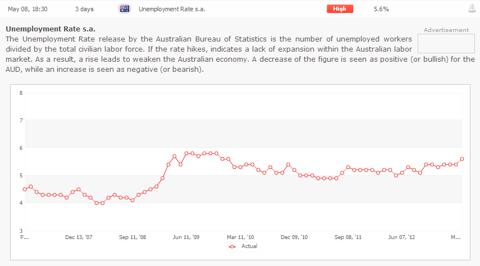 Click to enlarge
Taking it back to the western world, the US jobless claim numbers and Bank of England interest rate decision comes up May 9th. The GBP (NYSEARCA:FXB) isn't a currency I've been trading as of late, so I'll withhold comment, but the US jobless claims will have a big impact as usual. If the downtrend in jobless claims continues to strengthen, it'll be good news for the AUD and CAD as well as act as a catalyst for further highs in the S&P500 (NYSEARCA:SPY).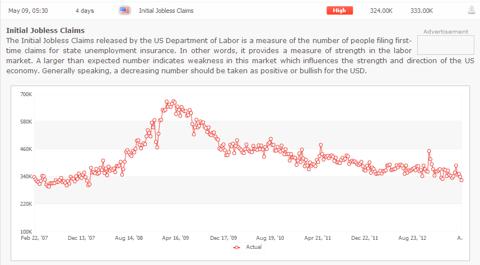 Click to enlarge
A particularly interesting number to watch will be Japan's Current Account Balance to be released the afternoon of May 9th. The QE experiment taking place in Japan is historic, and another big current account surplus, which is what ought to be expected, may provoke further commentary from China and the rest of the world. With regards to its impact on the JPY (NYSEARCA:FXY), the last positive current account surplus was followed by the USDJPY's first run at 100, but with everything else that was happening at that time, I wouldn't look too much into the past price action around the event. Generally, I'd expect a large current account surplus to see the JPY selloff, but with all the leverage and participants in that trade currently, the price action has been all over the place.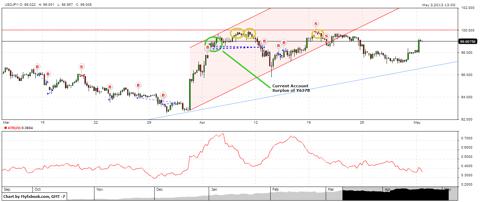 Click to enlarge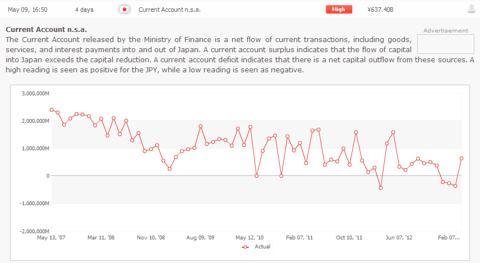 Click to enlarge
Also, as one of my favorite Twitter users @Jesse_Livermore noted, with unemployment in Japan at 4.3%, what exactly is there to stimulate?
May 10th brings us back to my homeland of Canada with employment numbers being released in the morning. Unemployment in Canada has been far weaker than in other commodity export driven economies such as Australia, with the unemployment rate at 7.2%. Like the AUD, the CAD is coming off a poor employment print with 54,000 jobs reported lost on April 5th. Expectations are for 13,000 jobs created, but if it comes up short and unemployment rises again, the CAD could once again start trending up to the 1.03 range.
The US and Canadian economies are closely tied together though, so the positive US numbers may translate into positive CAD numbers, but keep in mind if they don't, the Bank of Canada doesn't have the same room as the RBA to cut rates with interest rates in Canada at 1%.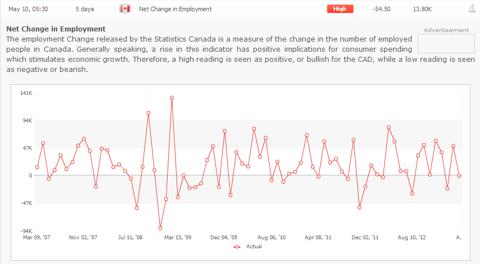 Click to enlarge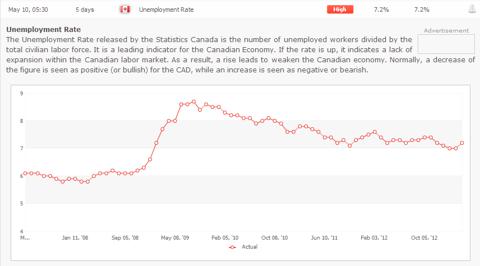 Click to enlarge
*All event graphs sourced from MyFXBook.com.
Disclosure: I am short FXC. I wrote this article myself, and it expresses my own opinions. I am not receiving compensation for it (other than from Seeking Alpha). I have no business relationship with any company whose stock is mentioned in this article.
Additional disclosure: I am actively trading the FOREX market and may be either long or short the currencies discussed at the time of this article's publication.