On Friday, I opened several more long-term bullish positions on Opko Health (OPK). Despite my own reluctance given the current valuation, the developing diagnostics and pharmaceutical drug company continues to play a very active role in establishing a promising future. The company now trades at a market capitalization of $2.17 billion and as of April 15, had 28.9 million shares short representing 21.1% of the share float. This sits uneasy in light of the company's high price-to-book ratio of 11.05 and price-to-sales ratio of 45.08. As a development company, it also fails to have positive earnings in the present and stands to bear more losses next year, according to analyst expectations.
Despite this, the company has shown consistent resilience when it comes to share price. Since the end of 2009 as the Great Recession's effect on the market began to wane, the company has steadily built several levels of support as seen in the chart below. The company's beta has also steadily fallen, an indicative sign that the company's volatility is simultaneously being addressed. This suggests that the trend remains stable as does the outlook.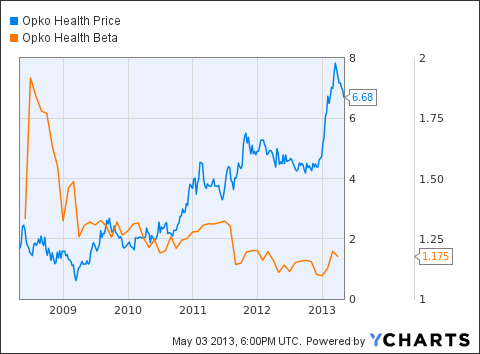 OPK data by YCharts
Part of the reason why hope in Opko's future remains bright lies in its ongoing spree of acquisitions. The company's CEO, Dr. Phillip Frost, has been well known for his capabilities to bring together technologies that address valuable and often overlooked markets. In the last half year, the company's made the following acquisitions:
Prost-Data, Inc. Enables stand-alone lab testing service and supports U.S. launch of the company's 4KScore product for the detection of prostate cancer.

Silcon Comercio. Provides cross marketing opportunities and strategically permits commercialization of the 4KScore product in Brazil.

Cytochroma Inc. Acquires two lead products in Phase 3 clinical trials which target the markets for Kidney Disease.

OAO Pharmsynthez. Opko acquired a 10% stake in partner company and establishes agreements that allows the company access into Russia and the Eastern European markets for its chronic kidney disease and 4KScore platform.

PROLOR Biotech. Opko adds long-acting versions of human growth hormones to its product portfolio with the ability to address markets such as growth disorders, hemophilia, and type 2 diabetes.
Through each of these acquisitions, Opko Health has collectively managed to increase its ability to extend its global reach, diversify its product portfolio, and gain marketing synergies. It's done so by utilizing its higher market capitalization in order to leverage its value. As seen through the filed statements with the SEC, almost all of these acquisitions involved some compensation through the use of Opko's stock. In the most recent arrangement with PROLOR for instance, the acquisition is to be a 100% all-stock transaction. In conducting these purchases, the company is utilizing its rising stock price in order to further strengthen its operational foundation.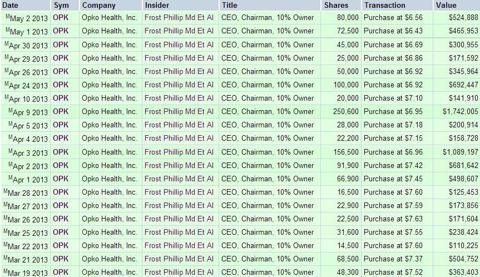 Why this remains so intriguing lies in the fact that Dr. Frost has continually purchased shares on the open market and has done so since he became the CEO of the company in 2007. His near daily purchases have provided a stable reason to continually invest in the company thereby raising the stock price in a seemingly sustainable fashion as seen in the chart above. Realistically, his ongoing purchases have allowed him to maintain a proportionate position in the company as it continues to expand through the use of stock.
It appears as if Opko Health is ultimately being leveraged by the CEO's wealth. As of the latest Form 4 filed here, Dr. Frost effectively controls 140,768,990 shares of the company which equates to a position worth nearly $940 million as of the latest share price. Such confidence and effective use of capital in order to firmly establish one's company remains an enticing reason to believe in its prospect alone. Yet when one looks over the evolving scope and capabilities of the product portfolio, it's also clear that there is a substantial amount of value that is now developing and thereby waiting to be realized in the near future.
Disclosure: I am long OPK. I wrote this article myself, and it expresses my own opinions. I am not receiving compensation for it (other than from Seeking Alpha). I have no business relationship with any company whose stock is mentioned in this article.