One of the keys to achieving outperformance as an investor is being aware of and taking advantage of sector rotations within the market. A lot of a portfolio's yearly performance is due to allocations to the right sectors, not necessarily the right stocks. A good example of this in 2012 was investments in the refinery sector. It really did not matter whether one held Valero (NYSE:VLO), Tesoro (NYSE:TSO), Calumet Specialty Products Partners (NASDAQ:CLMT) or a host of other refiners last year, all delivered mighty gains.
Investors who have held large allocations in defensive sector ETFs like Utilities (NYSEARCA:XLU), Consumer Staples (NYSEARCA:XLP) and Healthcare (NYSEARCA:XLV) over the last three months have done well and have easily outperformed the overall market and have easily bested Technology (NYSEARCA:XLK) & Energy (NYSEARCA:XLE) which have been laggards to the market over the last 90 days (See chart).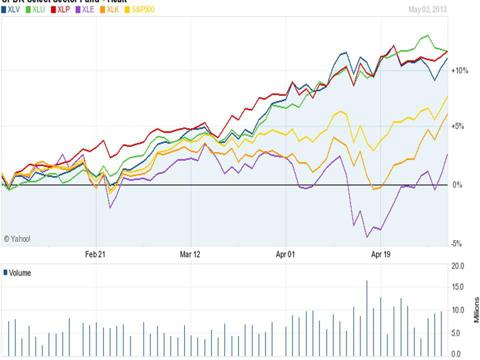 However, with the Fed's reassuring announcement this week that they will continue to support the economy by continuing or expanding QE efforts as necessary and a much better than expected Jobs Report Friday, that is starting to change over the past five trading sessions (See Chart).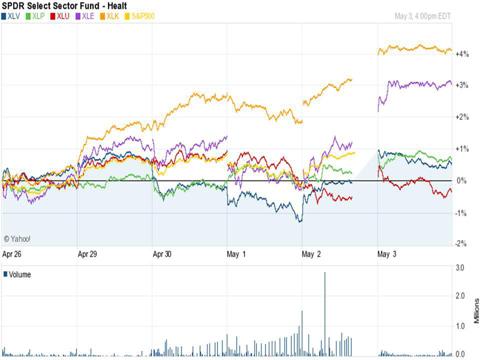 With defensive sectors trading at a premium to the market, investors should plan to start rotating into the cheaper Energy & Technology sectors as they stand a very good chance of outperforming in the months ahead. Here are a couple of stocks in each sector that are cheap and have been performing much better recently.
Occidental Petroleum (NYSE:OXY) - This long time integrated energy laggard has moved up from $80 to $90 a share over the last month as change is afoot. Longtime Occidental Petroleum chairman Ray Irani just withdrew as a nominee to serve a new term on the board. This is a positive for the stock as Irani has clashed with the company's CEO who has proposed some positive moves to create shareholder value. These include increased stock repurchases and taking a closer look at options for selling assets or parts of the company including putting midstream assets into an MLP which would generate cash. The company has also reduced domestic well and operating costs to $14.06/bbl from $16.44 a year ago. Deutsche Bank just upped its price target to $112 from $90 while upgrading the shares from "Hold" to Buy". I outlined the other reasons I thought the shares could move higher from $80 in early March provided they made the right moves; and the company looks like it is committed to making positive changes.
Superior Energy Services (NYSE:SPN) - This oil services stock has already had a strong performance in 2013 unlike most equities in the Energy sector. However, SPN is still more than 30% under its levels achieved in late 2011. The stock sells at book value and has a five year projected PEG of under 1 (.68). The company has beat bottom line expectations for five straight quarters and consensus earnings estimates for FY2013 and FY2014 have ticked up over the last week. The shares sell for under 10x 2014's projected earnings. Finally, Jefferies just named it one of its favorite plays in the sector and Stern Agee upgraded the shares from "Hold" to "Buy" this week.
Corning (NYSE:GLW) - The specialty glass maker has been on a roll over the last couple of months after two years trading in a tight range. It recently announced a 10% dividend hike and the shares now yield 2.8%. It also announced a $2B stock repurchase program that replaced a $1.5B plan that still had authorization left on it. The company has a fortress balance sheet with almost $4B in net cash on the books (~18% of market capitalization). GLW sells at five year projected PEG of under 1 (.94), unusual for a stock that yields close to three percent. The stock is still cheap at 99% of book value as well as under 11x 2014's projected earnings and 7x operating cash flow.
Apple (NASDAQ:AAPL) - I think every investor knows by now how cheap Apple is on a fundamental basis. The stock goes for under 7x forward earnings after one subtracts its almost $145B cash hoard. AAPL has a minuscule five year projected PEG (.54) and is still expected to grow revenues in the low to mid double digits annually over the next few years. The company just announced the biggest stock repurchase program ($60B) in corporate history. The stock has had its best two week run in years as the buyback has put a solid floor under the stock along with an almost three percent yield. Sentiment, always a fickle bride, has turned remarkably on the shares since the firm's capital allocation decision. The shares have moved up some 15% since its recent bottom and it reclaimed its designation as the world's most valuable company by market capitalization. All of a sudden stories about how Apple has lost its mojo has become "How Apple May Get Its Mojo Back" and "Can Apple Hit $650 A Share By End Of The Year?"
Disclosure: I am long AAPL, GLW, OXY, SPN. I wrote this article myself, and it expresses my own opinions. I am not receiving compensation for it (other than from Seeking Alpha). I have no business relationship with any company whose stock is mentioned in this article.