After my recent article on Wal-Mart (NYSE:WMT), I decided I also wanted to take a look at its biggest competitor, Target (NYSE:TGT). Target is the second-largest retail discounter in the United States (after Wal-Mart). Its dividend history dates back to 1967, which I find very impressive.
In this article, I will judge TGT's growth in sales and profit over recent years. I will use WMT as a comparison for dividends, valuation and share repurchases.
We'll start by investigating Target's sales and income.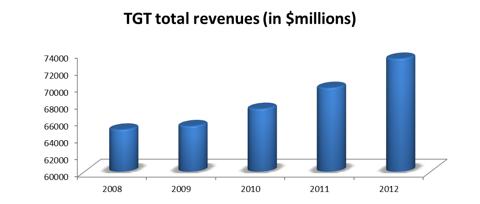 Target has managed to increase its revenues from $64.9 billion in 2008 to $73.3 billion in 2012. The number of stores hasn't changed too much over the past few years and is currently at 1.778. This is an increase of only 2% compared to 2009, when TGT had 1740 stores. The steady rise in revenues has also increased net income, as can be seen in the next graph.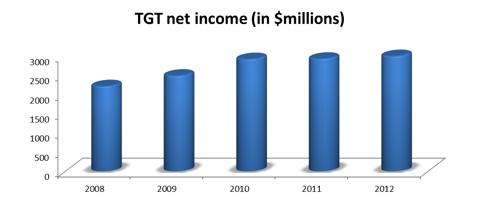 Between 2008 and 2012, net income went up by 35%, reaching close to 3 billion dollars in 2012. TGT is currently expanding into Canada and as can be read in their 4th quarter earnings report, this has lowered profits for the company in 2012. From the earnings report:
"Fourth quarter and full-year 2012 EBIT was $(148) million and $(369) million, respectively, due to start-up expenses, depreciation and amortization related to the Company's expected market entry in 2013. Total expenses related to investments in Target's Canadian market entry reduced Target's earnings per share by approximately 18 cents in fourth quarter 2012 and 48 cents in fiscal 2012."
Target rewards its shareholders with dividends and share repurchases.
Now going into its 46th year of dividend payments, TGT has paid its shareholders huge amounts of money. With a current dividend yield of 2.04%, it's just under WMT's 2.37%. TGT has more than doubled its dividends since 2008, and with a payout ratio of just under 30%, I could see the dividend going even higher.
Another way of returning money to shareholders is the repurchase of shares. In the past 5 years, TGT has reduced the total number of shares by over 100 million. TGT and WMT have bought back roughly the same percentage of shares since 2008.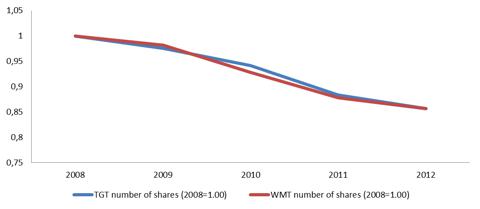 Valuation and conclusion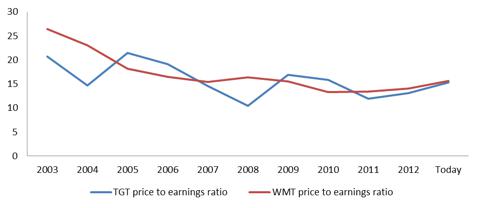 Target's current price to earnings ratio of 15.3 is very close to WMT's 15.6. When we look at Target's historical valuations, we can see it is just under its 10 year average of 15.9. I believe Target's expansion into Canada would justify a higher p/e as it is an opportunity to gain more income. In many aspects, such as its dividends and share repurchases, Target looks a lot like its biggest competitor. I believe both companies are great for dividend growth investors.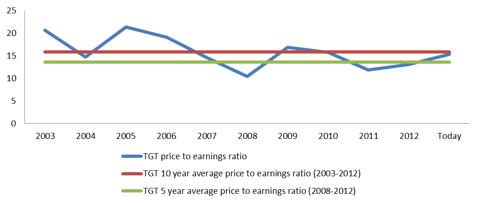 Disclosure: I have no positions in any stocks mentioned, and no plans to initiate any positions within the next 72 hours. I wrote this article myself, and it expresses my own opinions. I am not receiving compensation for it (other than from Seeking Alpha). I have no business relationship with any company whose stock is mentioned in this article.