Philip Morris (NYSE:PM) has many great qualities of being a 'Buffett stock' and a 'Peter Lynch stock'. A wide moat, nice and growing dividends, a strong brand name, and a fairly simple product with high barriers to entry. Another quality that Lynch sought after in his investments is the support of insiders. As we have pointed out in a few articles before, Philip Morris has been receiving this support from Fiat CEO Sergio Marchionne from 2010.
He has been part of the board of directors since the 2008 spin off from Altria Group (NYSE:MO).
Since that previous article about 6 months ago, Mr. Marchionne has bought 3000 more shares in 3 blocks of 1000 shares each.
This marks 22 buy transactions from Marchionne, with not even a single share being sold. All this, while a few others around him have been selling the stock, including the CEO Louis C. Camilleri.
The table below takes into account only direct purchases in the open market, ignoring non-open market acquisitions.
Whether he is 'required' to buy these shares as he is a member of the board is open for discussions but that does not take away the fact that he has put in his own real money into the stock. And so far, he has done very well for himself as shown in the table below.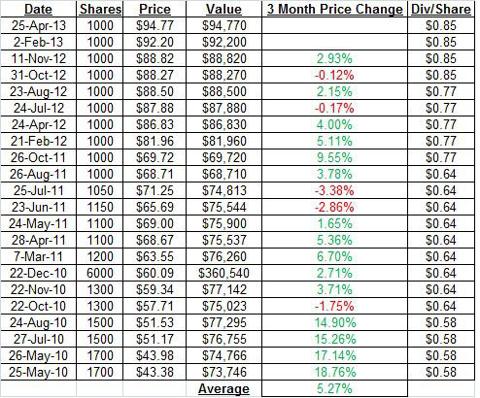 As noted in the previous article, perhaps the days of getting huge capital appreciation with PM is over but notice the last column. The dividends have gone up 46% since 2008 and there are no signs of a slow down.
PM has now paid the same dividend of 85 cents a share for 3 consecutive quarter, which means a new dividend is on its way in September.
Just to highlight the value of patience with a stock like this, Marchionne's yield on cost for the shares he purchased in 2010 should be close to 9%.
Conclusion: With a dividend increase around the corner, any pullback in Philip Morris should be a great opportunity to open a position or add to existing ones. Given Philip Morris' 5 year dividend growth rate of about 13%, investors should be looking at a new dividend of about $3.80 per share/yr.
Even if someone buys right now near the highs at $94, the yield on should at least be 4% come September when the new dividend is announced. With a 4% yield, an expected earnings growth of 12%, and insider support, this stock should be on the radar of both income seeking and value investors. If these things continue over a period of time, Philip Morris could well be on its way to matching its parent Altria's distinction of being the best performing stock over a 50 year period. (Altria held this distinction between 1957 to 2003.)
Disclosure: I am long PM. I wrote this article myself, and it expresses my own opinions. I am not receiving compensation for it (other than from Seeking Alpha). I have no business relationship with any company whose stock is mentioned in this article.