In the second article of this series, we examined the second of the top three promising U.S. LNG (liquefied natural gas) exporters, Dominion Resources (NYSE:D), that could benefit from the rising demand for LNG. Today, I will discuss about the top LNG exporter making business with natural gas (NYSEARCA:UNG) that could very much profit from the vast potential offered by the natural gas boom in the U.S. To see my article on this opportunity, click here.
Cheniere Energy (LNG)
Cheniere Energy, a Delaware corporation, is based in Houston, Texas. This energy company is primarily engaged in LNG-related businesses. As a matter of fact, Cheniere owns and operates the Sabine Pass receiving terminal in Louisiana through a subsidiary, Sabine Pass LNG L.P, with 89.3% ownership interest in management agreements with Cheniere Energy Partners, L.P. (CQP), a publicly traded partnership that was created in 2007.
Furthermore, Cheniere also owns and operates through its subsidiary, Creole Trail Pipeline L.P, a pipeline that interconnects the Sabine Pass receiving terminal with downstream markets. One of its subsidiaries, Cheniere Marketing LLC, is marketing LNG and natural gas as well as developing a portfolio of contracts to monetize the capacity at the Sabine Pass receiving terminal and the Creole Trail pipeline.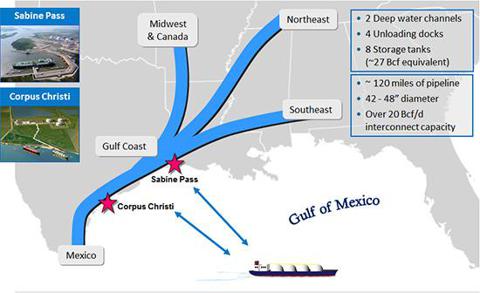 Click to enlarge
Source: Cheniere Energy
Cheniere is also developing projects to provide liquefaction and export services at its Sabine Pass terminal and at its site in Corpus Christi, Texas. Let's take a look at the assets and subsidiaries of Cheniere Energy before analyzing its financials and future outlook.
Sabine Pass LNG L.P.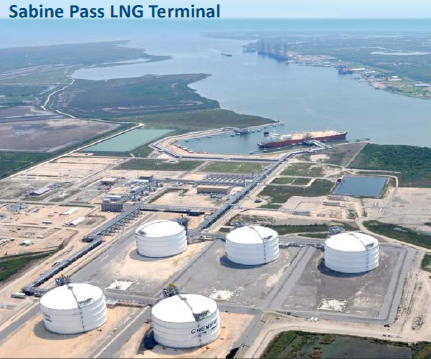 Source: Corporate Presentation, March 2013
The Sabine Pass terminal started service in April 2008. With a total send-out of 4Bcf/d (billion cubic feet per day), the Sabine Pass terminal became the largest receiving terminal by re-gasification capacity in the world. The current facility averages 1,000 acres in Cameron Parish, Louisiana and counts a 40 feet ship channel of 3.7 miles off the coast consisting of two berths and four dedicated tugs.
The terminal has five LNG storage tanks with total capacity of about 17Bcf of storage space. The facility has the capacity of transmitting about 5.3Bcf/d of pipeline interconnection. The facility has two 20-years contracted capacity agreements with renowned customers, Total (NYSE:TOT) and Chevron (NYSE:CVX) with 1Bcf/d each.
Cheniere Energy Partners L.P.
Cheniere Energy Partners is a partnership between Cheniere Energy, which owns 56.4%, Blackstone Group L.P. (NYSE:BX) with 30%, and 13.6% via public common shares.
Cheniere Energy Partners, under its subsidiary, Sabine Pass Liquefaction LLC, is developing a project to add liquefaction services at the Sabine Pass terminal. The liquefaction project will transform the Sabine Pass terminal into the world's first bi-directional facility capable of exporting natural gas in addition to re-gasifying imported LNG. You can see the U.S. Department of Energy granted license here.
Sabine Pass Liquefaction LLC
According to Cheniere Energy Partners, the liquefaction project has been designed for up to four modular LNG trains or units, each with an average liquefaction capacity of approximately 4.5Mtpa (million tons per annum). The project will use existing infrastructure, including the five LNG storage tanks currently on the site and two berths at the Sabine Pass terminal, as well as the 94-mile Creole Trail pipeline.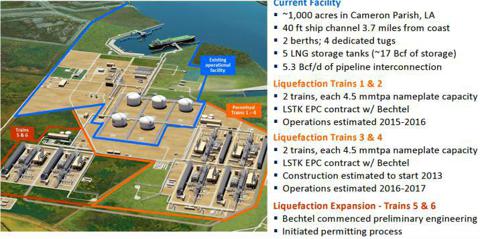 Click to enlarge
Source: Cheniere Energy
The Sabine Pass site is strategically located to provide export services given its large acreage position, proximity to unconventional gas plays in Louisiana and Texas and its interconnections with multiple interstate and intrastate pipeline systems. The Gulf Coast and Mid-continent regions contain five of the six major U.S. shale plays. The natural gas productive capacity in this region therefore represents a major part of the current and future U.S. production.
Sabine Pass Liquefaction LLC is working with Bechtel Oil, Gas and Chemicals to design and construct the liquefaction facilities using the ConocoPhillips (NYSE:COP) Optimized Cascade liquefaction technology. This process has been successfully deployed at several LNG export terminals around the world offering a high degree of reliability and control. In August 2012, Bechtel started the construction of the first two trains of the project, and about 26% is completed as of March 2013. The estimated completion dates are ahead of the contractual schedule, and train 1 is anticipated to achieve initial LNG production in late 2015.
Trains 3 and 4 should begin construction around mid-2013, still in process of securing the required financing for the construction. Recently, the company began the development of trains 5 and 6 with the completion of two sale and purchase agreements with Total and Centrica for approximately 3.75Mmtpa in aggregate, of LNG volumes that commence with the start of train 5 operations. Bechtel has begun preliminary engineering on train 5 and train 6, while the regulatory approval process has begun with the FERC (Federal Energy Regulatory Commission). Achieving the overall project should take about three years and is expected to start operating in Q1 2016.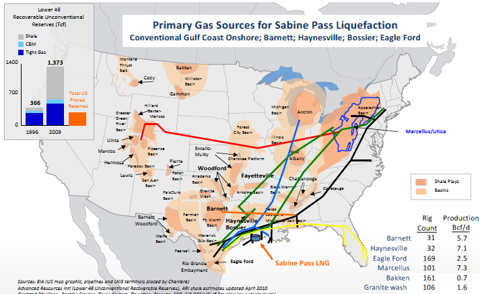 Click to enlarge
Source: Corporate Presentation, March 2013
Cheniere Energy Partners has entered into a definitive 20-year agreements with five customers for liquefaction services at Sabine Pass: BG Group (LON:BG) with an annual contract quantity of 286.5Tbtu (trillion British thermal units), Gas Natural Fenosa with 182.5Tbtu, Kogas (KRX:036460) with 182.5Tbtu, Gail India (OTC:GAILY) with 182.5Tbtu and Total with 104.7Tbtu. These contracts will provide stable revenue for 89% of the anticipated LNG production from trains 1-5 of the Sabine Pass Liquefaction LLC.
Furthermore, the 20-year agreement with Centrica (OTCPK:CPYYF) should commence upon the date of first commercial delivery for train 5 and includes an annual contract quantity of 91.2Tbtu of LNG and a fixed fee of $3.00 per Mmbtu, equating to expected annual contracted cash flow from fixed fees of $274 million. Regarding the 20-year agreement with Total, it includes 91.2Tbtu of LNG plus 13.5Tbtu of seasonal LNG volumes upon the commencement of train 5 operations. These volumes represent about 2Mtpa of the 4.5Mtpa of nominal capacity of train 5.
Corpus Christi Liquefaction LLC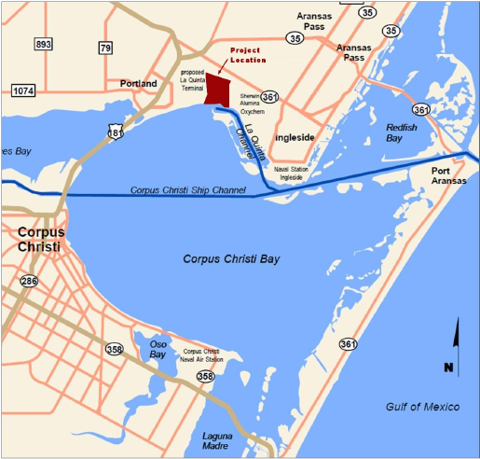 Click to enlarge
Source: Cheniere Energy
Corpus Christi Liquefaction LLC is developing a LNG export terminal at one of Cheniere's existing sites that was permitted before for a re-gasification terminal. Located on the La Quinta Channel on the northeast side of Corpus Christi Bay in San Patricio County, Texas, the terminal would be supported by the significant conventional and unconventional resources available across Texas and the Gulf Coast region.
The terminal would have the liquefaction capacity of about 13.5Mtpa with three 4.5Mtpa nameplate liquefaction trains. The facility would count three 5,650,346 cubic feet full-containment LNG tanks and two LNG carriers docks. Cheniere expects Corpus Christi's terminal to meet an export transportation capacity of about 1.8Bcf/d. The terminal should be in service by December 2017.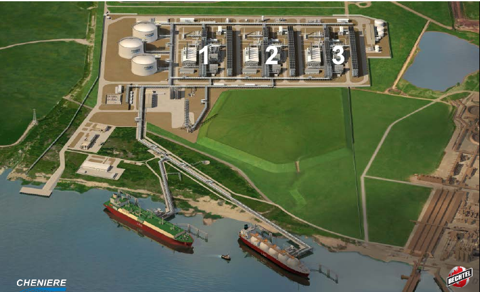 Click to enlarge
Source: J.P. Morgan's Global High Yield & Leveraged Credit Conf., 2013
Corpus Christi Pipeline L.P.
Cheniere Energy's subsidiary, Corpus Christi Pipeline L.P, was permitted a 24-mile pipeline, designed to transport about 2.6 Bcf/d to be located in San Patricio County, Texas. The pipeline would commence near Sinton, Texas and would run southeasterly along a corridor allowing for interconnection points with interstate and intrastate natural gas transmission pipelines located in South Texas.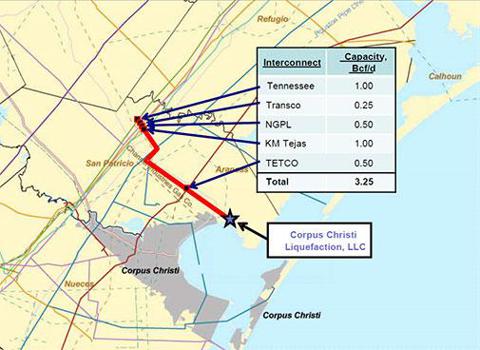 Click to enlarge
Source: J.P. Morgan's Global High Yield & Leveraged Credit Conf., 2013
As shown above, included in the interconnection points are Tennessee Gas Pipeline, Texas Eastern Transmission Corporation, Kinder Morgan Energy Partners L.P. (NYSE:KMP) Tejas Pipeline, Transcontinental Gas Pipeline Corporation and Natural Gas Pipeline Company of America. The line would terminate at the proposed Corpus Christi terminal near Corpus Christi, Texas. The potential access to Eagle Ford shale deposit with the Corpus Christi pipeline would be about 5Bcf/d.
Creole Trail LNG Terminal

Click to enlarge
Source: Cheniere Energy
The Creole Trail terminal will be located on 1,750 acres along the Calcasieu River Channel in central Cameron Parish, Louisiana (this is the same channel that vessels transit to reach Trunkline LNG, located near Lake Charles, Louisiana). The terminal will be located only 3.2 nautical miles from the open water and similar to Sabine Pass terminal, it will have quick access to the open water.
The facility will have two docks positioned away from the main channel so that berthed vessels will not project into the waterway. Cheniere is anticipating that three to four dedicated tugs will be stationed at the facility to receive as many as 400 LNG vessels each year. With identical unloading equipment as the other terminals, Creole Trail will be able to unload a regular LNG carrier in about 10 to 12 hours and is projected to unload a QMax-class vessel in about 18 hours. The terminal will have four 5,650,346 cubic feet storage tanks, capable of storing 13.5Bcf and will have a maximum continuous send-out rate of 3.3Bcf/d.
Cheniere has not determined yet when the Creole Trail terminal would be in service and I believe that before starting this project, a subsidiary would be created to manage and operate the facility like the other terminals. Therefore, this project remains for the long term.
Creole Trail Pipeline L.P.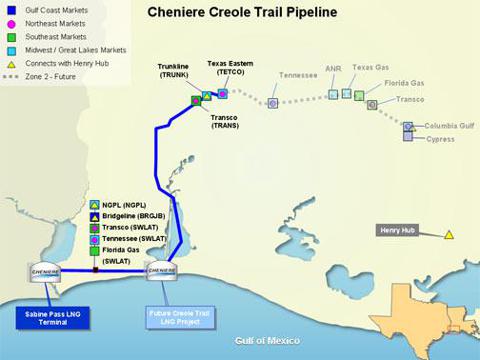 Click to enlarge
Source: Corporate Presentation, March 2013
The Creole Trail Pipeline L.P, a wholly-owned subsidiary of Cheniere Energy, was formed in 2003 to develop downstream natural gas pipeline solutions and provide access to North American natural gas markets for Cheniere's LNG receiving terminal network. The Cheniere Creole Trail pipeline is a permitted 153-mile natural gas pipeline of which 94 miles was completed in June 2008.
The pipeline is currently interconnecting the Sabine Pass terminal with the Natural Gas Pipeline Company of America, Transcontinental Gas Pipeline Corporation, Tennessee Gas Pipeline Company, Florida Gas Transmission Company, Bridgeline Holdings L.P, Texas Eastern Gas Transmission and Trunkline Gas Company, delivering 2Bcf/d.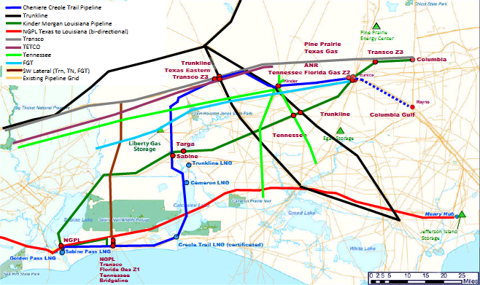 Click to enlarge
Source: Corporate Presentation, March 2013
Furthermore, Creole Trail pipeline is expected to interconnect with interstate and intrastate pipelines believed to be capable of transporting approximately 14 Bcf/d. In-service time is estimated between Q4 2014-Q4 2015.
Southern Trail Pipeline L.P.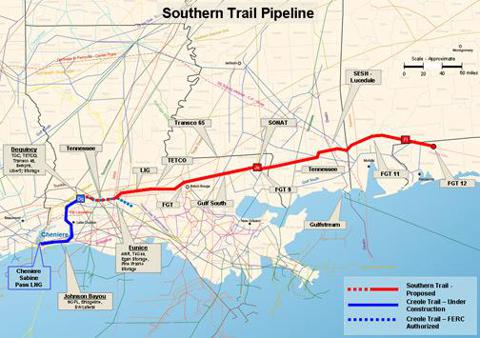 Click to enlarge
Source: Cheniere Energy
Cheniere is developing the Southern Trail pipeline to link growth markets of the Southeast with new and existing Gulf Coast supplies in Southwest Louisiana and neighboring Southeast Texas. As currently contemplated, the pipeline would involve the construction of approximately 348 miles of up to 42-inch diameter pipeline commencing at a point in Acadia Parish near Eunice, Louisiana to a point of interconnect with the Florida Gas Transmission's pipeline near its Station 12 in Santa Rosa County, Florida. Furthermore, this project has the potential to reach the Northeast, Southeast, intrastate and Mexico markets.
Nearly 10 Bcf/d of LNG re-gasification capacity will be placed into service in Southwest Louisiana and neighboring Southeast Texas. As a result of numerous East Texas pipeline expansion projects, prospective shippers will also have potential access to the recently developed shale production. Combining these new incremental supplies with the traditional onshore and offshore supply sources situated in the West Louisiana, East Louisiana and Mobile Bay production areas, the Southern Trail pipeline offers supply diversity unlike any other greenfield project opportunity.
Financial Highlights
The company reported a net loss attributable to common stockholders of $117.1 million or $0.54 per share for Q1 2013, compared to a net loss of $56.4 million or $0.43 per share for the comparable 2012 period. Results include $34.6 million for this quarter, related to its LNG terminal and pipeline development expenses primarily for the liquefaction facilities of Sabine Pass and Corpus Christi.
Moreover, results for Q1 2013 were also impacted by increases in general and administrative expenses of $65.8 million primarily due to the February 2013 granting of awards under the long-term incentive plan related to trains 3 and 4 of the Sabine Pass Liquefaction Project.
Of the three companies analyzed in this series, Cheniere is the smallest with a market cap of $6.47 billion but may be the one with the most potential for growth in the LNG business. The company has generated $266 million in revenue and had $201.7 million in cash and equivalents last year while it has committed $2.17 billion in long-term debt for 2012, a drop from $2.47 billion in 2011 and $2.93 billion back in 2010.
We saw that Cheniere is using significantly its debt to finance several projects involving LNG exports. As shown below, Cheniere has a debt to equity ratio of nearly 0.96 which suggests that the management is using adequately its debt to finance its growth. Compared with Dominion, it is easy to see that Cheniere may be more efficient in that aspect.
On the downside, Cheniere has yet to see a dime of its investments for its LNG export terminals businesses since the nearest project, Sabine Pass Liquefaction LLC, is expected to be in service only in three years from now.
Looking at the ROE (return on equity) ratio of our three LNG producers, the chart below gives us a good perspective of the amount of net income returned with the shareholders equity in proportion. Chevron has a strong ROE ratio of 20.08% compared to Dominion with 2.61%, revealing that Chevron is instrumental by making profit out of the shareholders' invested money. For Cheniere, we will have to wait about four years to see if the profitability is up to the level of its shareholders' expectations.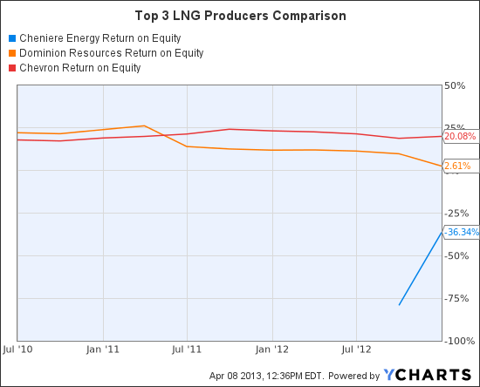 Future Outlook
According to the April's Corporate Presentation, the global demand for LNG worldwide was averaging 31.5Bcf/d in 2012 while the world's global LNG capacity was about 37.3Bcf/d for the same period. However, annual consumed gas around the globe is rising quicker than producing it, meaning that new LNG sources will be needed to meet the market growing demand.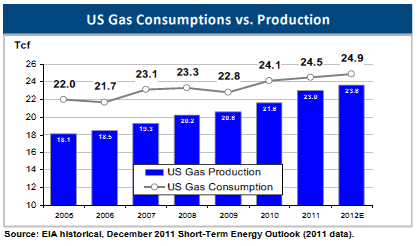 As a matter of fact, the chart above is depicting the U.S. gas consumption evolution compared to the gas produced over the years in the country. The trend is confirming my claim: the U.S. like the rest of the world will experience this assumption for years to come.
As we can see on the picture below from the March's Corporate Presentation, the LNG demand in Asia is huge compared with the rest of the world. Counting the capacity of production of the Asia-Pacific region, the capacity can be roughly assessed at 13Bcf/d which is significantly insufficient to fill the need of an average 22Bcf/d of LNG.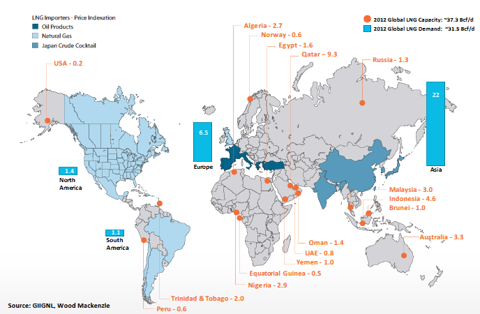 Click to enlarge Source: Corporate Presentation, March 2013
By making a projection into the future, it is possible to have an idea of what to expect in terms of global LNG demand growth. The picture below is suggesting an outlook for LNG imports by region between 2015 and 2030: imports should rise from 303Mmtpa or 40Bcf/d in 2015 to 511Mmtpa or 68Bcf/d by 2030, a significant rise of 68.6% with an estimated 14Mmtpa average growth which represents three 4.5Mmtpa trains.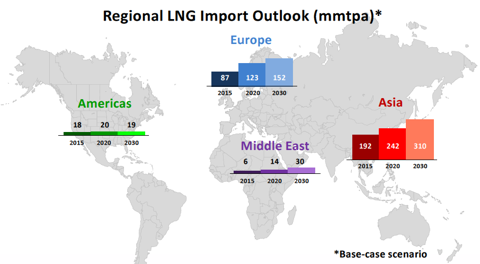 Click to enlarge Source: Corporate Presentation, March 2013
Currently, Cheniere is the front runner and the sole company thus far to have successfully run the DOE/FERC gauntlet, receiving last year the federal approvals for its Sabine Pass terminal after more than a year of study, the remaining companies awaiting approval. However, the DOE put a halt to the process to review and assess the stakes of granting LNG exports licenses since companies multiplied on its list. It will be many years before any of them gets its facilities online.
Each of Cheniere's LNG project is extremely capital-intensive. Despite the advantage of its sunk costs and existing infrastructure, each project investment is estimated to cost approximately $5.6 billion with $2 billion in equity and $3.6 billion of debt according to the company. Only time will tell if the huge investments in infrastructure will eventually pay off more than its share of expected profit.
Bottom Line
Massive investments in LNG infrastructure are big-risk, big-reward endeavors that can ultimately have an impact on a company's future.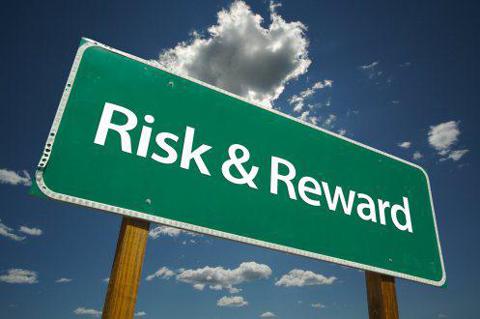 Click to enlarge
Some of Cheniere's facilities could eventually export substantial volumes of gas. Sabine Pass liquefaction export project, at 800Bcf/d is equivalent to over 3% of today's 24Tcf domestic demand.
As I mentioned before, Cheniere won't make any profit from its export investments for at least the next three years if everything goes according to plan, of course. Therefore, investing in the company's future success is like a Texas Hold'em poker game: the stake at hand looks like an "all-in" bet that could give the risk taker the opportunity to win its bet tenfold.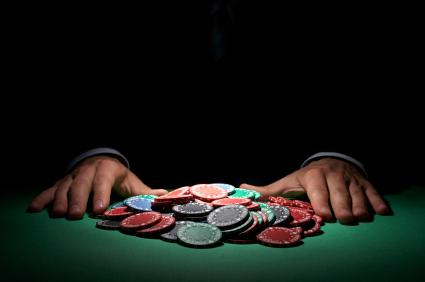 The good side of the game is that you are pretty much sure that you have the best hand, while the bad side is represented by the contingencies surrounding the game that could happen at the very end, as if "the river", the last card returned was not what you were expecting.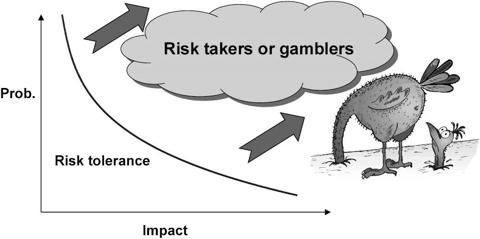 Click to enlarge
Source: PMTips.net
Then, managing the risk is essential. Adding Cheniere in a portfolio with moderate to conservative stocks is the best way to ensure a smoother ride to your destination as some bumps here and there will not diverge you from your final objective: value the substantial growth of Cheniere's stock after everything is said and done.
Disclosure: I have no positions in any stocks mentioned, and no plans to initiate any positions within the next 72 hours. I wrote this article myself, and it expresses my own opinions. I am not receiving compensation for it (other than from Seeking Alpha). I have no business relationship with any company whose stock is mentioned in this article.