What a difference a decade makes. Back at the turn of the century the technology giants were the ONLY companies that investors wanted to own. These companies sported Price to Earnings ratios that implied that they would grow at high rates for decades to come.
Fast forward to today and these same companies are now the slow growth behemoths that put investors to sleep. Price to earnings ratios that were once sky high are now below the valuation multiples assigned to average companies.
Most of these companies (excluding Apple) lost any investor hopes of a return to growth years ago. Microsoft (NASDAQ:MSFT) is the poster boy for this as the stock price has gone perfectly sideways for more than ten years: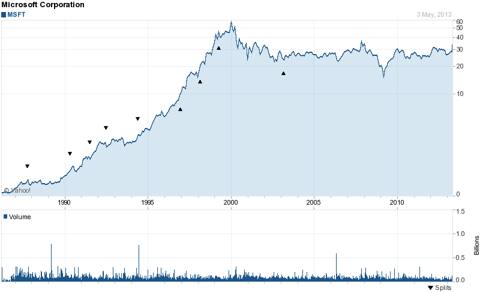 While the titans of technology aren't as in favor as they once were, there is no dispute the financial clout of this group of companies.
Consider the cash that the following group has on its respective balance sheets:
Apple (NASDAQ:AAPL): $130 Billion
Google (NASDAQ:GOOG): $48 Billion
Microsoft : $74 Billion
I'll be honest, I'm not sure I want to invest directly in these companies. They are all very large and that makes growing very difficult. I'm not sure there will ever be much multiple expansion or growth to move stock prices higher at a decent clip.
What I am interested in is getting into the area where a good chunk of that cash that these companies have is likely to be deployed. These big boys are apt to pay up for growth opportunities and I would like to be on the other side of those transactions.
Continually coming up with new ideas internally has to be extremely difficult. But if these big companies are going to grow, coming up with new ideas is what they are going to have to do.
New ideas however, do not have to be internally generated. That is why a good chunk of those billions of dollars in cash are likely to be used to acquire intellectual property (IP) rights currently owned by smaller companies.
Smaller companies with rich intellectual property portfolios are likely to be acquisition targets for the big boys listed above.
We have already witnessed some significant IP transactions involving these companies with some big price tags:
- In August of 2011, Google paid $12.5 billion in cash to Motorola (NYSE:MMI) for control of 17,000 mobile related patents and a pipeline of 7,000 more
- Last year, Microsoft paid $1 billion for 800 patents by held by AOL (NYSE:AOL) with the New York Times saying that the Global Land Rush For Technology Patents was underway
- In 2011 a group of technology companies including Microsoft, Apple and Blackberry (NASDAQ:BBRY) paid $4.5 billion to acquire the patent portfolio of Nortel
First Stop - Follow A Proven Winner
Having a theory about investing in small companies likely to be takeover targets because of the attractiveness of their patent portfolios is one thing. Picking those companies is another thing entirely.
It is very difficult as an outsider to really have an in depth understanding of how valuable a patent or group of patents might be.
That is why management and the brains behind these companies becomes a bigger part of the equation than what would be the case in a more tangible business.
I think Marathon Patent Group (NASDAQ:MARA) is one young IP-focused company worth taking a look at because of the people behind it.
Marathon entered the intellectual property services and monetization business in November 2012. It describes its line of work as:
Marathon Patent Group, Inc. ("Marathon") is an intellectual property services and monetization company that serves a wide range of patent holders and technologies from Fortune 500 to independent inventors. Marathon provides clients advice and services that enable them to realize financial and strategic return on their IP rights. Marathon serves clients through two complementary business units: the IP Research & Services Center, which helps to identify and manage patents, and the IP Licensing and Enforcement Group, which acquires IP assets, partners with patent holders, and monetizes patent portfolios through actively managed patent licensing campaigns.
The smart money behind Marathon that has my attention is Hudson Bay Capital which has an excellent track record of monetizing the value of patents in the public markets.
Hudson Bay Capital was one of the original investors in I/P Engine which then turned into a major position in Vringo (VRNG) when the two companies merged.
Vringo of course being the owner of 500 patents covering telecom infrastructure, internet search, and mobile technologies as well as a stock chart that has made for happy shareholders.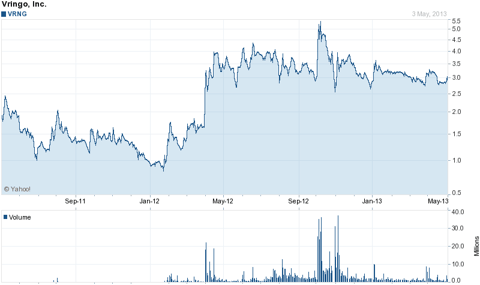 As of December 31, 2012, Hudson Bay Capital had a sizable position in Marathon Patent Group.
Marathon, although a young entrant in the IP world, has been an active one. Since formation the company has:
- Acquired CyberFone Systems and its patent portfolio which has generated 32 settlement and license agreements for a total of $15.5 million in revenue
- Acquired US Patent 5,331,637 from MOSAID Technologies, one of the world's leading intellectual property management companies
- Entered into a strategic relationship with IP Navigation (IPNav), the leader in full-service patent monetization
- Completed the acquisition of Sampo IP LLC acquiring its patent portfolio consisting of three patents and one pending patent application
- Commenced its first licensing campaign on March 20, 2013 by filing a patent infringement lawsuit in the United States District Court for the Eastern District of Texas against Sony (NYSE:SNE), Dell (NASDAQ:DELL) and others
- Established a new IP Research and Services Center at the University of Arizona Science & Technology Park in Tucson, Arizona
The CyberFone acquisition (above) provides Marathon with a cash flow stream from which it can set about increasing the size of its patent portfolio. Marathon's patent consulting arm also provides a diversified business line to compliment the blue sky potential of its patent portfolio.
This cash flow stream from the CyberFone deal and diversified business line should allow for maximization of the value of the patent portfolio without having to worry about cash burn and dilution.
Marathon is managed by CEO and Chairman Doug Croxall who as CEO of FirePond from 2003 to 2009 generated over $90 million of patent licensing revenue. Croxall appears to provide Marathon with experienced and proven leadership.
Marathon as a young company is off to an aggressive start. The smart money behind this one makes it a company that I will keep my eye on to try and determine if it has potential to someday attract a big dollar takeover from one of the cash rich tech heavyweights.
Like all young and small companies Marathon is a higher risk opportunity and should only be part of a diversified portfolio.
Disclosure: I have no positions in any stocks mentioned, and no plans to initiate any positions within the next 72 hours. I wrote this article myself, and it expresses my own opinions. I am not receiving compensation for it (other than from Seeking Alpha). I have no business relationship with any company whose stock is mentioned in this article.