I won't argue the economics or outlook for ethanol as there has been plenty written about it recently and I am no expert in alternative energy. However, if you believe ethanol has a future, Rex Stores (RSC) is a low-risk (dare I say "no risk") way to invest in the industry. Rex's cash of $9.50-$10.50/share nearly equals the current stock price. Real estate and other assets could be worth an additional $7.00 per share. Thus, at $10/share, investors get interest in various ethanol assets of approximately 139 million gallons per year (mgpy) production at name plate capacity for free.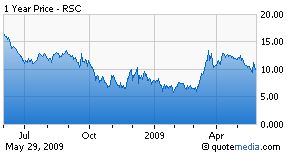 As its name implies, Rex has its roots in the retail industry as a consumer electronics chain in small towns across America. Over the years, competition from Wal-Mart (NYSE:WMT) and Best Buy (NYSE:BBY) ate into the company's sales and profits. Rex began shrinking its store base in 2003 and will have completely exited the retail business in 2Q of this year. Along the way, the company invested in alternative energy projects, including synthetic fuel from coal and, more recently, ethanol plants.
Substantial assets
Corporate Cash: Rex had $90 million in corporate cash at the end of 4Q. At $9.50/share, the cash alone nearly equals the current stock price! This cash should grow with retail inventory and other working capital liquidation in 1Q, bringing cash per share to approximately $10.50 share, by my estimation. This cash does not include partnership level debt, which is non-recourse to Rex, or $10 million in mortgage debt, which I account for under its real estate.
Real Estate: Rex is leasing 37 retail stores to Appliance Direct, the company that is taking over the majority of Rex's retail business. Appliance Direct has the option to buy these stores from Rex for approximately $33-$35 million over the next two years. Additionally, Rex owns two distribution centers from its retail operations worth an additional $15-$20 million (based on 2007 appraisal for one DC and asking price of other). Netting out $10 million in mortgage debt, Rex has approximately $38-$45 million in real estate value, or $3.75-$4.50 per share.
Tax Credits: Excluding $7.8 million in refundable income taxes, Rex had $32 million, or over $3.00/share, in tax credits at the end of 4Q which can be used against taxes on general income in the future. These credits are largely related to Rex's past interest in synthetic fuel production facilities. Additionally, the company could receive $2-$2.5 million in cash from a residual synthetic fuel claim.
Ethanol Ownership: Rex is the majority owner in two ethanol plants with name plate capacity totaling 140 mgpy and a minority owner in plants with name plate capacity of 392 mgpy. Two of the 100 mgpy plants are coming on line this month. In total, Rex's ownership interest equates to 139 mgpy of name plate capacity, an estimated 150 mgpy actual production. Rex is not required to make any additional capital commitments; it may do so if the terms are favorable.
Disclosure: Author holds a long position in RSC and BBY