In a recent deal, BP (NYSE:BP) sold out its 50% stake in TNK-BP, one of the biggest private oil companies of Russia, to Rosneft. The final standing of BP after the deal was its 19.75% stake in Rosneft, second biggest after the Russian state, and $16.65 billion in cash. After the deal, Rosneft has become the largest producer of oil in the world. With 28 billion barrels of oil reserves, Rosneft has now the capacity to produce 200 million barrels of crude oil per day. With this fact, investor curiosity increased about the rationale of the deal for BP as, on its face, it looks as if BP has let go an opportunity to become the world leader. If you go through this Ernst & Young report on oil exploration in Russia, you'll find a hint on the very first page.
Projection of Oil Exploration in Russia
Russia's energy department has set a target of increasing the oil production level of 530 million tons by 2030. However, according to the analysis of Ernst & Young, the potential of existing and allocated onshore fields of Russia will not be sufficient to reach the target. The forecast of Ernst & Young is based on the General Plan for the development of the oil sector companies' long-term projections.
Below is a graph showing the margin by which Russia is expected to miss the target:
Click to enlarge images.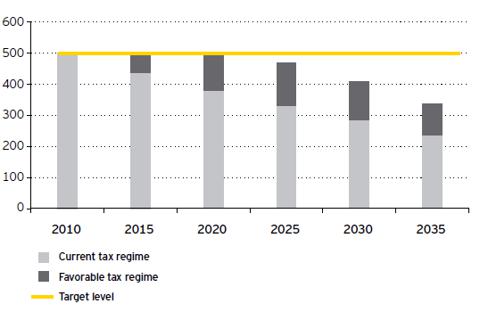 Source: EY.com.
Projection is showing a falling trend in the oil production level of Russia. The projection is showing a decrease of 34% in the oil production level from 2010 to 2035. This clearly is not a good indication for the growth prospects that an oil company can foresee in the long term.
19.5% Is a Significant and Intelligent Stake
Oil and gas exploration associates itself with a lot of risk factors. Companies usually rely on their own investment strategies and risk management to tackle the operational challenges. One of the common facts is that exploration often takes up to 50% of the investment budget before creating any profit. Overall, it is a high investment and low profit margin business.
This deal has made Rosneft the biggest player in the oil exploration industry in the world. It has increased it's per-day oil producing capacity and its oil reserves significantly. The company is undoubtedly in a position to make profit from its oil business in the long term, irrespective of the oil production level in Russia.
BP has made its ground with 19.5% share holding in Rosneft. BP has become second biggest shareholder of Rosneft after the Russian state. With such a significant stake, BP can get benefit from the profit made by Rosneft. Besides, BP does not have to invest its time and resources in Russia to maintain the margin. This has given BP an opportunity to shun its struggling operations and concentrate on more promising businesses, like shale gas operations in countries like China and the U.S.
Diverting the Focus From Oil to Gas
The world energy requirement is going through a fundamental shift. In order to achieve a sustainable environment with rapid growth, energy production is changing its base from oil to natural gas. Below is BP's outlook on energy consumption and sources in the future (measured in billion tons of oil equivalents):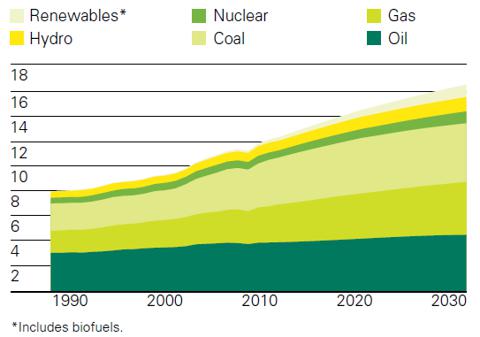 Source: BP.com.
Energy consumption of oil has been almost at a constant level since 1990 and is projected to be constant, if not decline, for the next 20 years. Meanwhile, energy demand has increased by 33% since 1990 and is expected to grow by 50% within the next 20 years. Coal and gas are the other alternatives that are expected to increase in order to fulfill the world energy requirement.
The consumption graph above is also a reflection of the expected increase in the demand of natural gas. BP has been concentrating more on its natural gas operation. With growing demand of shale gas in the U.S. and other parts of the world, BP has been increasing its reserve base and operational expertise in shale gas business.
The first major step toward shale gas field made by BP was in 2008 when it acquired Woodford Shale in the Arkoma basin. In the same year, it established a joint venture in the Fayetteville Shale in Arkansas. In 2009, BP formed a joint venture with privately held Lewis Energy in the Eagle Ford Shale in South Texas. With Haynesville Shale position in East Texas, BP has some of the best basins in the eastern and western areas of the lower 48. In 2012, the company acquired about 100,000 acres in leasehold agreements in the Utica/Point Pleasant area of northeastern Ohio, which is a promising shale basin with potential for liquids-rich gas.
Conclusion
Robert Dudley, chief executive of BP, has been successful in his "shrink to grow" strategy, and BP's recent divestment spree of aging assets is the most important part of this strategy. I believe that getting out of Russia operationally is one of the most important moves ever made by the company, and this deal is going to benefit the company in the long term. By managing to gain a significant stake in the biggest company in the world, BP has also entitled itself to a painless benefit.
Disclosure: I have no positions in any stocks mentioned, and no plans to initiate any positions within the next 72 hours.
Business relationship disclosure: StockRiters is a team of analysts. This article was written by Vaibhab Srivastava -- B.Tech, Information Technology, MBA in Finance, IIFT -- one of our analysts, and edited by Shas, StockRiters' Editor-in-Chief. We did not receive compensation for this article (other than from Seeking Alpha), and we have no business relationship with any company whose stock is mentioned in this article.