Who is winning and who is losing in the mobile market right now? We all should pay attention to the trends in market share to find the answer, despite the barrage of sometimes confusing information we seem to get daily. Data points on tablet market share are particularly confusing in that they differ widely by source. For example, IDC reports that Windows held a measly 3.7% market share in the first quarter, or 1.8 million units.
Click to enlarge images.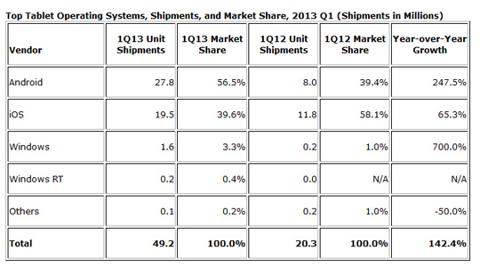 Source: IDC.
Strategy Analytics puts the Windows market share at 7.4% for Q1 2013, or 3.0 million units, almost 67% higher than the estimate by IDC.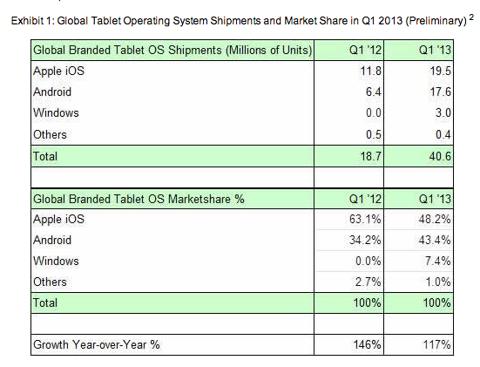 Source: Strategy Analytics.
Who are we to believe and does it matter? You bet it does. Each 1% of market share is approximately 2 million units, representing over $1 billion in revenues and some $300 million in margin, assuming an average selling price of $500 and 30% profit margins -- which seems near the midpoint for this space. Numerous new devices have launched very recently that either are or compete directly with tablets. The Microsoft (NASDAQ:MSFT) Surface variants and the Windows 8 and Windows RT devices made by third parties such as Dell (NASDAQ:DELL), Hewlett-Packard (NYSE:HPQ), Lenovo (OTCPK:LNVGY), Samsung (OTC:SSNLF), Acer (OTC:ACEIY), Asus (OTC:ASUTY), Sony (NYSE:SNE), and others now have over 200 varieties of devices that compete with iPads. Virtually none of these devices existed for most of 2012. And Nokia (NYSE:NOK) is rumored to be considering a new tablet.
Android manufacturers have similarly introduced many new models, with form factors typically less than 10-inch aimed directly at the iPad mini. With low prices and high functionality, these tablets appear to be gaining share and that share is coming from Apple (NASDAQ:AAPL). Intel (NASDAQ:INTC) is making a major commitment to mobile with its Haswell and Atom processors. The company announced that commercial shipments will begin in June. Haswell chips promise high power and long battery lives in a wide range of form factors. Intel has also advanced its Atom line of lower cost processors, which ought to provide full Windows 8 functionality on what may be very low-cost devices. Seeking Alpha contributor Russ Fischer has written extensively on the powerful new developments at Intel.
Apple has promised new products later this year or early next year, but we don't have any current information on its plans. All that notwithstanding, there is a war going on and there will be casualties.
Smartphones
Market share and competitive dynamics are just as important in the case of smartphones. IDC recently reported that Android continued to dominate the market with almost 33% market share, while Apple slipped to 17% from 23% in Q1 2013.
Top Five Smartphone Vendors, Shipments, and Market Share, Q1 2013 (Units in Millions)
| | | | | | |
| --- | --- | --- | --- | --- | --- |
| Vendor | Q1 2013 Unit Shipments | Q1 2013 Market Share | Q1 2012 Unit Shipments | Q1 2012 Market Share | Year-over-year Change |
| Samsung | 70.7 | 32.7% | 44.0 | 28.8% | 60.7% |
| Apple | 37.4 | 17.3% | 35.1 | 23.0% | 6.6% |
| LG | 10.3 | 4.8% | 4.9 | 3.2% | 110.2% |
| Huawei | 9.9 | 4.6% | 5.1 | 3.3% | 94.1% |
| ZTE | 9.1 | 4.2% | 6.1 | 4.0% | 49.2% |
| Others | 78.8 | 36.4% | 57.5 | 37.7% | 37.0% |
| Total | 216.2 | 100.0% | 152.7 | 100.0% | 41.6% |
Source: IDC Worldwide Mobile Phone Tracker, April 25, 2013.
The loss of almost six percentage points of market share by Apple amounts to nearly 13 million units at an average selling price of about $600 and 47% margin. For Apple, the cost was over $3.5 billion in lost margin.
Apple is forecasting sales flat compared to 2012, despite the rapid growth of both smartphone and tablet markets. This can only mean Apple sees further share losses. To get a picture of what is going on, it is worth looking at the competitive dynamics in both tablets and smartphones going into Q2, and why it is urgent that Apple introduce its new products more quickly than it seems to plan.
A recent article by Elephant Analytics made the case for BlackBerry (NASDAQ:BBRY) sales of 10 million units per quarter, with 6 million of these being BB10 units. BlackBerry CEO Thorsten Heins has reported that the majority of BB10 sales are coming from other platforms. The question is: What does this mean for Apple? Assuming half of the conquest sales come from iPhones, the answer is important in that it implies 1 to 2 million fewer iPhones sold in Q2 2013.
At the same time, we are hearing reports that Windows 8 phones are gaining traction, with Nokia reporting that Q2 Lumia sales will be more than 27% greater than Q1's 5.6 million, or over 7 million Lumia's. Is any of this growth coming at the expense of iPhones? We just don't know, since there is a lack of solid data. At this point, it seems as if Android, Windows 8, and BlackBerry are each taking a share, and Apple is the supplier losing momentum. Apple's stock has been strong recently, a reflection of the aggressive moves the company recently made to increase dividends and buy back stock -- actions many shareholders had urged for several months.
The real issue facing Apple's future is not balance sheet reorganization, it is competitive product planning. Apple has not been forthcoming with its plans. Shareholders will no doubt be patient for a few months, expecting Apple to launch something new and innovative that will excite customers and shareholders alike.
Conclusion
In my view, the best gauge of who is winning and who is losing in the mobile market is the trend in market share, not profitability. Each of the competing ecosystems is fighting not only for the money to be made, but also for the longer-term loyalty of their customers to their brand, their hardware, and their library of applications and content. Loss of share puts the entire ecosystem at risk. The near fatal decline of BlackBerry in just a few quarters highlights the risks of delay.
My money favors the long shots in this race.
Disclosure: I am long MSFT, NOK, BBRY, INTC. I am also short AAPL calls and hold puts on ARMH. I wrote this article myself, and it expresses my own opinions. I am not receiving compensation for it (other than from Seeking Alpha). I have no business relationship with any company whose stock is mentioned in this article.