1965 to 1967
1969 to 1971
1981 to 1984
1998 to 2000
2010 to 2012
Since 1950, these are the ONLY years where the S&P 500 (NYSEARCA:SPY) finished the month of May with a loss for at least three years in a row. Only once in this time period did the S&P 500 fall in May for 4 straight years: 1981 to 1984. Ironically enough, that string occurred at the beginning of the last great secular bull market. With the last three years delivering negative May performances, two with large, gut-wrenching losses (-8.2% in 2010 and -6.3% in 2012), it is no wonder that May, 2013 can generate a lot of fear…even if the odds do not support such fear. In fact, the losses of the last three years are particularly unusual given the last bull market (2003-2007) only delivered one negative May and the bull market before that even delivered a string of 13 years (1985 to 1997) where NO month of May delivered a negative performance.
As I demonstrated in a piece two years ago, May, and the subsequent summer, generate so much fear not because of average losses - in fact, the average performance is a GAIN - but because of volatility which can generate some particularly steep losses.
These are the more nuanced data that provide a more balanced understanding to the trading opportunities from May to August. Writing "Summer's Positive Gains Can Come With High Risks" two years ago proved quite timely. At the time, I concluded:
If recent relationships hold, the lesson here is that betting on a positive summer this year is a good one given 2011 appears to be on track for a positive performance. However, if this assumption turns out the be wrong, it could be very wrong.
The S&P 500 ended 2011 slightly negative, essentially a flat year. The summer of 2011 was a disaster, delivering a 9.4% loss. The S&P 500 sprinted to close the year flat but still had to overcome another sharp sell-off in November.
The clear lesson was a reminder that May and the summer are about downside risks, not average performance. So, with three straight years of negative months of May behind us, this May is not likely to hurt. However, just in case, there are plenty of hedges that make sense if the S&P 500 somehow manages a historic fourth negative May in a row. These hedges can start now given the S&P 500 is off to a great start with a 1.3% month-to-date performance.
ProShares UltraShort MSCI Europe (NYSEARCA:EPV)
The market has swooned the last three months of May mainly because of trouble brewing in Europe and renewed fears that the euro (NYSEARCA:FXE) could fall apart any moment. This year, the market has gotten more comfortable that tail risks of a collapse are small enough to ignore. From what I can tell, the financial markets are finally entering a May without some direct, palpable fear of a European-driven implosion. However, last week's monetary policy decision from the European Central Bank (ECB) delivered a long-awaited rate cut that, to me, was an admission that the early optimism about a second half recovery in the eurozone may be misplaced. Unemployment in the eurozone recently reached a new record, largely thanks to the likes of Portugal, Greece, and Spain. The ECB's President Mario Draghi used the rate cut as an opportunity to underline his confidence in the second half recovery scenario:
…weak economic sentiment has extended into spring of this year. The cut in interest rates should contribute to support prospects for a recovery later in the year. Against this overall background, our monetary policy stance will remain accommodative for as long as needed. In the period ahead, we will monitor very closely all incoming information on economic and monetary developments and assess any impact on the outlook for price stability.
To hedge euro-risk, shorting the euro is the most obvious choice. The past three months of May have taken FXE down -7.8%, -2.8%, and -6.6% for 2010 to 2012, respectively. These losses almost exactly match the losses of the S&P 500 in those months. If you prefer to avoid currencies, then a potential alternative may be the leveraged bet ProShares UltraShort MSCI Europe. EPV aims to mimic two times the inverse performance of the MSCI Europe Index. EPV has had banner performances the past three months of May: 18.2%, 4.4%, and 27.2%. Note well that as a leveraged bet, this fund is only good for short-term bets.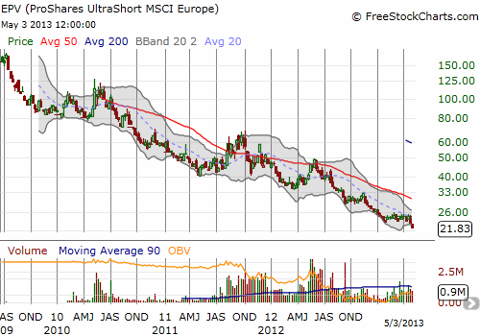 This chart reminds us that while EPV is great for episodic bets, SHORTING this fund over the long-term is the best bet overall
Caterpillar (NYSE:CAT)
As a company in a cyclical business heavily dependent on commodities, CAT has suffered mightily the last three months of May: -10.8%, -8.3%, and -14.7% respectively from 2010 to 2012. Each year, CAT has underperfromed the S&P 500. CAT is underperforming again with a -2.9% performance year-to-date. Note that after earnings on April 22nd, the stock made a sharp turn-around, pulling away from printing a new 52-week low and instead closing with a 2.9% gain. The stock has yet to look back and on Friday jumped across its 50-day moving average (DMA) for the first time since the most recent sell-off picked up steam in late February. This move has all the signs of a bottom, and I am currently long the stock. If the market stumbles again, CAT is definitely a candidate for sellers to make negative cyclical bets. However, if this May turns in a more normal performance, and especially if the summer is more normal, CAT will likely catch-up quickly to the rest of the stock market. Regardless, I am on alert for signs of a pullback which will rush me into put options (likely spreads).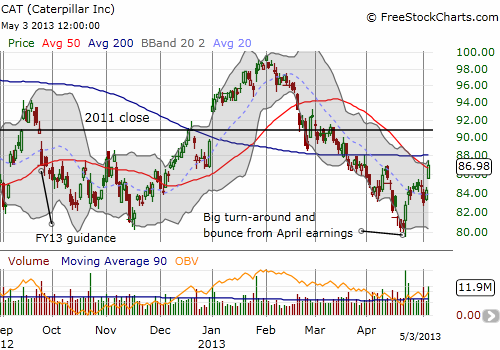 CAT is trading back to where it was when the company gave FY13 guidance last September
Ranger Equity Bear ETF (NYSEARCA:HDGE)
I last wrote about HDGE in late February to reiterate my disappointment with the fund's performance. The fund acts as a leveraged bet against the S&P 500 although it does not make leveraged bets in its portfolio. However, if the S&P 500 slips in May, a leveraged bet (like CAT and EPV above) is probably a great move for a short-term trade. The fund opened for trading in January 2011. Its performance for the last two months of May are -1.7% and 13.9% for 2011 and 2012, respectively. Obviously, the 2011 print was a complete hedging failure, but last year's performance was a big winner. The fund is currently trading at all-time lows (no surprise), but a return to April's highs and a 9.6% gain seem reasonable for a May 2013 swoon.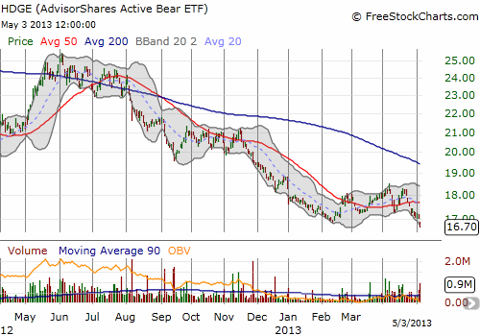 Last May was the last time HDGE had a good run. It has been mostly downhill from there.
Source for charts: FreeStockCharts.com
So, to review, May is not likely to cause pain this year if we stick strictly to the odds. But if it does, there are plenty of options for hedging bets that may even outperform the obvious hedges of shorting the S&P 500 or buying ProShares UltraShort S&P500 (NYSEARCA:SDS). None of these options is long-term in nature, and I would recommend eventually plowing any profits into buying the dips this summer.
Be careful out there!
Disclosure: I am long EPV, HDGE, CAT. I wrote this article myself, and it expresses my own opinions. I am not receiving compensation for it (other than from Seeking Alpha). I have no business relationship with any company whose stock is mentioned in this article.