A few days ago I wrote an article (Waiting Patiently For A Blue Chip REIT Pullback) in which I argued that "REIT investors should consider staying away from the riskier mortgage REITs and instead focusing on more risk-averse blue chip REITs". My somewhat biased dividend safety argument is simply based on perhaps the most important and critical risk component that is facing any income investor today: rising interest rates.
Most REITs have seen a tremendous run over the last twelve months and my biggest concern for REIT investors now is the uncertain interest rate environment that could impact operational fundamentals for the weaker, highly leveraged, mortgage REITs. Yet, it seems that the blue chip REIT management teams have become more fixated on preparation as Philip Kibel, Vice President of Moody's explained (in a new report):
REITs, especially investment-grade REITs, continue to show the strength that allowed them to operate through the recession without jeopardizing their market presence…Future rating actions will be mainly driven by company-specific events.
Since the Great Recession, REITs have been able to access a variety of capital sources, including bank, bond and preferred markets at historically low rates. In turn, that has lengthened their debt maturity profiles while also boosting earnings and fixed-charge coverage ratios. In a nutshell, I explained:
REITs are becoming increasingly attractive today as evidenced by the significant amount of capital flowing into the securitized "brick and mortar" sector. What is even more interesting is the fact that most REITs are becoming better equipped to handle the fragile economic outlook and the potential for rising interest rates.
Kimco: Nobody Does It Better
Back in January, 2012 I wrote an article on Kimco Realty (NYSE:KIM) in which I recommended the common shares at $17.15. In that article I targeted shares to grow by around 20% or to a target of $21.00 in twelve months. As you can see below, Kimco shares hit my target price in mid September (2012) but then the shares declined by around 7.5% - for a twelve month increase of around 12%.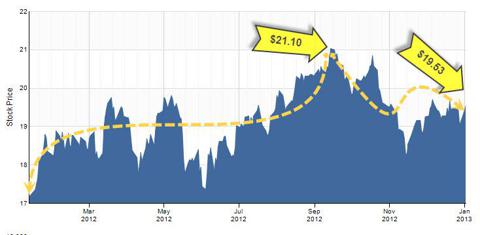 Boy, what a difference a few months makes. It seems that I both over-estimated the time that Kimco would grow by 20% while also under-estimating the 43% share growth in just sixteen months.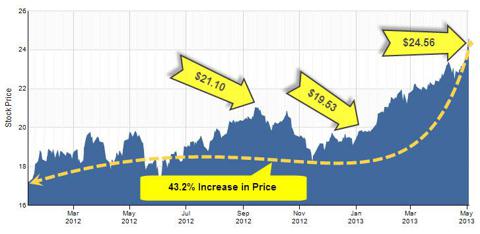 It seems that the blue chips, like Kimco, have been on a nice run - perhaps due to compelling balance sheet fundamentals and seasoned management teams. That's what I call "insurance" as evidenced by Kimco's 27 percent surge (in share price) since January 1st (2013):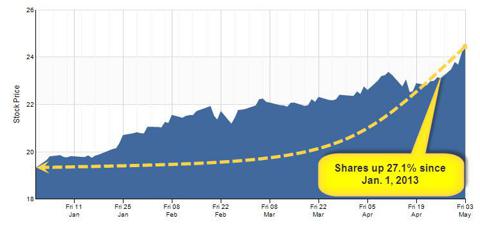 My Attraction to Kimco
Founded over 50 years ago by Milton Cooper and Marty Kimmel, Kimco Realty operates 896 properties totaling 131 million square feet in 44 states, Canada, Mexico, South America and Puerto Rico.
As the nation's largest owner and operator of neighborhood and community shopping centers, Kimco commenced operations in 1958 and initiated its IPO in 1991 by raising $128 million, marking the first REIT IPO. The shares started trading at $20 and most of the proceeds were used to reduce debt. Encouraged by Kimco's initial IPO success, about 35 other developers created REITs during the next two years (1992-1992). As Milton Cooper explained in Newsday (source: fundinguniverse.com):
Before that, people thought it would be impossible to sell real estate stock.
Since Kimco's founding in 1958, this durable shopping center REIT has evolved into a well-balanced platform with its largest geographic concentration in the U.S. (759 centers), Canada (66 centers) and Mexico (55 centers).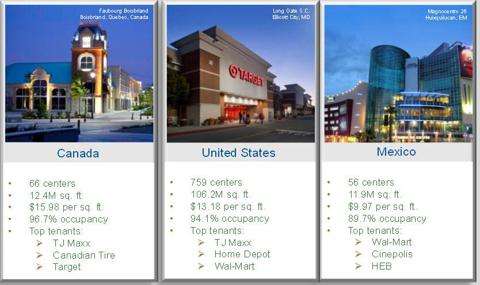 Kimco has one of the most diversified income models in REIT-dom. This broad diversification includes around 14,900 individual leases and around 8,400 tenants. The well-balanced portfolio provides a unique margin of safety as evidenced by the geographic diversification below: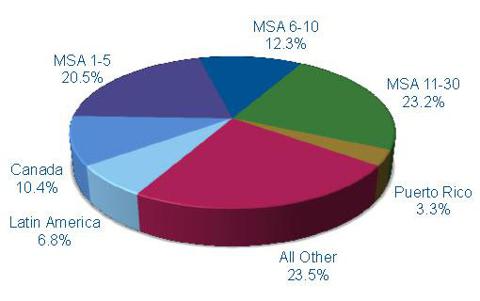 Kimco's largest area of concentration are California (13.1% of ABR), Florida (8.8% of ABR), and New York (8% of ABR). Kimco has around 106.2 million square feet (759 properties) in the U.S. with around 82.8 percent of its revenue (or ABR) there. Latin America accounts for 6.8% of ABR and Canada accounts for 10.4% (of overall ABR).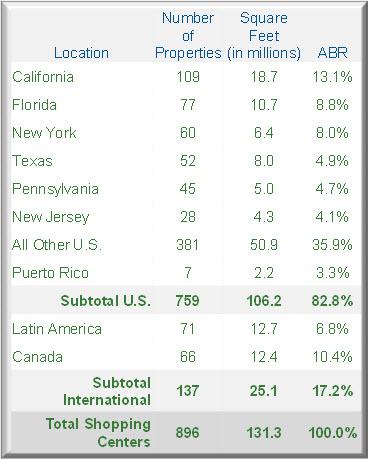 Kimco has one of the most well-balanced tenant portfolios in REIT-dom. Perhaps the most defining characteristic of Kimco's defensive income model is the fact that Kimco has only fourteen tenants with rent exposure greater than one percent. That makes for a solid tenant mix with some extremely high-quality credit tenants: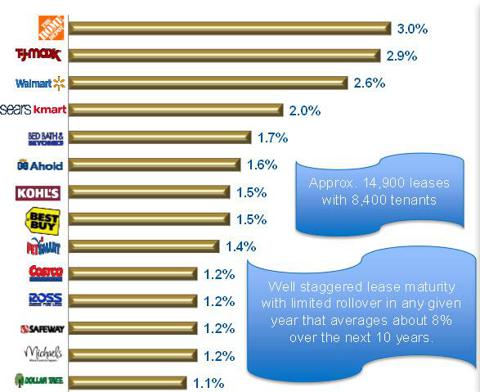 Kimco weathered the Great Recession extremely well as many of the company's tenants are investment grade or considered "best in class" retail brands: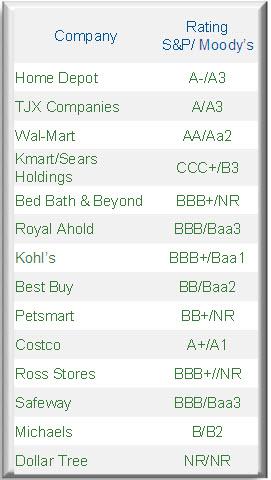 Part of the value proposition for Kimco is the fact that the REIT has a well-balanced mix of Anchor tenants (78% of GLA), Mid Tier tenants (8% of GLA), National Small Shops (7% of GLA), and Local Shops (7% of GLA). This strategically-aligned model provides Kimco investors with the durability of anchor credits and the growth associated with the smaller shop portfolio.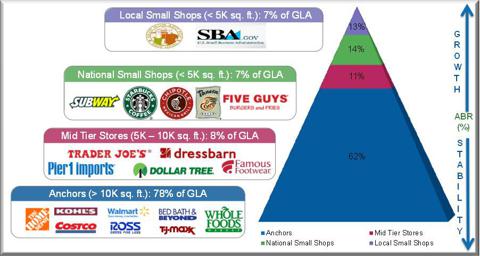 Also, as part of the stable revenue proposition, Kimco has an experienced management team that is broken into four regions (in the U.S.). Each of Kimco's Regional Presidents have an average of 25 years of experience and they all enjoy market knowledge expertise that provides the company with a strategic competitive advantage.

What Have You Done For Me Lately?
One of the driving forces behind Kimco today has been the company's simplification strategy, that is, selling off non-core assets and reinvesting in core properties. As Dave Henry, Kimco's Vice Chairman, CEO, President, and CIO, explains during a recent (Q1-13) earnings call:
Our scorecard, since the fall of 2010, consists of the disposition of 112 properties totaling $854 million and the acquisition of 64 properties totaling roughly $1.5 billion. The market continues to improve for B properties and secondary markets and we expect to close numerous additional sales over the balance of the year.
As Henry cites, Kimco is selling non-core assets located in secondary and tertiary markets. Due to limited growth potential and stubborn vacancy (slow leasing), Kimco aims to deploy its capital into more accretive properties with high-barrier-to-entry attributes. With an emphasize on strong tenancy and high-growth markets, Kimco is continuing to build a pipeline of high-quality grocery and/or national big box anchored centers.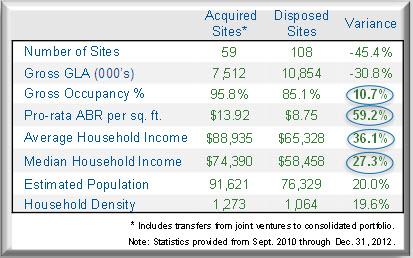 As an example, Kimco recently acquired the second phase of Wilton Campus in Wilton, Connecticut. The grocery-anchored (Stop & Shop) shopping center is located in a high income community (average household income of $241,486) and is 100% occupied.

Another recent Kimco acquisition was Savi Ranch in Yorba Linda, California. This 161,000 square foot center is anchored by Dick's (NYSE:DKS), Bed Bath & Beyond (NASDAQ:BBBY), and Michael's. This center is also 100% occupied and has strong household income of $150,071.

Closer to my home, Kimco recently acquired Davidson Commons in Davidson, North Carolina. This 79,000 square foot grocery-anchored (Harris Teeter) is 97.1% occupied with average household income of $114,506.
K

Kimco grabbed up Devon Village in Devon, Pennsylvania. This Whole Foods (NASDAQ:WFM) anchored center is 100% occupied with an average household income of $152,318.

Kimco's first quarter (Q1-13) results are a clear product of the execution of the company's business strategy, focused on improving metrics at the property operating level, further recycling of capital to acquire up quality assets and maintaining a strong balance sheet with plenty of immediate liquidity.
Kimco's first quarter occupancy remained at a solid level of 93.7%, 90 basis points higher than a year-ago. Here is a snapshot of the company's historical occupancy performance: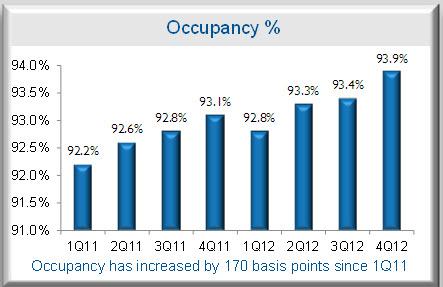 Kimco's anchor spaces (greater than 10,000 square feet) are 96.9% occupied so the biggest internal driver will be the small shop lease performance. During the recent earnings call, Michael V. Pappagallo, COO and Executive Vice President, explains:
Overall, small shop trends continue to improve, albeit slowly. We're encouraged that the new deal spread, even for the smallest spaces between 0 to 5,000 square feet, has turned positive this past quarter. Overall, the new leasing spread again posted double digits and renewals and options also remained sturdy with the overall 3.8% increase. With overall leasing spreads positive for 7 straight quarters, it's apparent that we're in a self-sustaining recovery in rental rates.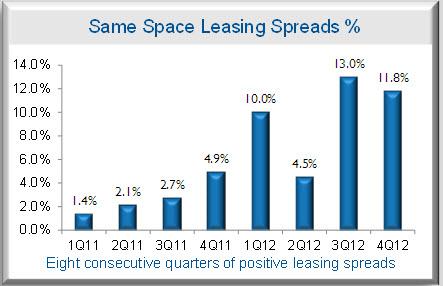 Pappagallo went on to say (from earnings call):
All of these metrics reinforce a much more favorable leasing and operating environment. That isn't new news for the best properties and best markets, yet where I'm more encouraged is the pickup in action for assets that have had little since the slower emergence from the days of the financial crisis.
I am encouraged by Kimco's growth in average rent square per square foot as illustrated below: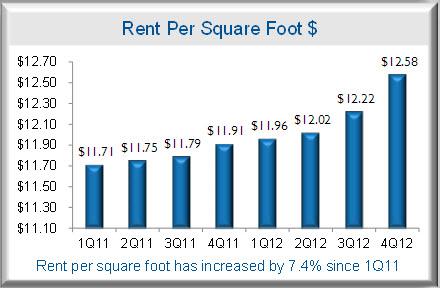 Kimco's first quarter (Q1-13) same-site NOI growth was 4%, a 5-year high and the 12th straight quarter of positive same-site growth. It's likely that the continued performance is fueled by an improving economic environment and the upgrading of Kimco's portfolio.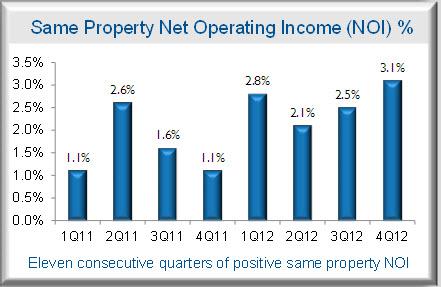 Clearly Kimco's leasing performance is a true indicator that the stalwart REIT's blue chip reputation as a leading shopping center REIT is second to none: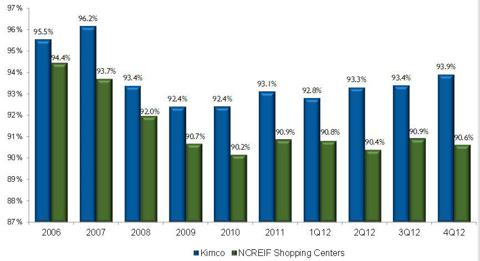 Kimco's first quarter (Q1-13) Funds from Operations (or FFO) as adjusted per share came in at $0.32 as compared to $0.31 for the same quarter last year. (Adjusted FFO excludes $5.2 million of transaction income, primarily from a disposition of a non-retail preferred equity position and $2.5 million of transaction costs primarily related to the acquisition activity). As a result, Kimco's FFO per share came in at $0.33 per share versus $0.31 per share last year. Here is a snapshot of recent FFO history: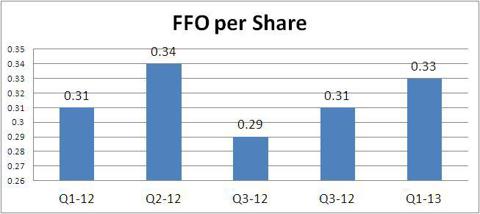 Other notable transactions reported by Kimco include the company's proposed sale of InTown Suites (an extended stay hotel concept) that is on track to close in late May or early June. Kimco intends to net around $90 million and the company plans to plow the proceeds into core retail assets.
Also, Kimco intends to close on other non-core transactions as Dave Henry explains (during recent earnings call):
Yesterday, we also sold the New York City nonretail property for $7.3 million. And we have another New York nonretail property under firm contract for $38.5 million, which should close in June. In addition, we anticipate selling in the second quarter several of our large remaining nonretail properties in other geographic areas.
Other international pruning is underway as explained by Henry:
In Mexico, one of our joint ventures has executed a firm contract with closing subject only to Mexican government antitrust approval to sell 9 of our existing shopping centers for a gross price of approximately $271 million, representing a substantial gain to Kimco.
Henry adds:
The real estate capital markets in Mexico have surged and we are taking advantage of sharply higher prices to sell some of our assets. We anticipate additional sales if the markets remain strong.
Kimco cited "lack of scale and expensive tax structures" as a limiting factor for future investment in South America. Henry went on to explain:
In South America, regarding our portfolio of 15 properties, we have reached either a tentative agreement to sell our equity interest to local operating partners or we have retained third-party sales agents to market the properties. We expect disposition activities will be completed by year end with a modest aggregate gain.
All in all, Kimco continues to deliver steady performance and Dave Henry summed up the latest (Q1-13) results:
Perhaps due to the recovering housing market and record stock market highs and fund inflows, the consumer continues to spend despite the sequester and the ongoing fiscal stalemate in Washington. Retailer store opening plans have reached the 5-year high and, when coupled with virtually no new supply of retail space, effective rents are beginning to escalate in many geographic regions. Most industry analysts believe that retail development will remain limited for several more years, which bodes well for continued improvement in shopping center metrics including occupancy, same-site NOI and leasing spreads.
Is There Super Value in SUPERVALUE?
A few months ago, Kimco closed on the Cerberus-led SUPERVALU (NYSE:SVU) transaction and shares have materially appreciated since the closing. Kimco purchased 8.2M shares of SUPERVALU as part of the tender offer at $4/share and as of Friday's close, shares (of SVU) were $6.34 resulting in an unrealized gain in excess of $16M.
Dave Henry went on to add (during the recent earnings call):
That of the 900 stores that we acquired under these 5 banners, 45% are either owned or long-term ground leases. So it is real estate rich from an owner's perspective.
Towards the end of the earnings call, Milton Cooper went on to say:
We are a national company with a national platform. We are the largest landlord to Home Depot, Target, Costco, Walgreens, TJX Companies, just to name a few. With such a large number of leases, retailers are inclined to review our portfolio to possible expansion opportunities and work closely with us. Through our geographic diversity, the bulk of our revenues come from locations at the top 30 MSAs in the country which have strong demographics. Our national platform also helps us underwrite transactions in any part of the nation. As a result, we are a valued real estate partner in the SUPERVALU transactions and other ventures because of our ability to evaluate assets quickly throughout the country.
Kimco: A Blue Chip Balance Sheet
Milton Copper went on to explain (during earnings call) Kimco's blue chip value proposition:
As I've said before, I believe the REIT is nothing more than a common stock that must comply with certain tax requirements. And in evaluating common stock, the most important metric is management, management, management. And management must understand the importance of maintaining a balance sheet that always has access to capital.
As a blue chip REIT, Kimco has one of the healthiest balance sheets in REIT-dom. As one of only eleven REITs with a BBB+ or greater (S&P) credit rating, Kimco has an enviable capital model reflective of a strong liquidity position with over $1.2 billion of immediate availability.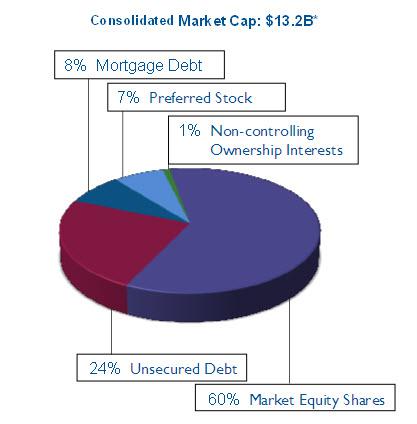 Kimco has access to a variety of capital types including common stock, preferred stock, debt (four issues), mortgages and institutional JV's. Here is a snapshot of Kimco's investment grade ratings:

Kimco has opportunistically refinanced from higher rates into more attractive rates in 2012: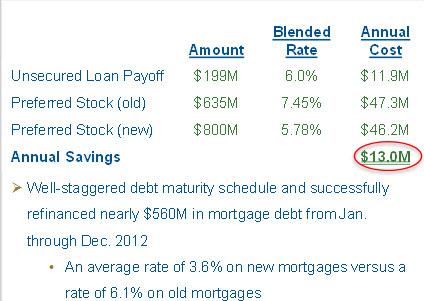 Kimco has around 84% of its assets unencumbered and other exceptionally sound debt fundamentals: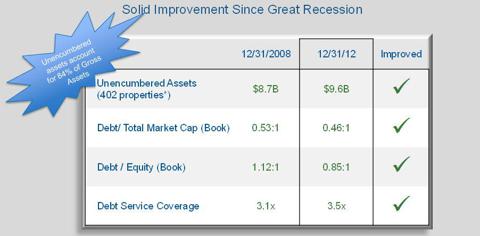 Is Kimco a Blue Chip I Would Buy Today?
As I started this article, I recommended Kimco over sixteen months ago when shares traded at $17.15 and since that time, shares have increased by over 27 percent (closed at $24.56). In addition, Kimco has increased its dividend yield (now paying 3.42%) by 10.5% this quarter (Q1-13):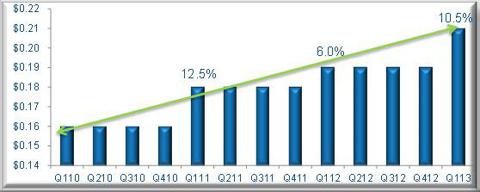 Of course, Kimco did reduce its divided by around 57% in 2009. That was a common occurrence for many REITs; however, the dramatic drop hit Kimco especially hard. But in hindsight, its important to remember that Kimco had issued a large number of shares (during the Great Recession) and there was no guarantee that any REIT would have access to capital. So like many public REITs (including Simon and others), Kimco management chose to be proactive and access capital (which now appears to have been excessive) but with General Growth (NYSE:GGP) filing for bankruptcy, KIM was overly cautious.

Here is a FAST Graph™ (below) that illustrated Kimco's 19-year history. As seen below, Kimco shares climbed significantly from 1992 through 2007 (the black line is the price line). Then, in 2009, the shares tumbled and by 2009, like most REITs, Kimco was forced to cut the dividend drastically (the aqua blue shaded area represents dividends paid). Kimco's FFO fell by around 44% (in 2009). Prior to the Great Recession, Kimco was able to generate strong cash flow and FFO.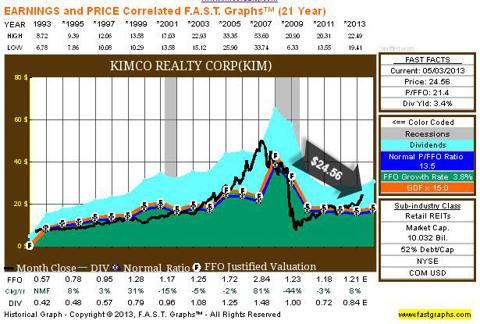 As the FAST Graphs™ below demonstrates, the Great Recession and meltdown in the credit markets caused a major disruption; however since that time, Kimco has begun to recover as the price (the black line) has begun to trend much higher than the company's FFO (the orange line). Kimco's P/FFO multiple is 18.6 - deemed fairly valued today. I would argue that Kimco is NOT expensive, especially when compared with other blue chip REITs like Realty Income (NYSE:O), Ventas (NYSE:VTR), Essex Property (NYSE:ESS), Federal Realty (NYSE:FRT), and Simon Property Group (NYSE:SPG).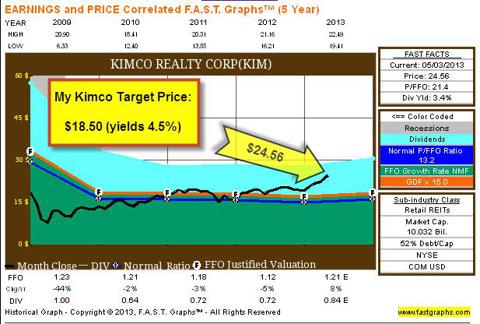 Here is a snapshot of the P/FFO multiples for the Blue Chip peers: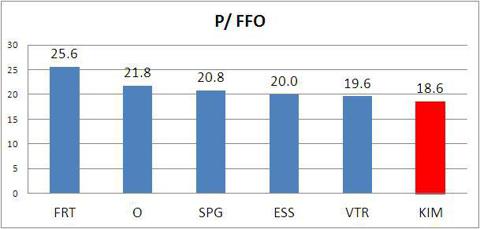 It's clear that the higher quality REITs are seeing some record pricing activity and although I consider the low interest rates to be the fuel driving Mr. Market, I am not compelled to recommend purchasing shares today. I feel as though there could be a moderate correction on the horizon and like any Graham disciple, I would wait "patiently for the storm to subside" before buying Kimco today.
As Graham suggests, "there will be a more plentiful time" and "as a law of nature" there should be a wider margin of safety "in due course". I really do like Kimco's blue chip footprint and although the shares aren't as expensive as many of the other blue chips, I feel as though a modest correction will provide a better entry point down the road. If Kimco pulls back to $18.50, the margin of safety widens with a P/FFO multiple of 16.0x.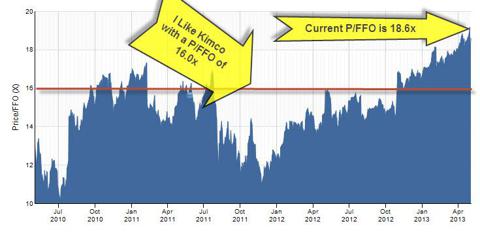 For current Kimco owners, I would hang onto the Blue Chip. Kimco has outperformed most of the other shopping center peers (since the Great Recession) and at some point, as interest rates begin to rise, Kimco's balance sheet is well-positioned for safety. Also, as Kimco continues to focus on its "simplification" strategy, I expect the stock to build further momentum and possibly hit $30.00 this year (I'm excited to see InTown finally moving off the balance sheet).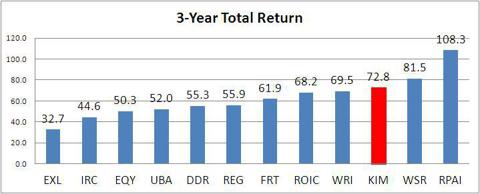 Finally, I think it's important to consider the long-term success of Kimco. Since, the company's IPO (in 1991), Kimco has returned an average of 13.5%. Simply put, $100,000 invested at the time of the company's IPO would be worth $1.5 million today.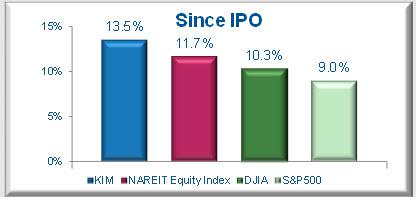 Milton Cooper is a legend (he owns 13.3 million shares valued at $326.6 million) in his own right. He is one of the most respected real estate executives in the world and he has put together one of the best Blue Chip management teams in REIT-dom. Whether I were to own Kimco shares at $15.56 or at $24.56, I would still feel very confident that my principal is protected and I would SLEEP WELL AT NIGHT (the picture below is a snapshot of me and Mr. Cooper), especially since the legendary Milton Cooper had "skin in the game".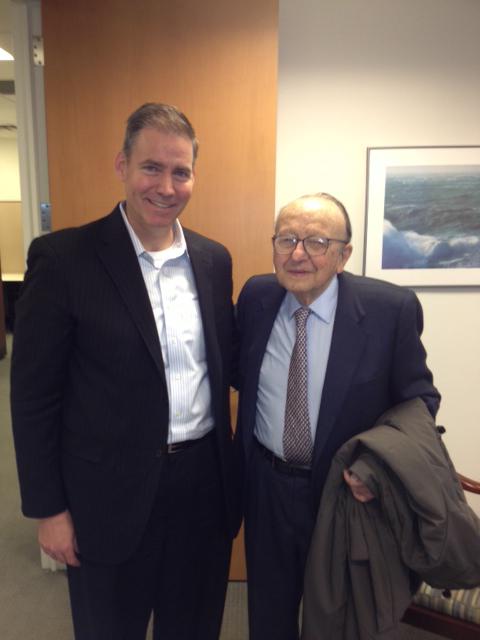 Although the Great Recession caused fear in the financial markets, Kimco remains one of the best managed REITs in the world and that is best be illustrated by the historical performance below (historical total return from 1991 to present is 1,638%).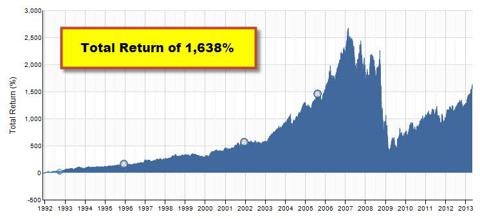 Source: Kimco Investor Presentation and SNL Financial
REITs mentioned: (NYSE:EXL), (NYSE:IRC), (NYSE:EQY), (NYSE:UBA), (NYSE:DDR), (NYSE:REG), (NASDAQ:ROIC), (NYSE:WRI), (NYSEMKT:WSR), (NYSE:RPAI).
Disclosure: I have no positions in any stocks mentioned, and no plans to initiate any positions within the next 72 hours. I wrote this article myself, and it expresses my own opinions. I am not receiving compensation for it (other than from Seeking Alpha). I have no business relationship with any company whose stock is mentioned in this article.