Whenever someone mentions the idea of an economic recovery, I immediately start thinking about what would happen if natural gas rose back towards late 2007 and early 2008 levels. This won't happen in the near term as it is anticipated that we will be in a weak hurricane season and there are still a few more shoes to drop in the economy. However, long term energy demand predictions and the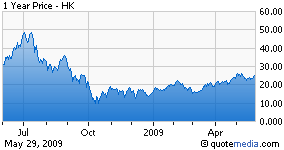 loose fiscal and monetary policy of the United States have paved the way for another energy bull-run.
Natural gas is currently trading around $3.70. With the forward curve looking at price closer to $5.70 by the end of this year, there is no better time to get in than now if you have faith in the commodity over the long term.
Petrohawk (NYSE:HK) is exactly the type of high risk/high reward company that could help investors take full advantage of the coming upside in the energy markets. Petrohawk does employ a decent amount of leverage as they have about $2.4B in debt on only about $3.9B in stockholders equity. Obviously, the company's estimates depict favorable statistics, but there is a reason there was a run on the stock that sent it below $9 a share from a $55 52-week high.
Management fell into the same trap which many other natural gas companies did at the height of the market. Going forward Petrohawk will have to deal with the mistakes of issuing too much debt after thinking prices would never fall low again. The long term debt Petrohawk has outstanding ranges from 7.125% to 10.5%, and the company is going to have to execute at a high level in order to stay solvent.
Being as subjective as possible, I believe it is a good idea to give you both the good and bad. Fortunately for Petrohawk, I think there is more good than bad. The natural gas properties that Petrohawk controls are those with some of the highest margins in the industry. The company reports that in Q3 2008 their operating costs averaged at $0.92 per Mcfe (thousand cubic feet equivalent) which is better than most of its competitors. Currently, only about 10% of Petrohawk's 1.42 Tcfe proved reserves are from the Haynesville Shale, the natural gas formation that is considered by many to be the best in the United States. Petrohawk estimates that the Haynesville Shale could potentially make up over 55% of the company's 20.3 Tcfe resource potential. What makes Petrohawk unique is that most natural gas exploration and production companies don't have fifteen times the resource potential compared to proved reserves, and I believe the market isn't correctly pricing in this untapped potential.
Management has taken a number of steps to move the company on a more conservative track, mainly through hedging activities. Petrohawk has a little less than 65% of their 2009 production hedged and these types of exploration and production companies are the ones investors should focus on during 2009 while natural gas spot prices remain extremely depressed. The near term catalysts for any price appreciation are not visible, although the future's curve is pricing in a spot price over $5.75 before the end of 2010. These companies like Petrohawk with large hedged positions will have large cash gains during their earnings reports. It is impossible to tell how large these gains will be because there will be some defaults in the counter parties of Petrohawk due to the financial crisis, but most of these counter parties should be reliable. The disclosure isn't as great as investors would like on the issue of derivative counter parties, but judging by industry norms we should be looking at probably more than 90% of contracts to remain honored.
Petrohawk is up over 150% off of its 52-week lows, but it is still less than 40% of its 52-week high. Expecting a run up back to $55.00 is naïve, but there is still a lot of room for upside. This is one of the plays where the standard fundamentals such as P/E must be ignored because the estimates will be way off from reality no matter what. Petrohawk earned $0.49 in fiscal year 2008 and while it might take a while to get back to these levels, it is reasonable to expect earnings per share growth to average well over 25% from these depressed levels at the end of fiscal year 2009 based on Petrohawk's Haynesville Shale assets alone. The risk is still fairly high at this point and the chance of the stock getting cut in half or doubling over the course of the next full year is probably about the same.
The rest of this free research report "Stocks For An Economic Recovery" which includes commentary on all sectors is available for download at the following link.
- Charles W. Petredis
Disclosure: None.