American Capital Agency Corp. (NASDAQ:AGNC) is a mortgage REIT that invests in Agency securities (RMBS). Its goal is to preserve net asset value, while generating attractive risk-adjusted returns for distribution to its stockholders via regular quarterly dividends. It does this through a combination of net interest income and net realized gains and losses on its investments and hedging activities. It funds itself primarily through repurchase agreements (with a base of capital from shareholders) and lately partially through the dollar roll market. AGNC is externally managed and advised by American Capital AGNC Management LLC, which is a wholly owned subsidiary of American Capital (NASDAQ:ACAS) -- a publicly traded private equity firm and global asset manager.
For Q1 2013 the dividend was a hefty $1.25 (or $5.00 annually -- 16.3%). This was almost covered by the $1.18 in net spread income per common share (including the dollar roll income). Without the dollar roll income, the net spread income was only $0.78 per common share.
On the negative side, AGNC reported that it lost $2.71 in book value. This left the book value at the end of Q1 2013 at $28.93 per share (down from $31.64 at the end of Q4 2012). AGNC also reported a -$1.57 loss in comprehensive income per common share. This was composed of +$0.64 in net income per common share and a -$2.21 other comprehensive income (OCI) loss per common share. The undistributed taxable income also fell -$1.13 per common share from $2.21 per common share at the end of Q4 2012 to $1.08 at the end of Q1 2013. Basically, it was distributed. Between the $1.25 Q1 dividend and the -$2.71 decrease in book value, AGNC recorded a -4.6% economic loss for Q1 2013. This sounds horrendous, but it just wasn't as bad as it sounds.
Several factors contributed to the Q1 comprehensive loss. First, due to the Fed's newly started (last fall) QE3 and QE4 programs, many Agency bonds became overpriced. The Fed's extra buying pushed the premiums unreasonably high. Think of the people buying stocks such as NFLX, AMZN, et al when the fundamentals do not support that buying. Then you can realize how this happened. The market will eventually correct cases of irrational exuberance -- especially in bond markets. This is partially what happened in Q1 2013. HARP loans seemed particularly adversely affected. Think of NFLX falling from $300/share to about $60/share not too long ago. AGNC's hedging is not set up to account for this kind of thing. Hence, it did not protect that part of the book value.
On top of that mortgage rates rose slightly in Q1 2013 over Q4 2012. When this happens it pushes the amount the market was willing to pay for the Agency RMBS lower. The hedging is supposed to counteract this to some extent. However, the move in mortgage interest rates was relatively small, therefore, the hedging had little effect. The hedging is mainly to protect against large mortgage rate moves.
Third, Agency RMBS prices were decreasing in many cases during Q1 2013. Consequently, Dollar Roll investments took substantial hits. My understanding is that the "drop" income was still recorded as positive income. However, the value of the securities that were eventually "bought" or "bought back" had fallen during the quarter. Therefore, the losses in the values of these securities were recorded as losses. This occurrence may have been a good thing. I don't think the company had fully realized its exposure to mortgage rate changes in the Dollar Roll market, especially with its increased participation in that market.
Dollar Roll holdings rose to about $27 billion at the end of Q1 2013. This is a substantial part of AGNC's portfolio now. The relatively minor interest rate changes in Q1 forced AGNC's management to more carefully evaluate the company's exposure here. As a result of this evaluation, AGNC has now increased its swaps to $51B from $47B at the end of Q4 2012. AGNC's interest rate swaptions increased to $23B at the end of Q1 2013 (a roughly 60% increase from the end of Q4 2012). Overall, AGNC's hedge portfolio covered 94% of its liabilities at the end of Q1 2013. This was up from 83% at the end of Q4 2012.
AGNC's total portfolio is $103.6B as of March 31, 2013. This includes the net TBA mortgage positions (dollar roll positions). Excluding the Dollar Roll positions, the investment portfolio was $76.3B at the end of Q1 2013. Leverage was 8.2x at the end of Q1, or it was 5.7x if you exclude the TBA mortgage positions. AGNC had an average CPR (constant prepayment rate) of 10% - quite good - for Q1 2013. It had a net spread for Q1 of 1.87% with TBA dollar roll income (or 1.52% without dollar roll income). These figures were slightly lower at the end of Q1 at 1.71% and 1.43%, respectively as mortgage rates had declined a bit toward the end of Q1 2013.
On the positive side repo costs have been going down. This is partially due to the greater participation in the dollar roll market. AGNC's repo balance dropped from $74B in Q4 2012 to $66B in Q1 2013. Dollar Roll investments effectively provide funding instead of needing to be funded. The average repo cost itself also dropped during Q1 from 51 bps to 47 bps. The company expects this cost to continue to drop another 5 to 10 bps in the near future. This can only help AGNC.
The charts and tables below give a good overall description of AGNC's portfolio as of March 31, 2013.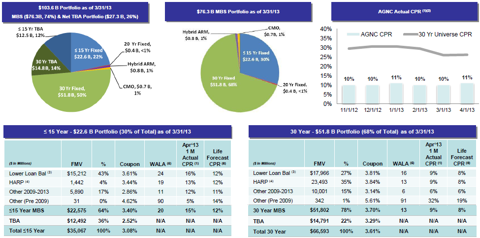 Click to enlarge
Overall, the performance of AGNC was quite decent. A lot of the drop in Agency RMBS premiums was likely a one-time event. It was likely just these prices coming back to earth after a market psychology mediated high. This should not affect AGNC's performance in future quarters. A small part of the drop was mediated by rises in mortgage rates. Even this was partially a good thing in that it means a higher net interest rate spread.
AGNC also reports that premiums have recovered some of Q1 book value losses as mortgage rates have fallen again since March. The company refused to give out any specific information on this during the conference call, but the recovery in premium has been substantial. The Q2 report should be a much better one, especially with regard to book value. With the world economic situation worsening, it seems unlikely that mortgage rates will rise quickly anytime soon. This should leave AGNC with great profits (remember the increasing dollar roll participation) and a great dividend. It should mean we will continue to see the Fed backing the housing market. This should make AGNC one of the better investments out there.
The two year chart of AGNC provides some technical direction for this trade.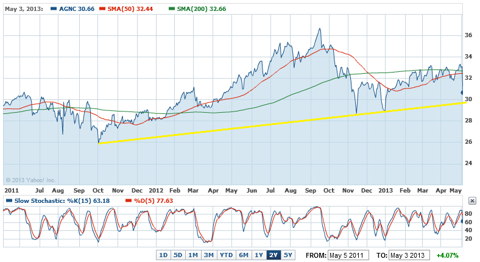 Click to enlarge
The slow stochastic sub chart shows that AGNC is neither overbought nor oversold. The main chart gives a mixed picture. However, if you look at the rising yellow line along the bottom of the chart, you will see that AGNC has been setting consistently higher lows. Given the information above, it seems reasonable to expect that trend to continue. The yellow line should provide strong price support for AGNC at approximately $29.50. This does not mean that AGNC's stock price will go that low. However, $29.50 is probably a very good place to start buying into the stock. Keep in mind we still haven't had a significant market pullback.
Alternatively, averaging in over the next year or so is also a good strategy. AGNC could easily rebound from its May 3, 2013 sell off. The company itself has said that some of the book value losses have already been recouped in April of Q2 2013. If you ballpark estimate a recovery of one third of the Q1 losses so far, this would translate into a book value of approximately $29.83. This value is very near the technical support point mentioned above. When you further consider that AGNC has traded at a premium to book value in recent times, you see that there should be good price support in this area and possibly above this area. AGNC is still a good long term buy.
NOTE: Some of the fundamental financial data above is from Yahoo Finance.
Good Luck Trading.
Disclosure: I have no positions in any stocks mentioned, but may initiate a long position in AGNC over the next 72 hours. I wrote this article myself, and it expresses my own opinions. I am not receiving compensation for it (other than from Seeking Alpha). I have no business relationship with any company whose stock is mentioned in this article.