Through the end of Thursday, it just looked like the market was due for another dance with all-time highs (which was also its recent ceiling). With Friday's surge, though, not only did stocks collectively punch through resistance, it got a lot of people reconsidering their opinion that the market's tank was empty - nothing induces buying like, well, a lot of buying. The question here is simply one of whether or not that surge was a new beginning or a grand finale.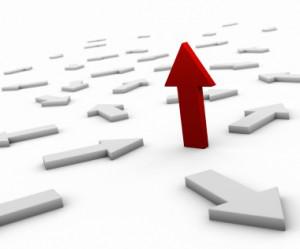 We'll discuss an answer below, right after we dissect some of last week's more important economic data.
Economic Calendar
The number of economic data nuggets we had thrown at us last week as almost exhausting; there's no way we could run through all of it. We'll just stick with the highlights, starting with the biggie…unemployment.
As it turns out, employment took a big step forward last month, undoing some of the red flags that had started to wave in March. The unemployment rate fell from 7.6% to 7.5%, and in April, 176,000 nonfarm private jobs were created. That was a huge turnaround from the originally-presumed 154,000 payrolls that were added in March (well up from the original estimate of 95,000 for March).
Unemployment Rate, Nonfarm Payrolls Added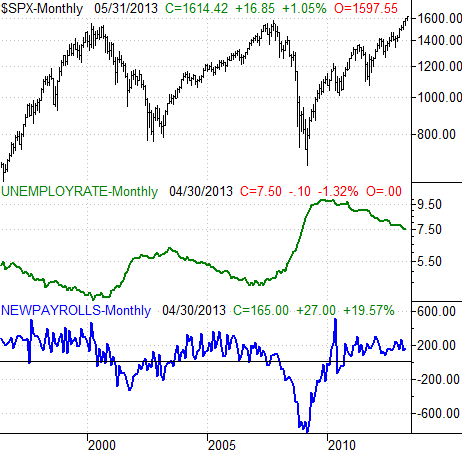 Those numbers alone paint a very compelling picture, but know that the employment situation isn't improving as much as those two numbers would suggest. The size of the labor force is still dwindling relative to the population, which makes the unemployment rate shrink somewhat artificially. And, while 176,000 new jobs is a good step, it's not enough to really spur strong growth for the economy; we need about 400,000 new jobs every month for the growth to be self-sustaining.
Industrial activity slowed down last month. Factory orders fell 4.0%, construction spending fell 1.7%, the average workweek was shortened a bit, and both ISM indices (industrial as well as services) were off a little bit last month.
Perhaps the only real bright spot last month was on the real estate front. The MBA Mortgage Index was up 1.8% for the prior week, while the Case-Shiller index (of home prices) was up 9.3%…though for February. Pending home sales for March grew by 1.5%.
Everything else is on the following calendar.
Economic Calendar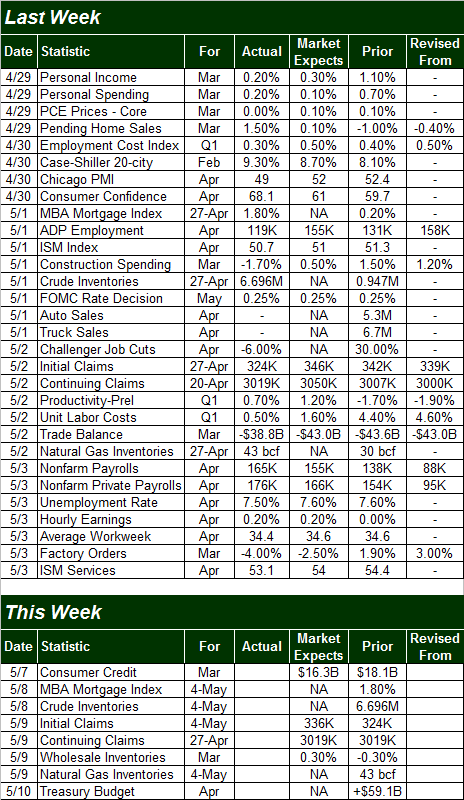 There's very little on the way for this week, and even fewer items that actually matter. The only economic news of interest is March's consumer credit, being announced on Tuesday. The pros continue to look for increases in the teens (of billions). Although the bulk of this remains growth in student loans, enough of it is cars and conventional credit to keep investors enthused.
Stock Market
Let's start with the bigger, long-term look at the market, just so we can examine the details with the right perspective.
Above all else, know that not only did the S&P 500 (SPX) (NYSEARCA:SPY) reach new all-time highs last week, it also pushed through a slightly-rising ceiling that extends all the way back to the March-2000 high.
Taken at face value, this is bullish. Yet, there's just something uncomfortable about how far - and how fast - we've come since March of 2009 (NYSEARCA:DIA) (NASDAQ:QQQ) (NYSEARCA:IWM). From high to low, we've rallied 142% in just four years and two months, with about 1/5 of that advance materializing in just the past five months. Point being, while the break past a key ceiling is technically bullish, there's something troubling about how overbought the market is right now. In fact, this would be the perfect time for the market to implode… right when it's convinced the masses it's ready to rally.
S&P 500 - Monthly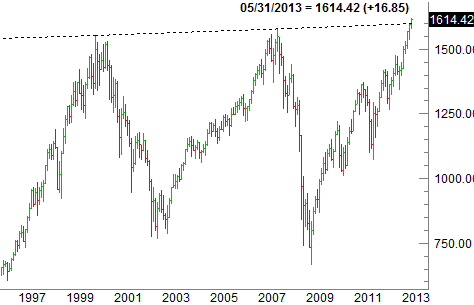 Drilling down to the weekly chart we can see just how far the S&P 500 has come since the November bottom; it's gained 20.1%. That's a lot, though to its credit, the index has not pushed past its upper 56-week Bollinger band - there's still some room to keep moving higher before the rally reaches alarming levels (at least in this capacity).
At the same time, on the weekly chart we can see the CBOE Volatility Index (VIX) (NYSEARCA:VXX) is renewing its bigger push lower, yet also has room to keep pushing lower before it hits its floor - the lower 26-week Bollinger band - at 9.62. The VIX is also hitting resistance at its key moving average lines, and being forced lower by them. These clues also confirm that there's at least a little more room for the market to move higher.
S&P 500 & VIX - Weekly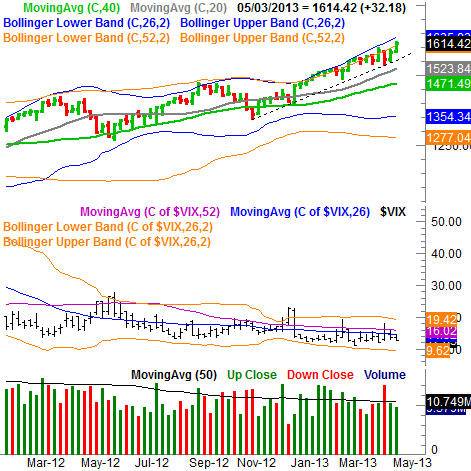 The problem with the bullish argument is the fact that the volume behind last week's bullishness was rather week. If the bulls are going to keep the rally going, they're going to have to gather more numbers.
As for the daily chart, this is where the S&P 500 is pushing its luck, by pushing into the upper 20-day and 50-day Bollinger bands.
S&P 500 & VIX - Daily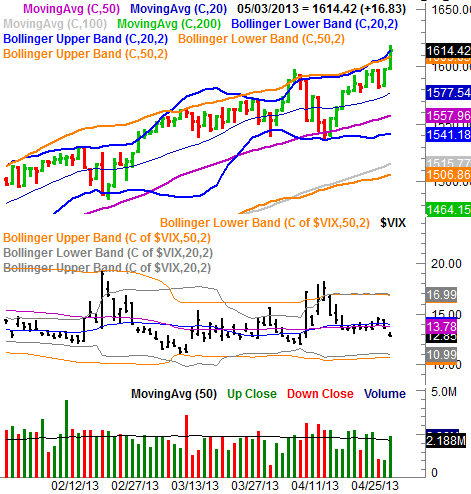 Astute traders will notice that the game-changing day (Friday) was also a high volume day, suggesting that the reason last week's tepid overall volume was mostly due to very low volume sessions on Wednesday and Thursday, when stocks made no net movement whatsoever. But, the longer you study the daily chart, the clearer it becomes - even though Friday's bullish volume was higher than Thursday's and Wednesday's, Friday's volume was still only just a hair above a falling average. Translation: We're not overly impressed by Friday's surge and all of its implications.
So what's the conclusion? While predicting the market's next move is usually possible with a decent degree of accuracy, this is one of those situations where it's anybody's guess as to what happens next. That's because it's no longer about the chart or reason or rationality. From here, after Friday's move to new highs, the only thing that matters is investor sentiment and how traders are feeling. If they want to be bullish come Monday, they'll find a reason to do so. If they instead get cold feet and want to find a reason to start taking profits, they'll do that too.
The smartest move from here is just to wait and let the dust settle from Friday's insanity. It'll become clear soon enough what the market's true direction is.
Disclosure: I have no positions in any stocks mentioned, and no plans to initiate any positions within the next 72 hours. I wrote this article myself, and it expresses my own opinions. I am not receiving compensation for it. I have no business relationship with any company whose stock is mentioned in this article.