Background
The recent pullback in commodity prices has presented buying opportunities in various asset classes. While the mainstream media concentrated mainly on the gold pullback, the more precipitous decline in silver received little or no attention. This drop has provided a rare opportunity to pick up physical silver.
What Caused the Pullback
Two factors appear to have set the selloff in commodities. The first was economic data out of China depicting a slowdown and the other being an article from Goldman Sachs stating gold had peaked. Goldman came out a week later and reaffirmed that gold was in a long term decline.
This caused frenzy in the commodity markets as retail speculators began selling gold and other commodities. The small futures and ETF traders sold their positions. Evidence indicates that these same speculators and are now taking new short positions.
Investors who attempted to buy physical commodities were faced with a different situation, they could not find supply. The physical market was overwhelmed with purchases and many investors are still waiting to take custody of their physical metals.
Reasons to Own Physical Silver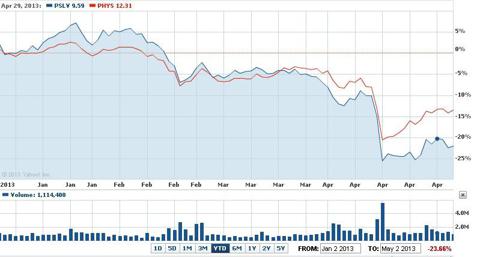 Summary
Commodity-centric investors likely already hold physical commodities as part of their portfolio, but the decline in silver offers a unique opportunity to add to their positions.
Other investors can also benefit. Shareholders of mining companies can divert some of their quarterly dividends to purchasing silver. Freeport (NYSE:FCX) and Newmont are excellent examples of mining companies that pay healthy dividends that could be utilized in physical metals purchased.
Disclosure: I am long FCX. I wrote this article myself, and it expresses my own opinions. I am not receiving compensation for it (other than from Seeking Alpha). I have no business relationship with any company whose stock is mentioned in this article.