Introduction
In an earlier article, we discussed one of the most important metrics to analyze the gold industry, the actual cost of mining an ounce of gold, which can help an investor figure out whether it is time to buy GLD and/or the gold miners. In that analysis, we used the FY2012 financials to calculate the combined results of publicly traded gold companies and came up with a true all-in industry average cost of production to mine each ounce of gold.
First quarter results are starting to come in for gold miners, and investors should look to see if the gold mining industry can be successful in lowering production costs to remain profitable at the current gold price.
In this analysis we will calculate the true costs of production of Goldcorp (NYSE:GG), one of the largest gold companies in the world. GG produces gold, silver, copper, lead, and zinc in countries located strictly in North and South America - an overview of their development projects and mines can be found here on their website.
Calculating the True Mining Cost of Gold - Our Methodology
In the previously mentioned article, we gave a thorough overview of the current way mining companies report their costs of production and why it is inaccurate and significantly underestimates total costs. Then we presented a more accurate methodology for investors to use to calculate the true costs of mining gold or silver. Please refer to that article for the details explaining this methodology, and I would encourage all precious metals investors to understand this concept.
One thing to note is that the "all-in sustaining costs" provided by some miners are a good step in the direction of providing investors with an idea of all-in costs, but still leaves a lot to be desired and that's why we are providing the "true all-in cost figures" in these articles. Additionally, the reported all-in sustaining figures are not standardized and often differ significantly between miners, with some miners including costs and with others leaving them out. With the "true all-in cost figures" we provide, we use the same approach with every miner so that they can be used to compare performance.
True Costs of Production for GG
Let us use this methodology to take a look at GG's results and come up with the true cost figures for each ounce of GG's production. When applying our methodology for the most recent quarter and FY2012, we standardized the equivalent ounce conversion to use the average LBMA price for Q4FY12 which results in a silver-to-gold ratio of 52.7:1, copper-to-gold ratio of 480:1, lead-to-gold ratio of 1722:1, and a zinc-to-gold ratio of 1957:1. We like to be precise, but realistically, minor changes in these ratios have little impact on the total average price - investors can use whatever ratios they feel most appropriate represent the by-product conversion.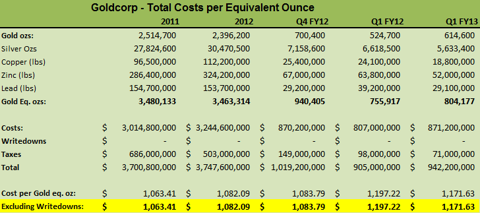 Notes about Goldcorp's Revenues and Costs
Investors analyzing Goldcorp's consolidated financial statements need to include the adjusted costs of Alumbrera and Pueblo Viejo when calculating GG's true production costs. If they fail to do so they will incorporate production from these two mines while neglecting the costs associated with this production. In this analysis we have included both the production and costs of these mines that is attributable to GG.
Observations for GG Investors
The first thing that investors should notice is that GG did a very good job lowering costs by 2% on a year-over-year basis from $1197 in Q1FY12 to $1171 in Q1FY13 - which is a very significant accomplishment in the gold industry. This was negated a bit by the increase of costs on a quarterly basis, as they rose from $1084 in Q4FY12 to $1171 in this quarter. Still GG's cost structure is better than competitors Barrick Gold (NYSE:ABX) true all-in costs of $1215, Newmont's (NYSE:NEM) costs of $1326, and Agnico-Eagle's (NYSE:AEM) costs of $1424.
In terms of gold production, GG's first quarter results improved on a YoY basis to 615,000 gold ounces (a 17% increase) and 804,000 gold-equivalent ounces (a 6% increase). But on a sequential basis, production results were down significantly from fourth quarter gold production (700,000 ounces) and gold-equivalent production (940,000 ounces). This was in spite of new production realized from the Pueblo Viejo mine (64,100 ounces in Q1FY13) that went into production during Q1FY13. Management attributes lower gold production on a sequential basis to lower production from Penasquito and Red Lake due to lower grades, recoveries, and throughput.
In addition, production of silver, lead, zinc, and copper were all down on a YoY and sequential basis. This is something that is important for investors to track because by-product production remains an important part of GG's cost and production structure, with about one-third of total 2012 gold-equivalent production due to byproducts. If by-product production does not increase in future quarters, gold-equivalent production will be significantly lower than 2012 production.
Finally, the increase in gold production was primarily due to the newly producing Pueblo Viejo mine but the costs and production of this mine may be impacted by ongoing tax negotiations with the Dominican Republic. Barrick Gold (the operator of the mine) is continuing negotiations, but we expect that taxes or royalties will be increased and will lead to higher cost production at Pueblo Viejo - this should definitely be incorporated into investor expectations for this mine.
Conclusion
Goldcorp management did a good job keeping costs flat on a YoY basis and lower than its mining peers. Production numbers did decline on a sequential basis (with significant declines in by-product production), even with the addition of the new Pueblo Viejo mine. If by-product production continues to decline in future quarters, GG will be hard-pressed to match last year's production numbers.
Goldcorp's first quarter results still demonstrate that it has one of the best cost structures in the industry and offers investors a good miner to invest in with gold prices at current levels. Investors looking for a miner that is still relatively profitable at current gold prices and pays a dividend should consider Goldcorp.
Disclosure: I am long GG. I wrote this article myself, and it expresses my own opinions. I am not receiving compensation for it (other than from Seeking Alpha). I have no business relationship with any company whose stock is mentioned in this article.