Call me skeptical, but Fuel Systems Solutions (NASDAQ:FSYS) is a company I wanted to see fail. However, for the past 4 straight earnings reports, it's dominated estimates given to them, and in troubled times, a growth company like this is hard to find.
From Google:
Fuel Systems Solutions, Inc. (Fuel Systems), incorporated in 1985, designs, manufactures and supplies alternative fuel components and systems for use in the transportation, industrial and power generation industries on a global basis. These components and systems control the pressure and flow of gaseous alternative fuels, such as propane and natural gas used in internal combustion engines.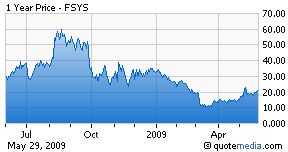 Automobile manufacturers, taxi companies, transit and shuttle bus companies, and delivery fleets are among the Company's most active customers. During the year ended December 31, 2007, sales to top 10 customers accounted for 39.7% of consolidated sales with no single customer representing more than 10%. Fuel Systems sells products through a worldwide network encompassing 140 distributors and dealers in over 53 countries and through a sales force that develops sales with distributors, OEMs and end users.
Now if you ask me, in troubled times, what will people do more of? Take the bus. Save on gas. Maybe buy a diesel car?
Here's my rationale. The fundamentals are very sound at FSYS: current ratio of near 2 with steady rise on a quarterly comparison basis, little debt to speak of that would hinder any financial promise it holds for the future, and very steady top line, recurring/operating and bottom line income, all to show that despite the credit markets currently going sour, FSYS presents a decent buy for the future of transport, as well as the increasingly high demand for continuing improvement in that field. I would naturally expect this company to rise from the ashes once oil rebounds to its Goldman 250$ target, and with that, it represents speculative interest. Make sure to buy on dips, and never above $40/share, because highs seen in the past may not be attainable for this tech darling. Louis Navellier, a profound enthusiast of the stock, has rated it an A grade for the past 20-30 weeks without fail, and I would have to agree. Try it out for a quarter and see what happens.
Disclosure: I hold FSYS long in my stock portfolio on kaching. The portfolio is available for anyone to view or follow.