AIG (NYSE:AIG) recently took over Apple's (NASDAQ:AAPL) spot at the top of the list of stocks that are most owned by hedge funds. Apple's tremendous drop from $700 to $390 certainly caused a lot of selling the whole way down, but AIG has been on a tear, and many now want to own some stock that was once the pariah of both Main Street and Wall Street during the depths of the financial crisis. AIG recently reported a blowout quarter, and the stock jumped 5%, helping AIG gain over 10% the last two weeks.
AIG has come a long way from a stock that traded as low as $.35, and had to do a 1:20 reverse split to give the stock some semblance of its former self. AIG had the largest exposure to the mortgage market and credit default swaps, which lead to AIG needing a $183 billion bailout. As almost everyone knows by now, AIG needed the government to bail it out from the disaster that was its insurance for the collateralized debt obligations that failed so spectacularly when the housing market collapsed in 2006-2007. When the effects of the housing downturn finally hit the banks and insurers in late 2007 and 2008, AIG, like almost everyone else was crushed. At the time of the bailout, AIG was, and remains today one of the most hated companies in America.
| | | |
| --- | --- | --- |
| Rank | Company | Ticker |
| 1 | AIG | AIG |
| 2 | Goldman Sachs | GS |
| 3 | Halliburton | HAL |
| 4 | American Airlines | AAMRQ |
| 5 | Bank of America | BAC |
| 6 | Citigroup | C |
| 7 | BP | BP |
| 8 | JP Morgan | JPM |
| 9 | Wells Fargo | WFC |
| 10 | Comcast | CMCSA |
Source: Yahoo Finance
As you can see Americans really hate banks, but AIG still has a lot of hate from Americans. As an aside, I see a bunch of these charts about the most hated companies and many of them have different companies, but AIG is more often than not on the lists.
What AIG lacks in love from your average American, it more than makes up for in love from hedge funds. AIG recently replaced Apple as the most widely held stock by hedge funds.

Click to enlarge
It is a sign that both Wall Street and Main Street are slowly but surely clawing their way out of the hole that was created by the financial crisis. AIG has repaid the government and then some to the tune of a $22 billion profit for the government. AIG has been restructuring and has sold its Asian life insurance. Its main source of revenue now comes from its property-casualty (PC), life, and mortgage insurance.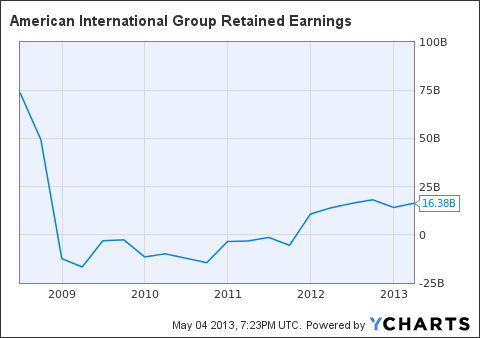 AIG Retained Earnings data by YCharts
As you can see AIG's retained earnings, earnings that are reinvested into the company or used to pay off debt, have been steadily increasing after bottoming in 2009. However, if a company isn't effective at investing the retained earnings, then they are of little use. But AIG has been doing a better job at increasing its return on invested capital.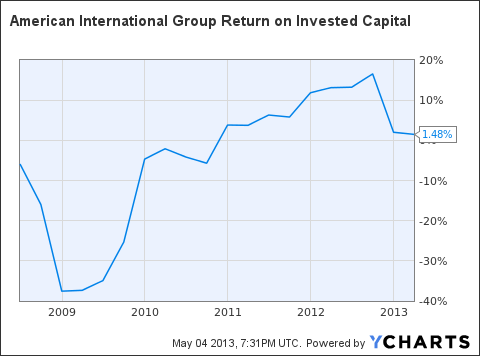 AIG Return on Invested Capital data by YCharts
AIG has been increasing its return on invested capital, which, although still below the industry average of nearly 6%, is a good sign. I am somewhat surprised that AIG hasn't gotten more coverage on Seeking Alpha. I think that AIG would be a good holding in most portfolios, as investors who were gun shy about it slowly come back to the stock. I think that even at current levels, there is still a lot of upside in this stock.
Disclosure: I am long AIG. I wrote this article myself, and it expresses my own opinions. I am not receiving compensation for it (other than from Seeking Alpha). I have no business relationship with any company whose stock is mentioned in this article.