One of my best-performing equity holdings over the past year has been the Euro Stoxx 50 ETF (NYSEARCA:FEZ), an ETF that holds large cap stocks across Europe. A brief summary of why I originally bought and continue to hold FEZ:
Yield - it currently yields 3.44% with payments every quarter.
It's historically cheap - prior to 2008, it was trading at over $60 share. Although it is close to its 52 week high at today's price of $35.89, it is still well short of the $60 mark. Plus with a yield of 3.44%, time is on your side as it reclaims this peak.
Globalization - European companies don't just sell to Europe, but are cheaper than companies located in other parts of the world.
Buying when there is blood in the streets - Europe is still very much in turmoil, which is when the money is made.
Two charts of the FEZ are below, with the price action on the top chart, and the volume on the bottom chart. The first chart is a daily chart of the past year, the second chart is a daily chart over the past 5 years.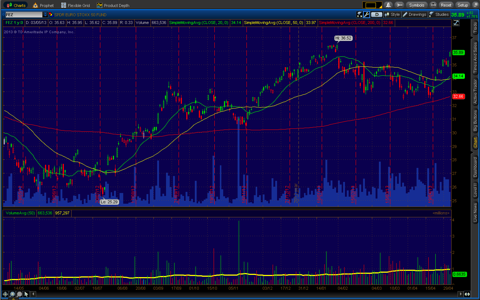 Click to enlarge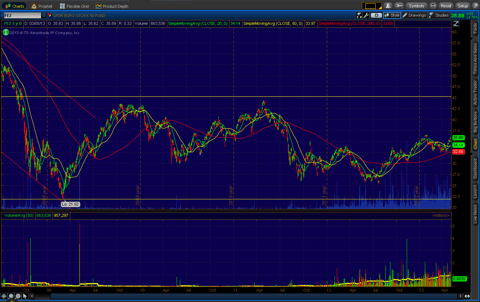 Click to enlarge
The FEZ has been range bound since 2009, but what has changed is the volume. Over the past year, it has been steadily trending upwards, and over the past 5 years, it has exploded.
To put this shift in volume in perspective, I downloaded the weekly volume data dating back to January 1st 2008 and plotted it using a normal probability distribution function in Google Spreadsheets. Below is the distribution.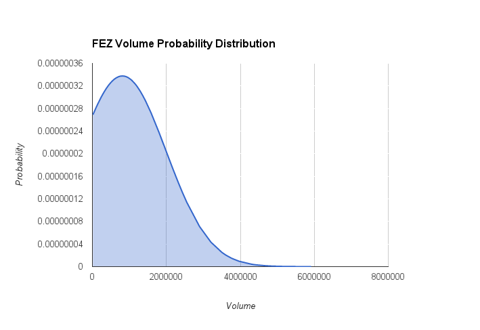 Click to enlarge
The probability of a weekly volume occurrence is on the left, and the volume is on the bottom. The average volume of 810,889 is represented by the peak on the curve at 810,889 on the bottom axis. With a standard deviation of 1,181,447, 67% of FEZ's weekly volume over the past 5 years falls between 0 and 2,000,000 shares traded.
Since the beginning of March of this year, volume has been almost 5,000,000 shares per week, which based on the past 5 years data, puts this occurrence far to the right of the probability distribution.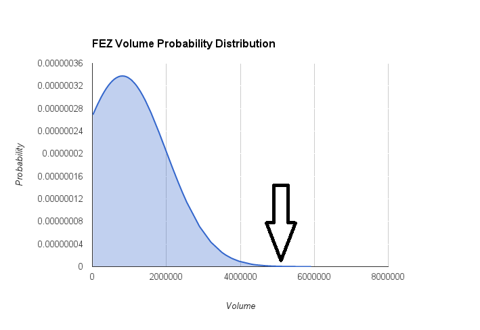 Click to enlarge
Plotted another way, below is a chart with the date on the bottom axis and probability of that volume on the left axis.
Click to enlarge
This chart demonstrates that over the past 5 years, weekly volume has been fairly predictable up until this year, when it has diverged massively. This ETF was launched on October 15th of 2002, so it is well established and not just being "discovered", therefore, there is likely something more to this surge in volume.
I can only speculate to what that something is, but I have a few ideas:
In the search for yield due to the bond bubble, 3.44% is attracting fixed income capital.
With US equities reaching new nominal highs, investors are seeking better value around the world.
Retail money managers and institutional investors are comfortable investing in Europe again.
As a long term holder, I am encouraged by the increased volume in FEZ and will likely add to the position on the next pullback.
Disclosure: I am long FEZ. I wrote this article myself, and it expresses my own opinions. I am not receiving compensation for it (other than from Seeking Alpha). I have no business relationship with any company whose stock is mentioned in this article.