In our opinion, there are three major reasons why gold stocks have – so far – failed to properly reflect the recent recovery in the gold price. The first one is that many market participants have become convinced that gold prices are now set to go lower. We have recently written about the CoT report; last Friday the newest report was published, and small speculators have now gone net short gold futures for the first time since the late 1990s bear market. What is remarkable is that they have attained this net short position while the gold price has continued to rebound.
Admittedly, the rebound doesn't look very convincing on a daily chart; it looks like a bearish flag, hence the continued propensity by speculators to add to shorts, respectively liquidate long positions. However, the bedrock of large speculator net long positions which we have also discussed in above mentioned article remains intact, and what we said on that occasion continues to apply: it would be a bad sign if that were to change.
---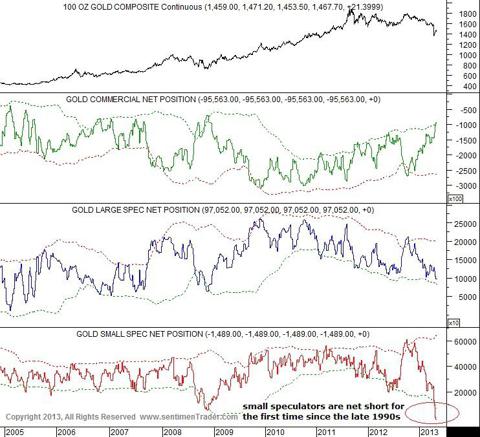 Gold, commitments of traders: small speculators are now net short for the first time since the late 1990s – click to enlarge.
---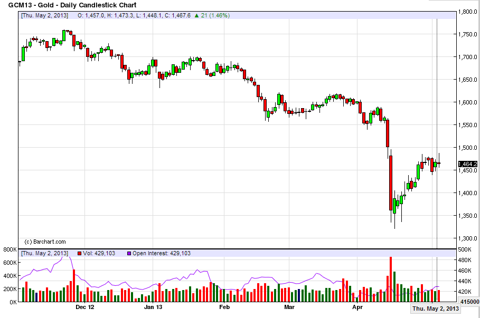 Gold, the June futures contract. The rebound looks like a bearish flag, and anecdotal evidence suggests that even gold bulls are convinced that the recent lows will have to be retested – click to enlarge.
---
Judging from anecdotal evidence – which has to be taken with a grain of salt, but shouldn't be dismissed out of hand – even the most prominent gold bulls expect that the gold price will at least have to 'retest' the recent crash lows. They may well be right, as this is what usually happens after a precipitous decline. Prices eventually revisit the lows amid lower trading volume, and if they reverse back up, the retest can be considered successful. The 1987 crash in the stock market provides a good example:
---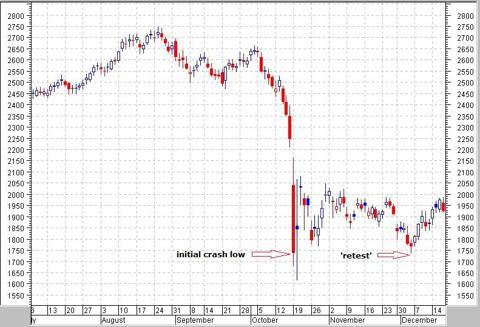 The DJIA in 1987: crash, rebound and retest of the initial low – click to enlarge.
---
Keep in mind though, that if a majority believes things to play out in a certain manner, the market has a habit of complicating things by defying such expectations. Whether that will happen in this case remains to be seen.
Weak Earnings and Downgrades
The second reason is the fact that most of the earnings reported so far have once again been weak (i.e., they came in 'below expectations'). Tied in with that is reason number three: now that gold stocks have already declined by about 60%, a great many sell side analysts have collectively decided it would be a good time to slap downgrades on them. To be sure, there have been a number of analysts who have acted in more timely fashion in downgrading the sector, but for the most part the usual herd behavior could be observed: they upgraded many stocks after they had risen a lot and now they downgrade them after they have already collapsed, i.e., when it is sure to help absolutely no-one anymore. Over the past two weeks it hailed downgrades on many gold stocks, which has contributed to their inability to put together a half-way decent bounce.
However, as the late 2008/early 2009 period most recently demonstrated, such clusters of downgrade action are often a contrary signal. Once stocks are rated 'hold' or 'sell' across an entire sector by a majority of analysts, the pressure from that source can no longer get any worse. Moreover, whenever analysts are herding and believe only one outcome to be possible, they are usually wrong. We would rather trust the opinion of insiders, as they are putting their own money at risk. As far as we can tell, analysts risk nothing by being wrong, especially when the entire herd turns out to have been wrong at some point down the road (there is safety in numbers). A recent example for how wrong they often are when their opinions are unanimous were the 22 'strong buy' ratings and the lone 'sell' rating on Apple (NASDAQ:AAPL) when the stock hit the $700 level. By the time the first rating changes were contemplated, the stocks had already lost $250.
Mining Costs
Apart from the fact that everybody now 'knows' that gold can only go down further, one of the things that are apparently being extrapolated indefinitely into the future are rising mining costs. However, as this recent article at Seeking Alpha suggests, this view may actually by misguided, as many major input cost items have stopped going up further or have even begun to decline.
There are a number of reasons to believe that this trend might continue. For one thing, recent weakness in commodity prices has caused many mining companies to shelve expansion projects or delay them considerably – often coupled with plans to downsize new projects and lower the associated capital costs. Regarding gold specifically, its real price (or purchasing power) tends to rise during times of economic weakness and/or declining economic confidence. A long term chart of the gold-CRB ratio shows that in spite of its recent decline, gold actually continues to sport very high purchasing power in terms of commodities:
---


Gold relative to the CRB index over the past 10 years – click to enlarge.
---
The prices of a number of items that are quite important for mining continue to be rather high however, as the chart below shows, which we have taken from the above mentioned article at SA:
---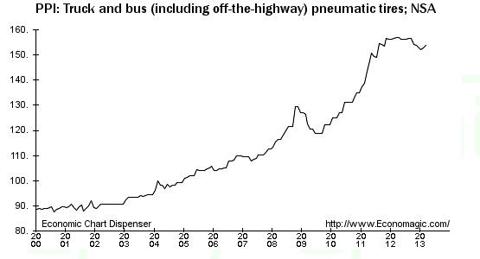 Prices of truck tires have risen relentlessly since the year 2000. However, since late 2011 they have begun to move sideways – click to enlarge.
---
Truck tires are an important input cost for large scale open pit mines. Many of the large scale / low grade open pit mining projects currently in the development stage are undergoing revisions in light of higher initial and sustaining capital costs. E.g. Kinross has scaled down the size of its Tasiast mine development and has delayed development in order to identify ways to improve project economics; it is just one example of many.
Miners of base metals such as iron ore and copper also have to contend with lower prices for their products and an increasingly uncertain outlook due to the recent decline in China's reported growth rate. Given the dubiousness of Chinese economic statistics, it is a good bet that actual growth is much lower than reported growth. While the extent of the discrepancy cannot be ascertained, one thing is certain: marginal demand for copper has definitely declined.
LME warehouse stocks have recently reached a new high, above the high recorded at the peak of the 2008-2009 financial crisis. What is very odd about this is that it coincides with strength in global stock markets this time around. Usually strong increases in LME copper inventories have gone hand in hand with declining economic confidence – the previous inventory peaks have been associated with the trough in stocks in 2009 and with the two major flare-ups of the euro area debt crisis.
In any case, whatever the reason for the current dichotomy may be, the fact remains that many copper mine development projects will probably be delayed as a result. In the future, cost pressures should therefore ease.
---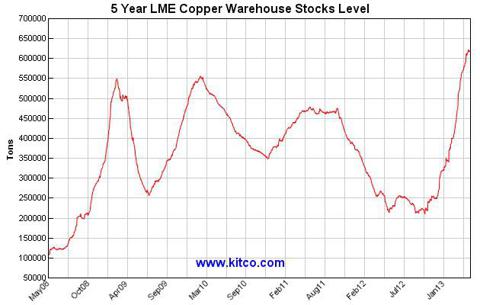 LME warehouse stocks of copper over the past 5 years. Previous peaks have tended to coincide with falling economic confidence and falling stock prices – click to enlarge.
---
Conclusion – Real Gold Price More Important Than the Nominal Price
One thing one must always keep in mind is that nominal gold prices are not really relevant to the earnings of gold mining companies. What is relevant is the real price of gold, or the difference between their input costs and revenues. The best gains in gold stocks occurred early in the bull market when the world fell into recession in 2000-2002.
At the time, nominal gold prices rose very little compared to the prices of gold mining stocks. What drove stock prices up was the rise in the real price of gold. Nominal increases in the gold price may have a supportive psychological effect, but the market tends to produce the biggest rallies in gold stocks when gold's real price is rising or expected to rise. Much will therefore hinge on whether the idea that input costs will continue to stall or even begin to decline will turn out to be correct. Most analysts will probably miss the turning point, so it is best to pay attention to input costs and not wait for them to issue upgrades (those often enough tend to be more useful as sell signals). It is in fact possible that the turning point has already occurred.
---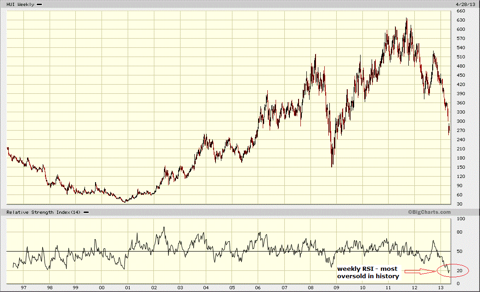 A long term weekly chart of the HUI index. The weekly RSI is at its lowest level ever – click to enlarge.
---
Charts by: Sharelynx, Sentimentrader, BarCharts, BigCharts, Kitco, Economagic