The Eagle Ford Shale is a geological formation spreading across some 20 counties from southern to central Texas. It is believed to be the "source rock" for all the hydrocarbons contained above it, such as dry gas, wet gas, Natural Gas Liquids, condensate, and finally oil.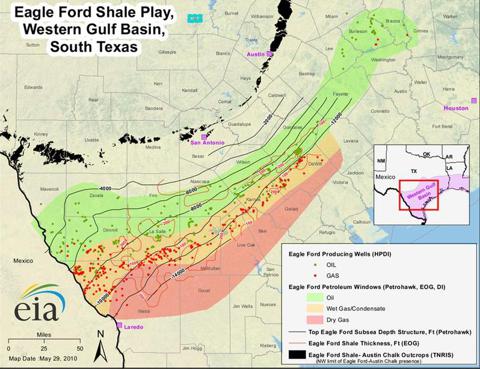 Click to enlarge
Hydrocarbons were originally discovered in 2008, and the Eagle Ford Shale is now considered the second best unconventional oil and gas play in the US, bested only by the Bakken Shale in North Dakota. All indications are that operators will be developing the Eagle Ford Shale for at least a decade. As of last month, the active rig count was 263.
But not all Eagle Ford land is equal. The most sought-after and profitable land at this time is in the oily "window" from Gonzales to LaSalle counties.
Because the shale play was discovered by Petrohawk, it shouldn't be a surprise that Petrohawk's acreage is the Eagle Ford's most productive. While most companies in the Eagle Ford are still reluctant to disclose much about their wells, a report by Drillinginfo on the top quartile of wells by production puts Petrohawk in a clear lead over competitors.

Click to enlarge
With 28 of their wells in the upper quartile of production, Petrohawk is distinctly above its competitors (the next closest is Conoco's 17). This is the benefit of being an explorer and hence first to the play.
But in late 2011, Petrohawk was acquired by diversified mining giant BHP Billiton (NYSE:BHP). And so, anyone wanting to access the best acreage in the Eagle Ford Shale will have to pick up shares of BHP Billiton, instead. BHP's stock has done nothing but sink since 2011 on concerns of an economic slowdown, particularly in China, which is easily the biggest market for basic materials.
When the Petrohawk deal was announced, BHP's American Depository Receipt (ADR) shares traded in the mid 90s. They have since come down to the mid 60s: a huge drop. While BHP Billiton is a very diversified resource company, I believe it should be bought here for its Eagle Ford assets, which are now at discounted prices.
No Pure Play
BHP Billiton is a diversified natural resources company operating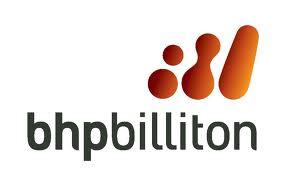 in several sector groups: Aluminum, Base Metals (Copper), Iron Ore, Manganese, Metallurgical Coal and Energy Coal and most recently Petroleum. Much of their operations are in Australia, but many are also in Chile, South Africa and the United States. Their market cap is $105 billion and their American shares provide a dividend of 3.37%.
Traditionally a miner, two large acquisitions have made BHP a major player: The $4.75 billion acquisition of all of Chesapeake's Fayetteville Shale assets in Arkansas in February 2011 and the $12.1 billion Petrohawk acquisition later that year. The Petrohawk acquisition was particularly important in that they picked up acreage in not only Eagle Ford but also the Permian Basin of western Texas. BHP is now one of the ten largest upstream oil producers by assets. Even so, oil and gas is not the largest part of this diversified business.
Eagle Ford Economics are Excellent
While BHP does not disclose a type curve for its Eagle Ford wells, their 2012 Petroleum Annual Review cites an amazing 100% Internal Rate of Return (NYSE:IRR) and paybacks within the first year of production on many of its wells.
One gets a better appreciation for these numbers when comparing it to other Eagle Ford producers. Carrizo, for example, has a breakeven time of approximately 1.5 years and an IRR between 50 and 80% on its wells. And in a previous article, I estimated Carrizo's Eagle Ford operations would be profitable even with oil in the $50-60 range. With a substantially higher Rate of Return, BHP Petrohawk's production must be profitable at an even lower price. Maybe a lot lower.
A report here puts Magnum Hunter's (MHR) Eagle Ford IRR between 36 and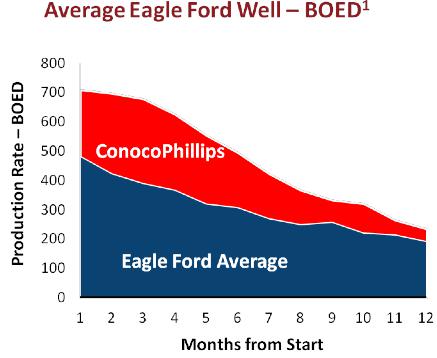 64%. ConocoPhillips (NYSE:COP), who is probably BHP Petrohawk's closest competitor in the Eagle Ford, released an average well production schedule shown to the right. As we can see, Conoco's total production easily bests the average Eagle Ford well. Remember, however, that BHP Petrohawk has considerably more top-quartile wells on its acreage. We can assume, then, that BHP's production schedule beat even Conoco's.
Petroleum a Major CapEx Focus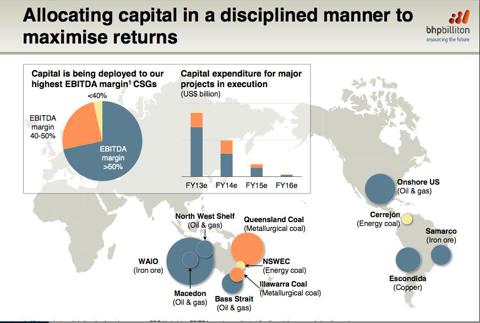 Click to enlarge
Graphic from 2012 BHP Interim Results Presentation.
Onshore US oil and gas will be a major focus in the company's Capital Expenditure. The graphic above shows the amount of capex funds to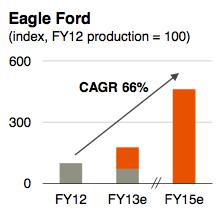 each project represented by the size of the circle. It also shows that Onshore US oil and gas carries among the highest EBITDA margins. We can assume the majority Onshore US capex will be spent in the Eagle Ford, where it will get the highest return. BHP's Eagle Ford acreage will benefit tremendously from this capex. Production is expected to nearly triple, or grow at an annualized rate of 66% as a result of BHP's investment. With confirmed EBITDA margins of at least 60% within the Onshore US, we can be sure that this growth will add greatly to BHP's bottom line.
The Rest Of The Business Is Good, Too
It's understandable that one may be hesitant to invest in BHP Billiton just for the Eagle Ford assets. After all, an investment in BHP would also mean exposure to Copper, Aluminum, Iron and Coal, which are considered more basic materials. Lately, slumping prices in these materials have led to plummeting profits for many large miners. Some of them have even posted losses.
While BHP Billiton is not an exception to these headwinds, by profitability metrics they are the best of breed. With margins higher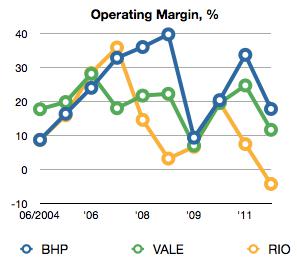 than their two biggest competitors, BHP has remained above water despite collapsing commodities. Due to management execution and a very diversified business model, BHP is the safest bet of all big mining companies. In addition, they have cut $1.9 billion in operational costs through 2012, which has helped to make the company more efficient and profitable while the other Vale and Rio Tinto have struggled during these difficult times.
How The Dividend Works
Since BHP Billiton is an Australian company and a number of readers have previously expressed confusion on how foreign companies pay their dividend, I thought it best to include an explanation of BHP's dividend policy.
Like many foreign companies, BHP does pay its dividend twice a year.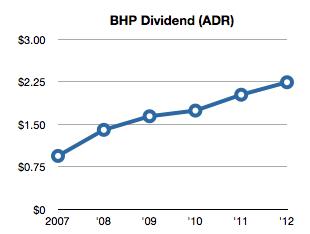 Their express policy is to steadily increase or maintain their total dividend payout each year. For example, in 2011 BHP paid $2.02 in dividends per ADR share. In 2012 the total was $2.24. A full explanation of the dividend can be found on their Investor Relations website, but the information will be on the shares listed in London, Johannesburg and Sydney.
Value

Click to enlarge
Chart by YCharts
Shares in BHP are really cheap right now. Their London-traded ADR, (NYSE:BBL), is even cheaper. While the fall in basic materials prices have certainly hurt the company's profits, BHP is a best of breed miner trading at a very low price. Therefore, I believe BHP represents a good value here, not to mention a substantial 3.37% dividend.
Conclusion
The Eagle Ford has largely been discovered. Since Petrohawk was the first company there, its not surprising to know that they have the best, longest-life acreage. That can now only be found in BHP Billiton. Thankfully for new investors, the stock price is very low right here. You can now participate in the most productive part of a premier unconventional oil play at a discount.
Stay Tuned
BHP Billiton is a company I follow and have mentioned in the past. In addition, I am a believer in the U.S. oil production "renaissance" and this is a topic I have written about and will frequently cover in the future.
Additional Sources
"Average Eagle Ford Well, BOED" chart can be found at ConocoPhillips' IPAA OGIS New York presentation.
"Eagle Ford" chart from BHP 2012 Interim Results Presentation.
"Operating Margin" chart by author, data by Morningstar.
"BHP Dividend" chart by author.
Disclosure: I am long BHP. I wrote this article myself, and it expresses my own opinions. I am not receiving compensation for it (other than from Seeking Alpha). I have no business relationship with any company whose stock is mentioned in this article.