Tesla (NASDAQ:TSLA) is scheduled to release its 1st quarter 2013 earnings after the market closes on Wednesday, May 8th. Below I have provided an update of the quarter as well as an overview of earnings expectations.
Profile and Estimates
Tesla has a market cap of $6.29 billion and currently trades for $54.55 per share. Shares are up 61.06% YTD and trade 113.75% above their 52-week low of $25.52. Analysts have a mean target price of $44.50 and a median price target of $45.00 on the shares. Seven analysts have an average first quarter earnings per share estimate of $0.04 on estimated revenues of $492.02 million. Tesla has missed earnings expectations in three of the last four quarters.

Fundamentals and Highlights (Sources cited below article)
Positives
Recently, it was announced that sales of the Model S passed Tesla's expected 4750 units sold.
Revenue growth has averaged 54.6% over the last three years.
Low interest financing has helped deliver record sales for most car manufacturers in the last few months.
Negatives
P/B of 50 and P/S of 14.2 are both above the industry averages 1.6 and 0.5.
D/E of 3.3 is below the industry averages 0.8.
Pricing and battery concerns may slowly start to hold up revenue growth.
Valuation indicates growth is heavily priced into the stock making the shares highly susceptible for a pullback should Tesla report lower than expected earnings.
Short Interest
Number of shares short remain high but, more interestingly, the average trading volume tripled from 3/28/13 to 4/15/13. This is an indication that at least part of the recent performance may be a result of a short squeeze.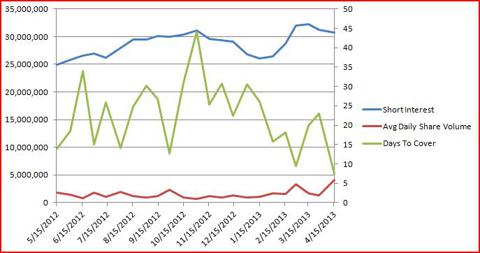 Take Away
Tesla gets a check from all investors for its growth potential but I'm starting to wonder how long growth premium paying shareholders are willing to wait for results. As already pointed out, the average trading volume tripled recently so now the only missing ingredient for a pullback is lower than expected earnings or any sort of bad production news. All eyes are now firmly on this Wednesday's earnings report.
Sources
In addition to the links above, ratios and financial data was sourced from Morningstar.com, which you can find here.
Other company data was sourced from the annual report that can be accessed here.
Disclosure: I have no positions in any stocks mentioned, and no plans to initiate any positions within the next 72 hours. I wrote this article myself, and it expresses my own opinions. I am not receiving compensation for it (other than from Seeking Alpha). I have no business relationship with any company whose stock is mentioned in this article.