DHX Media (DHXMF.PK) is the biggest independent company involved in the creation, production and licensing of family entertainment rights. DHX Media is among the few pure stocks in that category. DHX Media owns, markets and distributes over 8,500 half-hours of children's entertainment content and exploits owned properties through its consumer product licensing business. DHX Media is recognized for brands such as Caillou, Busytown Mysteries, Inspector Gadget, Johnny Test, Animal Mechanicals, Kid vs. Kat, Super WHY!, Rastamouse and Yo Gabba Gabba!.
The company produces family and children's programs, primetime comedies and feature films; supplies television programming for children and youth; develops and builds licensing and merchandising programs; and produces animation, as well as develops television, motion pictures, short-form programming, commercial content and consumer products. The company also provides programming for Cookie Jar TV, the weekend morning block on CBS. DHX Media's full-service international licensing agency, Copyright Promotions Licensing Group (CPLG), represents numerous entertainment, sport and design brands.
According to DHX Media CEO Michael Donovan, "This is essentially a digital story…Families are increasingly accessing children's entertainment from sources other than traditional television and DVD sales."
With the proliferation of tablets, smartphones, laptops and video on demand services (i.e. Netflix), the content of DHX Media is in huge demand. Families are increasingly accessing children's entertainment via the web, and several competitors of YouTube are emerging, pushing the value of children's TV and movie content to a new high.
Analysts' recommendation
Even though the stock jumped 160% in one year, three financial analysts out of four still have a "Buy recommendation". They believe in the growth potential of DHX mainly because of the demand for its digital activities, the diversification of its revenues and the new licensing and distribution international agreements.
The actual P/E ratio (TTM: 52), compared to competitors, has a 100% premium. DHX has low debt (debt/capital ratio: 4.6%). According to Rob Goff of Byron Capital Markets, the premium is due to the growth in the value of children content in a digital world. Several digital distributors such as Amazon (NASDAQ:AMZN), YouTube and Netflix (NASDAQ:NFLX) (and many emerging copycats), require quality children's content programming. DHX Media just signed numerous "non-exclusive" deals with digital distributors such as Netflix and Redbox. Those agreements were not possible previously with traditional broadcasters, which required between four to six years of exclusivity for a territory. Those new deals partially explain why the forward P/E ratio is more attractive at 15.3X.
International agreements
DHX wants to reproduce the Disney (NYSE:DIS) model with the growth of its derivative products associated with its strong children's content brands. Thus, its toys (and other merchandise) for Caillou and Yo Gabba Gabba! are in huge demand. With new international agreements (such as Caillou on PBS), DHX Media can sell its TV series, merchandises and licensing in new markets in the USA, Latin America and China. DHX is using the assets of Cookie Jar, acquired for $111 million in October 2012. According to Rob Goff, DHX has great flexibility to sell and adapt its content around the world, since it requires few investments in time and money. In December 2012, DHX Media was picked as the top small-cap Canadian stock for Byron Capital Markets for 2013.
Mr. Goff reports the following arguments by email and/or in his research note:
Healthy tension between Netflix, HBO , Amazon, Starz, Hulu, traditional broadcasters, Microsoft (NASDAQ:MSFT), Intel (NASDAQ:INTC)) bodes well for digital content pricing. All of the recent signings have been non-exclusive. Best Quote to describe the buyer competitive mentality: The world according to Netflix's CEO, "The goal is to become HBO faster than HBO can become us" (Ted Sarandos, Netflix's chief content officer, GQ Feb. With Netflix boasting 27M US streaming subscribers and HBO at 30M U.S. subscribers, healthy tension between these two leaders (not to overlook Amazon, Starz, Hulu, traditional broadcasters, Microsoft, Intel) bodes well for digital content pricing
We would imagine that DHX would also be amenable to exclusive deals if the distributor/broadcaster was willing to pay the appropriate premium for exclusivity.
Management indicated on the call that it had potential shows in its pipeline that could become exclusive programming for various OTTP providers. We continually highlight the purchasing scale of the OTTP providers as their audiences move to challenge the traditional broadcasters such as HBO.
DHX currently has several apps on mobile devices supporting both iOS and Android. Searching the app store on my iPhone for DHX yielded 16 results that include games and books.
Numerous other merchandise and licensing opportunities also exist. One recent example is the licensing of the Caillou brand for costumes, games, puzzles and birthday party supplies.
"It has been a stock where we have been able to consistently raise our target with positive performance by management both on their internal financials and strategic moves."
Growth of digital activities
The company just began a new dividend (Yield: 1.5%), and its recent financial performance (Q2-2013) was better than what analysts had forecasted. Video on demand services grew by 417% for Q2-2013 versus Q2-2012 with the help of Cookie Jar. New media activities grew by 20% over the same period. Around 30-40% of those revenues come from video on demand services. Over the next 3 years, traffic for video on demand services should triple, according to BI Intelligence.
Risks
Michael Elkins of TD Securities reports in a research note that DHX is planning to close its LA unit, which made $18 million in revenues in 2012. According to M. Elkins, the main business risks are the potential changes in regulation for children's advertising, industry concentration and the ability to create successful new children's series'.
Conclusion
DHX's management forecasts revenues between $98 and $119 million for fiscal year 2013. Revenues diversification is well-spread between content production (42%), library and distribution (32%) and merchandising & licenses (26%). Doozers is a new and promising children's series, forecast for the end of 2013. It is a derivative project from Fraggle Rock, in a joint-venture with Jim Henson (i.e. The Muppets).
The stock could be a very interesting "Buy", if new distribution or licensing agreements are signed, new children series' are created or a new acquisition occurs.
The CEO, Mr. Donovan, is the entrepreneur behind the success of Salter Street, sold for $80 million to Alliance Atlantis Communications. Chairman Michael Hirsch sold Nelvana in 2000 and Cookie Jar in 2012. According to Rob Goff, in the short term, DHX could continue selective and accretive acquisitions in order to sell its content more easily to big distributors. Eventually, DHX Media, the biggest independent children's programming company in North America, could become an interesting acquisition for a big media conglomerate. DHX Media may soon go from hunter to hunted, suggests Jacob Securities analyst Sameet Kanade, who has a $3.50 target on the stock.
DHX Media Revenues breakdown (TTM)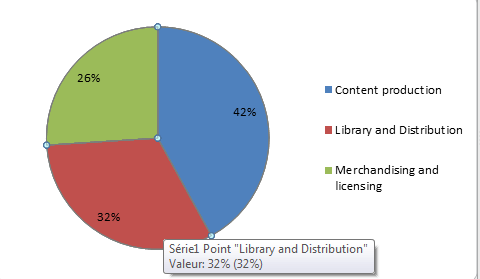 1 year stock return : 160%.
Yield (1.15%)
P/E ratio : 52
Forward P/E ratio : 15.3

Disclosure: I have no positions in any stocks mentioned, but may initiate a long position in DHXMF.PK over the next 72 hours. I wrote this article myself, and it expresses my own opinions. I am not receiving compensation for it (other than from Seeking Alpha). I have no business relationship with any company whose stock is mentioned in this article.