By Cagdas Ozcan
Freeport-McMoRan Copper & Gold Inc. (NYSE:FCX) is one of the largest mining industry leaders. It was formed in the late 1980s as a spin-off from its parent company. Freeport-McMoRan deals with exploring, mining and processing of ore minerals such as copper, gold and molybdenum. Headquartered in Phoenix, Arizona, Freeport-McMoRan has facilities in many countries including Indonesia, America, Iraq and Democratic Republic of Congo.
The company announced its first-quarter 2013 financial report two weeks ago. According to this report, net income attributable to common stock was $648 million, representing a decrease of 15%, compared to the same period of last year. Consolidated mining sales for the first quarter of 2013 totaled 954 million pounds of copper, 214 thousand ounces of gold, and 25 million pounds of molybdenum. While sales from copper and molybdenum rose, sales from gold revenues decreased by 26%.
As of the time of writing, Freeport-McMoRan stock was trading at $30.33 with a 52-week range of $27.24 - $43.65. It has a market cap of $28.8 billion. Trailing twelve month [ttm] P/E ratio is 9.88, and forward P/E ratio is 7.21. P/B, P/S and P/CF ratios stand at 1.61, 1.60 and 7.7, respectively. Operating margin is 32.3%, and net profit margin is 16.9%. The company seems to have only minor debt issues. It has a debt/equity ratio of 0.2 compared to the industry average of 0.3. It should also be considered that the equity composition of the company includes heavy metals that are not easy to sell immediately. Despite all, Freeport-McMoRan is a good dividend payer based on the latest dividend of $0.3125 with a projected yield of 4.12%.
Freeport-McMoRan has a 3-star rating from Morningstar. What is the fair value of Freeport-McMoRan given the forecast estimates? We can estimate the fair value using a discounted earnings plus equity model as follows.
Discounted Earnings Plus Equity Model
This model is primarily used for estimating the returns from long-term projects. It is also frequently used to price fair-valued IPOs. The methodology is based on discounting the present value of the future earnings to the current period:
V = E0 + E1 /(1+r) + E2 /(1+r)2 + E3/(1+r)3 + E4/(1+r)4 + E5/(1+r)5 + Disposal Value
V = E0 + E0 (1+g)/(1+r) + E0(1+g)2/(1+r)2 + … + E0(1+g)5/(1+r)5 + E0(1+g)5/[r(1+r)5]
The earnings after the last period act as a perpetuity that creates regular earnings:
Disposal Value = D = E0(1+g)5/[r(1+r)5] = E5 / r
While this formula might look scary for many of us, it easily calculates the fair value of a stock. All we need is the current-period earnings, earnings growth estimate, and the discount rate. To be as objective as possible, I use Morningstar data for my growth estimates. You can set these parameters as you wish, according to your own diligence.
Valuation
Historically, the average return of the DJI has been around 11% (including dividends). Therefore, I will use 11% as my discount rate. In order to smooth the results, I will also take the average of ttm EPS along with the mean EPS estimate for the next year.
E0 = EPS = ($3.07 + $4.21) / 2 = $3.64
Wall Street holds diversified opinions on the company's future. Average five-year growth forecast is 3%. Book value per share is $18.90. The rest is as follows:
Fair Value Estimator

V (t=0)

E0

$3.64

V (t=1)

E0 (1+g)/(1+r)

$3.38

V (t=2)

E0((1+g)/(1+r))2

$3.13

V (t=3)

E0((1+g)/(1+r))3

$2.91

V (t=4)

E0((1+g)/(1+r))4

$2.70

V (t=5)

E0((1+g)/(1+r))5

$2.50

Disposal Value

E0(1+g)5/[r(1+r)5]

$22.77

Book Value

BV

$18.90

Fair Value Range

Lower Boundary

$41

Upper Boundary

$60

Minimum Potential

35%

Maximum Potential

97%
(You can download FED+ Fair Value Estimator here.)
I decided to add the book value per share so that we can distinguish between a low-debt and debt-loaded company. The lower boundary does not include the book value. According to my 5-year discounted-earnings-plus-book-value model, the fair-value range for Freeport is between $41 and $60 per share. At a price of $30.33, Freeport McMoRan is at least 35% undervalued.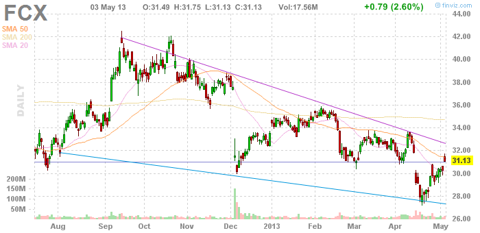 Summary
Freeport-McMoRan is one of the world's largest copper miners. Its market cap is $28.82 billion, while the industry average is only $2.049 billion. Its closest competitor; Southern Copper Corporation (NYSE:SCCO) trails FCX with a market cap of $27.75 billion.
While Freeport-McMoRan's operation is spread over four continents, SCCO facilities are located primarily in Peru, Chile and Mexico. Before the Phelps Dodge acquisition in March 2007 had settled, FCX was trading as low as $12.22 at the end of the year 2008. Soon, the company started to see the benefits of the acquisition. The stock was trading for as high as $60 on the last day of 2010. Since March 2012, FCX has been trading somewhere between $46.12 and $28.24. It is now trading somewhere between its yearly range and has just recently seen its third bottom in the last three years. So, these are cheap valuations for Freeport-McMoRan.
The company owes its success to good management and cutting-edge technologies in mining. With its engineers and scientists seeking new methods for exploring, mining and processing, Freeport-McMoRan has 34.000 employees around the world. FCX is a member of the S&P 500 stock index and is ranked 135th in the Fortune 500 list of companies for 2012.
FCX also seems enthusiastic about new investments. It expects to finalize the acquisitions of Plains Exploration & Production Company (NYSE:PXP) and McMoRan Exploration Co. (NYSE:MMR) by the second quarter of this year. As the acquisitions start bearing the fruits, I expect the company to report stronger results. There might be some waves along the way, but I believe that Freeport-McMoRan will keep or raise its current dividend yield of and pay even more generous dividends in the future.
Based on my FED+ valuation, FCX is trading at least 35% below its fair value range. I rate FCX as a buy for long-term investors. At current prices, FCX is trading somewhere between its 52-week trading range. However, I think a general correction in the stock market could pull FCX to a cheaper valuation level. Therefore, I suggest waiting for a small correction before buying in.
Disclosure: I have no positions in any stocks mentioned, and no plans to initiate any positions within the next 72 hours.
Business relationship disclosure: Efsinvestment is a team of analysts. This article was written by one of our equity analysts. We did not receive compensation for this article (other than from Seeking Alpha), and we have no business relationship with any company whose stock is mentioned in this article.