I developed an interest in Flower Foods (NYSE:FLO) some time back but did not follow up on further research. It was nice to get the email announcing that the company is increasing the dividend by 17%. This comes on a sales increase of 19% in the most recent quarter.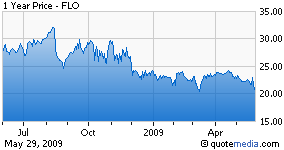 Management is projecting 2009 profits of $1.37 to $1.48 per share. That gives plenty of coverage for the 70¢ annual dividend. I am surprised that the shares are trading not very far above the recent low set in March. Since that time the over all market is up more than 30% and FLO has gained only 4%.
Again, this is not a stock I own or follow, but it seems like a pretty good value from the recent earnings report and the dividend increase.