Here are my notes from the White Mountains Insurance (NYSE:WTM) Analyst Day held on May 20, 2009. These are for the introductory section, the financial highlights and a review of bad news in 2008. When I went back to the events section of the White Mountains Insurance web page, the webcast link was missing, so I don't know if I'll be able to review the rest of the meeting. I have e-mailed the company asking for the link but haven't heard back. If anyone has the link to the webcast, please send it to me.

Notes

Ray Barrette introduces the Board of Directors of White Mountains Insurance and says that some are in the room and the rest are listening on the phone. He commented that the Board had a tough time with them due to the poor returns the last few years. Barrette says that he was not sure if Bruce Berkowitz would be there in person or listening on the web.

Barrette then introduced some of the WTM people who would be speaking:

David Foy, CFO
David Linker, fixed income manager
Mike Miller, One Beacon
Alan Waters. White Mountains Re
click to enlarge

Financial Highlights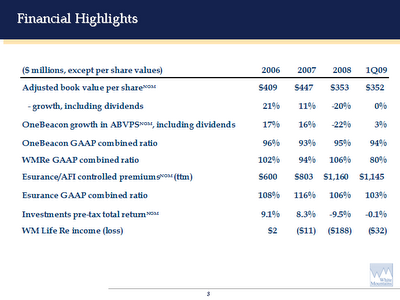 Barrette said that 2008 was a tough, tough year. Book value of WTM dropped 20% and book value of OneBeacon (NYSE:OB) dropped 22%. First quarter things have stabilized with WTM book value flat and OneBeacon up 3%.

OneBeacon's combined ratio was 94% for the first quarter of 2009.

WTM Re has had a bit of an up and down combined ratio and has had reserve issues in the past but Barrette believes that those reserve issues are behind them. He knows that he has said that before and if people are skeptical he is not surprised.

Answer Financial (AFI) – controls $1.2 billion in premiums combined with Esurance. He believes that Esurance/AFI is third choice for consumers behind Geico and Progressive (NYSE:PGR).

Esurance combined ratio is at 103% in the first quarter of 2009, but WTM looks at loss ratio rather than combined ratio, but the combined ratio did come down 10 points. WTM cut marketing and advertising expenses but are ready to ramp them up when needed.
Investment Returns

Barrette said it was the first time in his very long career that underwriting is doing well, but investments are the problem. Investments were always value added to the company. Total investment results were down 9.5% in 2008, and while this might be good for some people, the company's job is not to lose money, and the company was disappointed with that. Things stabilized in the first quarter of 2009, and the company likes what it owns.

A surprise from last year was the Life Reinsurance business, which they had barely talked about in past meetings, and now there were significant losses. The first quarter of 2009 was a problem and the company lost $32 million in the Life Reinsurance business, but things have stabilized.

Book Value Growth

Barrette said this chart that he used to love to show at investor meetings looks a whole lot less attractive now. Since the IPO in 1985, 15% growth in book value still ranks pretty high in the industry. Stock value growth used to be above book value growth, but now it is below.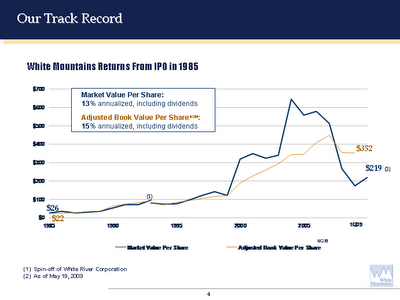 Since 1999, book value has grown at 10% a year and market value of stock at 8% a year. Barrette apologizes for the results.
>>> Go to Part II