Introduction
In 2006, Nokia (NYSE:NOK) controlled almost half of the smartphone market, but then the Apple (NASDAQ:AAPL) iPhone emerged and everything changed. At that time, BlackBerry (NASDAQ:BBRY) was the leading handheld device supplier and boasted a 20% market share. With the advent of smartphones, Apple and Google (NASDAQ:GOOG) have transformed the mobile phone industry by introducing tremendous innovations and products, leaving Nokia and BlackBerry far behind in the pecking order. However, in 2013, we might be witnessing a resurgence. This resurgence, I must add, will not take shape in the United States, nor in any other developed country, since these markets are saturated with smartphones that have locked consumers into 2-year contracts, leaving little room for headway.
The way back up for Nokia and BlackBerry is in the developing markets and, most notably, China. In emerging markets, Nokia's brand loyalty and image is only surpassed by Samsung. The same holds true in the China Brand Power Index. If Nokia ups its game with the new lower priced Nokia Lumia 520, there is a huge opportunity for the Finnish brand to capture market share and reverse its fortunes. The struggling company traded above $40 per share in late 2007, but its shares are now worth a little more than $3 each. BlackBerry on the other hand has seen its new BlackBerry 10 being received with a lot of buzz and anticipation but earlier reports of a giant single order of 1 million are now surfacing to be for an international distributor - Brightstar.
Even if BlackBerry manages to make amends in the long lost American and European markets, the spoils will be shared with Apple, Google and perhaps Nokia, too. If BlackBerry really wants to return to its glory days, then it will have to commit itself to cheaper alternatives, which it can then introduce into developing markets, since the new Z10 will be mauled by the cheaper Androids available in these markets. In the U.S., BlackВerry's only hope might be in the shape of Verizon (NYSE:VZ), with whom it once shared a very profitable relationship.
Tracking Financials
The P/E ratio of the two companies shows the losses in revenue and earnings which they have been experiencing in recent years. For Nokia, revenue fell by 20%, and the only bright spot is the company's Lumia smartphone, for which the company expects to see more demand in the upcoming quarters. Lumia, however, represents only about 10% of the company's overall mobile phone portfolio. The company is taking bold steps to conserve cash, including selling its Espoo, Finland headquarters and suspending dividend payments. Nokia Siemens is proving to be valuable in this waiting game, having delivered $3 billion in gross cash to Nokia and posting a fourth-quarter operating profit that outperformed the Swedish network equipment powerhouse, Ericsson.
BlackBerry and Nokia have had negative earnings for the three year average, but aim to change the trend as the BB10 and Lumia devices pick up speed.
Prospects aside, a look at the stock performances over the past year and six months are illustrated in the graphs below. Usually I take a 5-year picture of the stocks and analyze troughs and crests. In this case, however, the fall from grace in the stock market is already well documented for both Nokia and BlackBerry. The stocks lost almost 90% of their value over the past 4 years, making it more relevant to focus on the present movement of these two. The two stocks are compared with the Dow Jones Industrial Average and the S&P 500.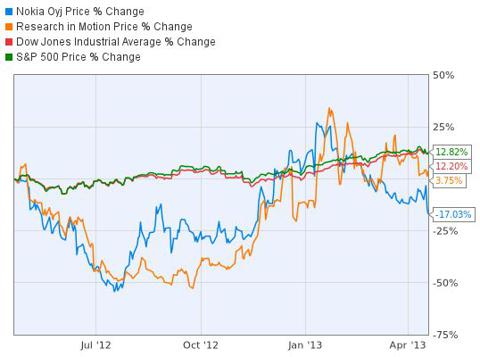 From a year ago, Nokia and BlackBerry are down by 17.03% and 3.75%, respectively. For a long while, a lot of people kept on talking about how Nokia is a buy for the short and medium term investors. However, that seems to have been incorrect as the graph suggests. In an earlier article, I stated that Nokia cannot rely on Lumia devices to lift its fortunes, even though the smartphone range saw an increase of 27% in its latest quarter, compared to Q4 2012.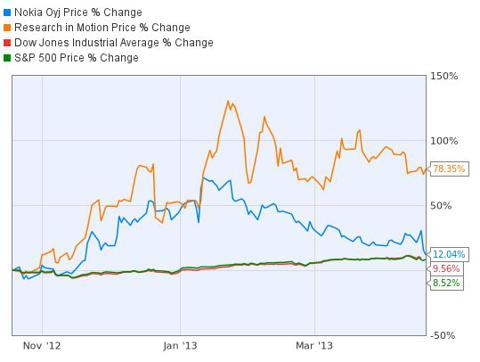 With the launch of its BB10 devices, BlackBerry has seen an upturn of sorts, which has had a half-baked effect on the stock market, especially since the results of its new devices were not included in its latest quarterly update. Judging from external sales estimates and consumer feedback, the BB10 is a fairly efficient device, whose multi-tasking functionality really is as good as it is suggested. Large orders are coming in for the product from Canada, Europe and India, but not from the United States.
Make or Break for Investors
Right now NOK and BBRY are two stocks that offer a lot of potential but no concrete upside for investors. While the inventories of the new products continue to dwindle due to increased demand, the two companies are just not strong enough to battle with the industry heavyweights, Apple and Google. I firmly believe that things will definitely improve for BBRY. I feel a lot more positively about BBRY than NOK due to the smartphone pedigree that BBRY enjoys. However, with this in mind, I would still suggest that investors steer clear of these two stocks. While they are cheap and easy to buy, their return for the medium term is limited, unless you can see NOK and BBRY eating into the fortunes of AAPL and GOOG. Furthermore, I don't see the two companies focusing on China with their smartphone products, which leaves them handicapped in the overall smartphone market.
Morningstar provides the following rating for the two stocks: NOK - 1/9 buy, 1/9 outperform, 4/9 hold, 1/9 underperform, 2/9 sell. BBRY - 3/24 buy, 2/24 outperform, 12/24 hold, 7/24 sell.
Final Words
Currently, I would pass considering Nokia or BlackBerry as the comeback kings, as well as reliable BUY candidates in the long run. I would say that these tech stocks are just not going to scale the heights of the stock market simply because they are plying their trades in the wrong market. One day, the 'forgotten maestros' may indeed become the comeback kings either introducing cheap products into China and other developing countries or continuing struggle for staying afloat. However, for that transformation they need time at least. So let's all take a deep breath and take a look at how it will go.
Disclosure: I have no positions in any stocks mentioned, and no plans to initiate any positions within the next 72 hours. I wrote this article myself, and it expresses my own opinions. I am not receiving compensation for it (other than from Seeking Alpha). I have no business relationship with any company whose stock is mentioned in this article.