There are signs that the market is getting a bit overheated. In a mere four months, the S&P 500 index is up 10.9% and since the bottom in March 2009, it's up a whopping 132%! The restaurant sector has been particularly hot, with the chart below showing the cumulative 12-month returns for a handful of restaurant stocks (from April '12 to March '13), including Brinker (NYSE:EAT), Darden (NYSE:DRI), Cracker Barrel (NASDAQ:CBRL), DineEquity (NYSE:DIN), Sonic (NASDAQ:SONC), Wendy's (NYSE:WEN), McDonald's (NYSE:MCD), and Papa John's (NASDAQ:PZZA).

The average return for this group is 32.1%, with six out of the eight chains producing double-digit gains, and five of the stocks producing returns of over 28%. Since the 2008 / 2009 market bottoms, many restaurant stocks have seen gains over 500%. That list includes DIN with an 1100% return, EAT at 860%, and Cheesecake Factory (NASDAQ:CAKE) with a 630% gain. P/E multiples tend to be aggressive, as well, with CAKE selling at a 21x P/E, Papa John's at 24x, and Sonic at 19x.
Hedging the Market
In spite of the huge rally, I am not "bearish" per se, but I have grown increasingly concerned about a market correction. I'm noticing fewer deals over the past few months and I have begun hedging my managed portfolios much more aggressively.
For this reason, restaurant stocks could make enticing short candidates. The Affordable Care Act (commonly known as "Obamacare"), which is largely being implemented in 2014, also has the potential to harm restaurants significantly, providing an impetus that could drive stock prices downward.
Yet, this is also a tricky sector to short because there's a lot of great long-term growth stories, particularly on the international front. For this reason, I'd tread cautiously. I've laid out four criteria for an ideal restaurant short:
(1) Somewhat vulnerable to rising labor costs from the ACA,
(2) Priced aggressively relative to probable future cash flows,
(3) Lacks significant international expansion prospects, and
(4) Has significant company-specific issues that could be exacerbated in a downturn
Sonic Corporation, operator of Sonic Drive-Ins, is my favorite short based on these attributes.
In my last article, I showed Sonic's labor model, lack of international growth prospects, and aggressive valuation may make it an attractive short to hedge market risks. In this article, I'll dig deeper and examine the firm's troubling margin deterioration, which will lead us into franchisee economics in Part III.
Trouble in the Margins
In 2008, Sonic began an aggressive campaign to sell off company stores. As one would expect, revenue has fallen 32% since then, as company store revenue has been replaced with franchise royalties. Yet, there's something hiding in this data. We should expect revenue to fall, but operating profits have fallen 39% during the same timeframe as well. How do we explain this profit plunge?
As you can see in the chart below, part of the answer lies in the margins. In the span of ten years, the operating margin for company-owned Sonic Drive-Ins has fallen from 26.8% to 14.1%.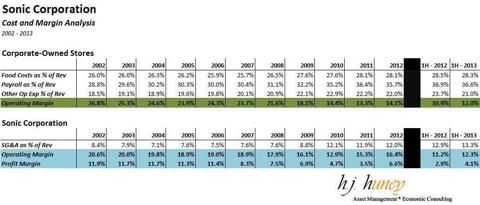 There's been a steady increase (as a % of revenue) in most costs and this has slowly taken a toll on profits. Payroll has been the biggest driver of this. From FY 2002 to FY 2012, payroll as a % of revenue increased from 28.8% to 35.7%.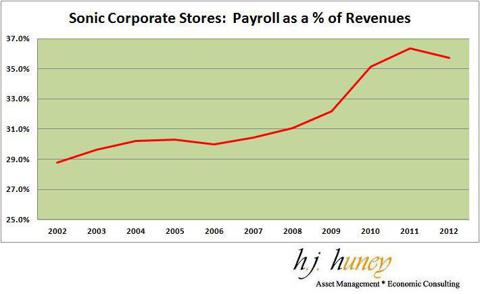 Of course, it's possible that Sonic's strategy to sell off many of its corporate-owned stores is partly responsible for this trend. If Sonic has been selling off the best performing stores and holding the underperforming ones, this could make the company-owned store margins look worse than the overall system-wide margins. But there's a more probable explanation: declining sales volume.
Revenues, Inflation, and Declining Volume
Sonic's sales are more spread out in the day than the typical restaurant. For this reason, the average Sonic restaurant may have labor costs that are more "fixed" in nature. This would make Sonic more dependent upon volume of sales than other chains.
How much has volume fallen? It's difficult to measure, but on a basic level, we know that sales revenue should at least be increasing at the rate of inflation. If not, then it's logical to assume that there has been a decline in volume. Conversely, if sales are increasing more rapidly than inflation, then we could assume that sales volume is increasing.
For this reason, I created a model that examines expected revenue growth for the average drive-in based on CPI inflation. I decided to take a few base years (2002, 2004, and 2007) and then use CPI inflation numbers to project where revenue should have been in the future with zero inflation-adjusted growth.
Before we look at that, however, let's first take a look at Sonic's franchised and company-owned store data. Below, you can see the total number of stores and average revenue in each category, as well as net openings for the entire system.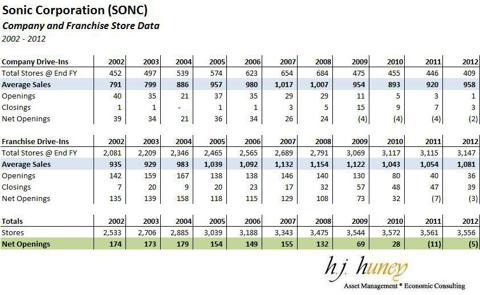 If you notice, the average company drive-in sales peaked in 2007 at $1,017,000. Franchised store average sales peaked one year later at $1,154,000. We've seen a significant decline since then, and Sonic has never recovered to those levels.
To see how much Sonic is struggling, we'll create "CPI Adjusted Zero Growth Projections." This is a fancy way of saying, "let's see whether Sonic's revenue growth is outpacing inflation." We'll use three different base years: 2002, 2004, and 2007. The goal is to see how the 2012 average revenue per store stack up in inflation-adjusted terms. You can see the results below.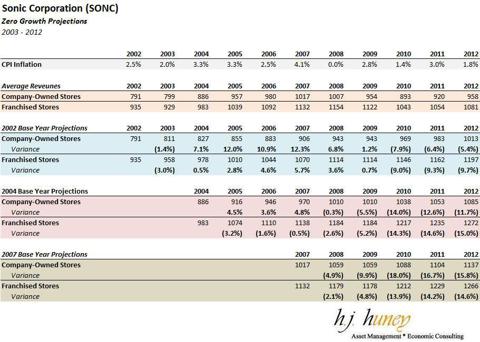 Admittedly, this chart is a bit complex, but I'll explain the important info. First off, the "variance" figure measures "Actual Results / Projected Results -1." For instance, in the "2002 Base Year Projections", if you glance forward to 2012, you can see that the actual revenue in '12 for the average "Company-Owned Store" are $958,000. That's 5.4% below the projected result of $1,013,000.
Based on the 2002 base year, franchised stores were 9.7% below the projected result in 2012. For the 2004 base year, franchised stores were 15.0% below the projected result, and company-owned stores were 11.7% below. For the 2007 base year, company-owned stores were 15.8% below and franchised stores were 14.6% below.
What this means in layman's terms is that the volume of sales at both company-owned and franchised Sonic stores has seen a significant decline over time, once you factor in inflation. In fact, Sonic has seen no real growth in volume since at least 2001 by this measure. Suddenly, those shrinking margins make a lot more sense.
Costs
While labor costs are certainly the most important figure to analyze here, it's still worthwhile to examine some of the other costs. Food costs for Sonic company-owned stores rose from around 25.5% - 26.5% range from 2002 - 2007 to around 28.2% currently. This may be the result of higher input costs, but it's also plausible that there are some minor economies of scale here, as well.
Other operating expenses have also seen a steady rise from around 18.5% of revenue in 2002, up to a peak of around 23% in 2010. It has since fallen back to around 22%. My guess is that this is also the result of fixed costs, such as rent, being spread out across a lower volume of sales.
Finally, we should also note SG&A, which is a bit trickier. While I included SG&A as a % of revenue in the first chart, it's actually not that informative of a metric. Since Sonic has been selling off many company-owned stores, thereby causing corporate revenue to fall, this could make it appear as if SG&A is rising when it is not. Instead, we should look at SG&A per store, which should prove more reliable.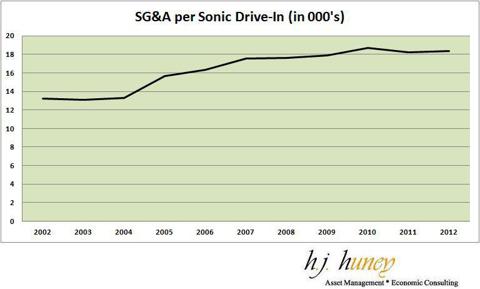 Turns out, Sonic doesn't fare much better on this metric. In 2002, SG&A was about $13,200 per store and in 2012, it was about $18,300 per store, an increase of about 39%. What this says is that Sonic is having to spend more to generate each dollar of revenue over time.
Margins
Once we add up the impact of increased costs across the board, we discover that Sonic has seen major deterioration in its operating margin for the corporate-run stores, as the chart below shows.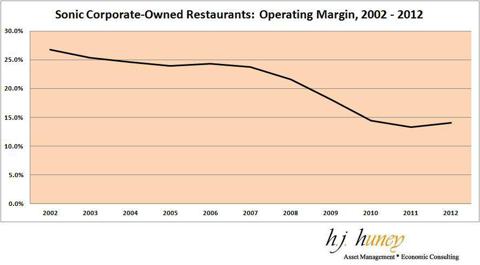 In 2002, operating margins were at 26.8% and that figure has steadily declined down to around 14%. Corporate margins have declined steadily as well, but have seen an uptick over the past few years, perhaps reflecting management's efforts to sell off corporate-owned stores to focus more on servicing the franchisees.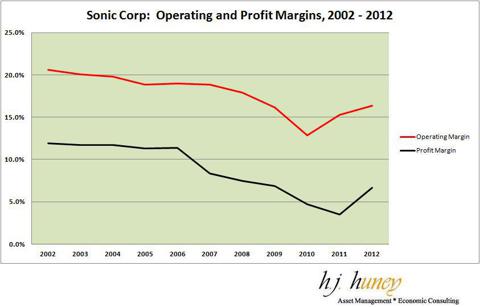 In 2002, the corporate operating margin was at 20.6% and profit margin was 11.9%. Operating margin bottomed in FY 2010 at 12.9%, but has since improved to 16.4%. Profit margin bottomed in FY 2011 at 3.5%, but improved significantly to 6.6% in FY 2012. This perhaps explains some of the optimism behind the stock, but I remain very skeptical of a grand reversal of fortune.
Comparables
I've just given you a ton of data and analysis, but all of this info is somewhat in isolation. After all, maybe other fast-food joints were suffering from some of the same dynamics. I decided to explore this issue further, focusing on McDonald's, Papa John's, and Jack In The Box (NASDAQ:JACK). I wanted to see if any of the trends here hit those firms, as well. My analysis suggests that these issues appear to be specific to Sonic.
Here's a look at McDonald's costs and margins from 2001 to 2012.

Note that McDonald's company store operating margins actually improved from 13.9% in 2002 to 18.2% in 2012; moving in the opposite direction as Sonic. Food expenses stayed relatively constant at around 33% - 34.5% of revenue during this entire timeframe, with minor fluctuations. Payroll also stays fairly constant, improving somewhat in the 11-year period, from 26.3% of revenue in 2001 to 25.3% in 2012. McDonald's sees the greatest improvement in other operating expenses which fall from 25.3% in 2002 to 22.6% in 2012, which makes sense given an increase in average revenue per restaurant during this timeframe. McDonald's higher volume of sales means it's able to spread its fixed costs out over more units.
Next, let's take a look at Jack In The Box, which I view as one of the closest comparables to Sonic. Unfortunately, the data only goes back to 2007, but we still get some good info.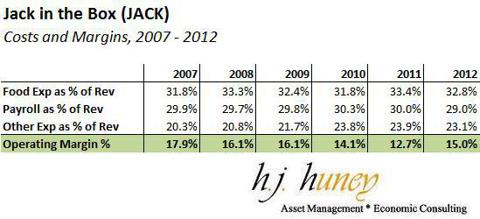 Jack In The Box does not fare as well as McDonald's. Yet, its results still look significantly better than Sonic's. Once again, food expenses are fairly constant ranging from 31.8% to 33.3% in the six year timeframe. Payroll is even steadier staying around the 29% - 30% of revenue range. However, JACK does not fare as well when it comes to other operating expenses, which increased from 20.3% of revenue in 2007 to 23.1% in 2012. This might be the result of rental costs, utilities, and other fixed costs being spread out over a lower volume of sales.
Even so, JACK was able to vary labor to the lower demand very successfully, unlike Sonic. The net result is that JACK's operating margins fall from 17.9% in 2007 to 15.0% in 2012 (with a dip to 12.7% in 2011). Sonic's corporate-store operating margins, in comparison, fell from 23.7% to 14.1% in the same time period; a much worse result.
Finally, let's take a look at Papa John's.

Papa John's story looks pretty good for this 11-year timeframe. Food expenses fluctuated more at PZZA than at MCD or JACK, but consistently stayed within a certain range (around 20% - 25% of revenue). There appears to be no trend of higher long-term costs, at the very least.
Payroll expenses have actually fallen significantly since 2003, peaking at around 32.5% of revenue, and now sitting at around 27.5% of revenue. Other operating expenses have climbed a slight bit, moving from around 27% of revenue in 2002 to 29.7% in 2012. Yet, overall, Papa John's operating margins have held up fairly well, even having some of its best years from 2009 - 2012.
While this is just a sampling of three restaurants, I see little evidence perusing through other companies' financial statements, that there was a general increase in restaurant operating costs. Rather, it appears to be an issue specifically related to Sonic and may have a lot to do with its business model.
Coming Up in Part III
If one believes the Affordable Care Act has the potential to harm the restaurant sector, Sonic looks like an attractive short on the face of it. Its labor model is more vulnerable to declines in volume, its valuation is somewhat aggressive, and it cannot rely on international markets to make up for slow US growth. A look at the margin deterioration of the firm might present us with an additional red flag, but it's also an opportunity, if Sonic's management can turn things around.
In my next article, I take a look at one of the most vital issues. Sonic has sold off many company-owned stores and is increasingly relying on franchisees. I'll examine how franchisee economics have changed over time. Understanding the franchisee economics is the key to understanding how things could get significantly worse for Sonic potentially.
Disclosure: I am short SONC. I wrote this article myself, and it expresses my own opinions. I am not receiving compensation for it (other than from Seeking Alpha). I have no business relationship with any company whose stock is mentioned in this article.