Considering the strong performance of gold over the past 13 years, it is difficult to believe that there are profitable gold mining companies that have yet to see any meaningful price appreciation. Harmony Gold Mining Co. (NYSE:HMY) is one such company. As gold prices crashed in April 2013, Harmony Gold shares traded as low as $4.31 each on May 3rd, or the lowest level since 2001 when the price of gold traded well below $300 per ounce. The following chart illustrates the performance of Harmony Gold shares relative to the price of gold: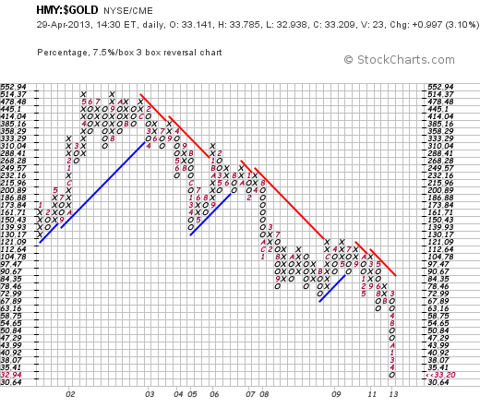 There are good reasons for this lackluster performance, and they include the following:
The company's mines are located in South Africa and in Papua New Guinea. The risks a company takes on by mining in these regions have had materially negative effects on Harmony's performance.
The company has had mediocre revenue and profit growth relative to the appreciation of the price of gold. Specifically, while the price of gold has appreciated at a rate exceeding 15% annually over the past 10 years, Harmony Gold's revenues have grown at a mere 9.6%, and its net profit has grown at just 13.5%.
The company has had high and rising costs: given its current all-in production costs, the company can barely make a profit with the price of gold at $1,475.
That being said, it is no wonder that there has been very little interest in Harmony Gold shares among gold mining investors. After all there are numerous companies that:
have mines in safer jurisdictions
have lower operating costs
have consistent profitability and profit growth, and
have a history of returning capital to shareholders on a consistent basis.
Investor demand for other gold companies relative to Harmony Gold is expressed in the following chart of the price of Harmony Gold shares relative to the HUI Gold Bugs Index: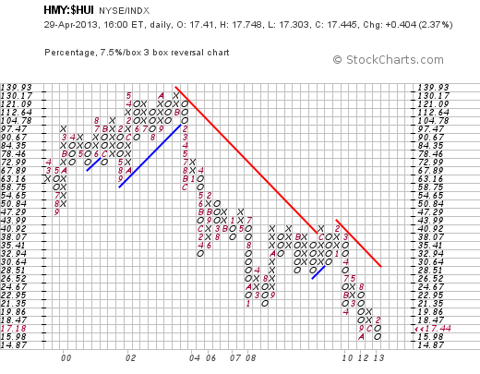 Nevertheless, given the current share price of just $4.32, giving the company a fully diluted market capitalization of just $1.88 billion, there is no major gold producer in the world that I can think of that offers better value on a purely quantitative basis. Consequently, more aggressive investors may want to consider purchasing shares of Harmony Gold.
1: Why Consider Buying Harmony Gold?
Harmony Gold is one of the world's largest gold producers with over a million ounces of annual production. The company's valuation based on traditional valuation metrics is impeccably low, reflecting extreme pessimism in the market.
It trades at under 8X trailing earnings (although 2013 earnings should decline as the gold price has declined).
It trades at less than 50% of its reported book value.
These valuation metrics are phenomenal considering that the S&P 500 trades at over 21X earnings and at 4X its reported book value (data is based on iShares' data given for the S&P 500 ETF (NYSEARCA:IVV)).
Investors should also consider the following facts about Harmony Gold:
Harmony Gold owns and operates 13 producing gold mines, all of which are located in either New Guinea or in South Africa.
The company also owns 11 non-producing gold mines that are located in either New Guinea or in South Africa.
The company has an estimated 175 million ounces of gold resources. Given the company's current fully diluted market capitalization, this means that Harmony Gold's gold in the ground is selling for just $12.34 per ounce. Compared to other gold mining companies, this is incredibly inexpensive. For instance, consider that Newmont Mining (NYSE:NEM), which has a market capitalization of nearly $17 billion, has less reserves at just under 150 million ounces.
For a company valued at just $1.88 billion, Harmony Gold offers investors an enormous amount of assets that are located on a significant number of properties.
Harmony Gold not only offers investors with significant current production, but the company intends to increase its production from an estimated 1.2 million ounces in 2013 to 1.7 million ounces in 2016, which is a 12.3% annualized growth rate. The following chart illustrates the company's projected production growth.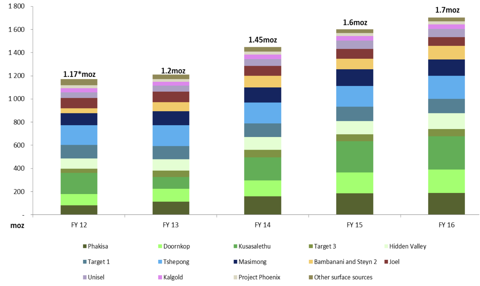 Assuming that the price of gold remains stable, and assuming that these production projections hold true, the company should be able to increase its earnings in line with its projected production growth of 12.3% annually. Given the current price of the stock, such sales growth entails that there is enormous value in the stock. This value is only enhanced if gold prices appreciate over the next several years, especially given that the company's high production costs relative to the current gold price gives the company's profits enormous leverage to the price of gold.
Of course investors need to consider whether management can facilitate this projected growth, and given that the company has had a history of disappointing investors in this category, skepticism is warranted: from 2004 to 2009, while gold prices were soaring, Harmony Gold's sales were stagnant at roughly $1.26 billion annually, while its profits fluctuated wildly, and were often negative. Yet since CEO Graham Briggs took over in 2008, this pattern seems to have changed, and the company has demonstrated consistent production, consistent profitability (with the exception of a small loss in 2010), and sales growth that has been in line with the rise in gold prices. That being said, assuming the gold price remains above the company's cost of production of $1,400, Harmony Gold will offer investors with strong future profitability that is leveraged to the gold price with significant sales growth driven by the aforementioned anticipated production increases.
2: Investing In Harmony Gold Is Risky
A: High Production costs
One issue facing Harmony Gold shareholders is that the company is plagued by high production costs. Currently all in production costs are estimated to be $1,400, which means that at $1,475/oz gold and 1.2 million ounces of production for 2013, the company is estimated to have profits of approximately $90 million, or around 20 cents per share. This is not very promising, and it also means that a small drop in the price of gold puts Harmony Gold in the red.
However, high production costs are a double-edged sword, especially for investors considering purchasing shares in the company now. While just a 6% drop in gold prices means that Harmony Gold loses money, a small rise in gold, say to $1,700, would mean that the company would earn $360 million, or over 80 cents per share: four times higher than the company's estimated profits at current gold prices. If gold continues its bull market and hits the long-anticipated target of $2,000 per ounce, then while holders of gold will see roughly a 35% appreciation, holders of Harmony Gold shares will see their profits rise from 20 cents per share to over $1.60 per share, or an eight-fold increase.
B: Geo-Political And Geographical Risk
Investors are well aware of the risks entailed in investing in a mining company with properties in South Africa. Just recently, in August 2012, there was a violent clash between South African police and platinum miners that led to several miners being killed and injured. For a company that holds most of its properties in South Africa, Harmony Gold is at risk of having its mines shut down as a result of worker strikes and similar violent interactions with the police. In fact the company is no stranger to strikes at its South African mines: most recently, in October 2012, Harmony Gold miners at the Kusasalethu mine in Johannesburg, South Africa went on strike. The mine was closed from December until February.
In general South Africa has deteriorated into a lousy place to mine for gold over the past several decades. While just 40 years ago South Africa was responsible for more than half of the world's gold production, more recently it has barely made an impact in the level of global gold production. Consider the following three charts. The first shows global gold production in tons, which has risen, although not significantly, since 1970. The second shows global gold production broken down by country in 1970, clearly illustrating South Africa's dominance in global gold production. The third chart is similar to the second, except that it gives the same information for 2009 global gold production. It is clear that South Africa is no longer the major gold producer that it once was.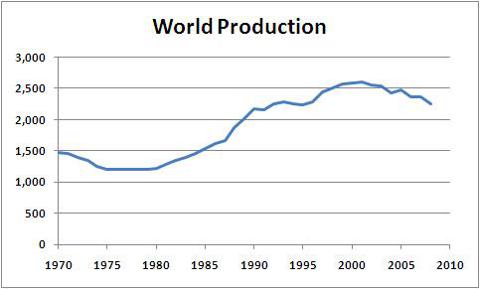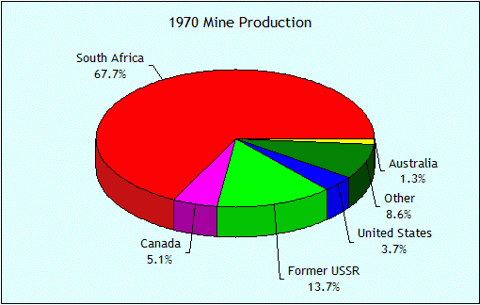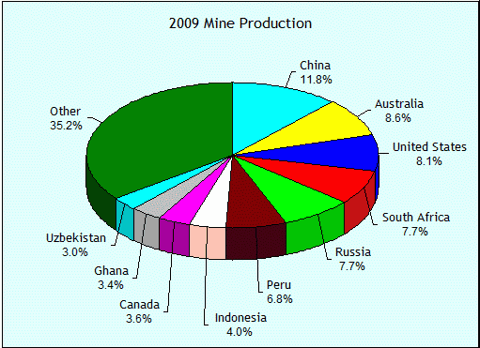 One might look at this data and conclude that gold production has dropped in South Africa because the in-ground gold that once was there has been mined. However, given the high level of reserves of South African miners, this cannot be more than a minor contributing factor. In fact, according to Commodity HQ, South Africa has the second largest in-ground gold reserves only to Australia.
The issue is that mining gold in South Africa is very difficult and dangerous, which accounts in part for the excessive number of worker strikes in South African mines. Most of South Africa's gold is located in deep underground mines. This accounts for the high production costs assumed by companies such as Harmony Gold. This also accounts partially for the lower production rate of gold in South Africa over recent years, as the price of gold has been too low to make mining South African gold profitable. Thus if the price of gold rises significantly, South African gold miners such as Harmony Gold will benefit tremendously. Otherwise, they will continue to languish.
Conclusion
Investors should consider the following points carefully before deciding to invest in Harmony Gold.
Harmony Gold, using only quantitative metrics, appears to be a phenomenal investment relative to its peers: its in ground gold is far less expensive than the in ground gold of its peers.
The company intends to increase its production significantly over the next few years from 1.2 million ounces in 2013 to 1.7 million ounces in 2016.
The company faces high costs, which makes mining profits extremely volatile. This situation could change if gold prices soar well beyond production costs.
In addition to high costs, mining in South Africa is dangerous because South African gold is often located very deep underground. Consequently, workers are faced with poor conditions and they are prone to striking.
Ultimately Harmony Gold is a very high risk stock with potentially enormous profits in its future. Investors need to decide if the current share price justifies such a risk. Given the current environment in which there is a lot of pessimism in gold mining shares, I suggest that more aggressive investors seriously consider taking a small position now in Harmony Gold. However, such investors should not be surprised to see significant losses if they choose to speculate in this manner.
Disclosure: I have no positions in any stocks mentioned, but may initiate a long position in HMY over the next 72 hours. I wrote this article myself, and it expresses my own opinions. I am not receiving compensation for it (other than from Seeking Alpha). I have no business relationship with any company whose stock is mentioned in this article.