Friday saw 545 new 52-week highs and 214 new all-time highs, which are two very positive stats to see in this market and speaks to the fact that there are still people who do not want to miss out on the next leg higher. It is that fear which is driving us, and shall continue to drive us, higher through the end of the year and, by our estimation for another year or two after that. The economic data is just beginning to point higher across the board, and although there are a few stumbles here and there, we think that with the recovery in housing and low natural gas prices we should see the broader economic numbers pick up as well.
Chart of the Day:
Crude has bounced back nicely, and sharply. We did not bounce off the support from earlier, however, we found it not too far below. We will take small victories where we can get them, and this is one as we are overweight on oil in our portfolios.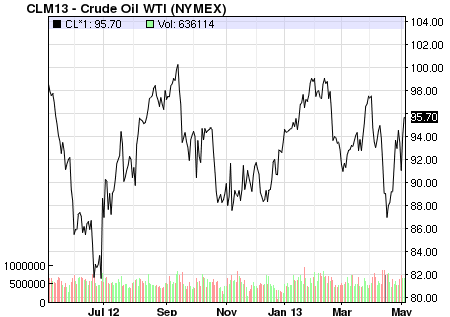 Chart courtesy of Nasdaq.com
We have no economic news due out today, and early in the week it will be light before picking back up mid week.
Asian markets finished higher today:
All Ordinaries -- up 0.56%
Shanghai Composite -- up 1.16%
Nikkei 225 -- CLOSED
NZSE 50 -- up 1.14%
Seoul Composite -- down 0.22%
In Europe, most markets are mixed and little changed this morning:
CAC 40 -- down 0.29%
DAX -- up 0.02%
FTSE 100 -- CLOSED
OSE -- up 0.07%
Financials
One trend which we have admittedly missed through this market rally is that when markets perk up and draw investors in, the online brokers tend to do extremely well as margin debt increases, shares are borrowed and lent out, options activity increases as they are used as both a speculative tool and an insurance policy and normal investors rush back into the market so as not to miss the next run up. We still believe we are early in this move higher and decided that we should go ahead and point this out this morning. Should it have been mentioned earlier? Yes. But better later than never and we have done well to place funds in higher returning areas so far too, so not a loss. This morning though we want to point out that TD Ameritrade Holdings (NASDAQ:AMTD) and The Charles Schwab Company (NYSE:SCHW) will be the safest plays and those who we think will further consolidate the industry. Yes, there are smaller players out there that these two names shall purchase, but at the end of the day we think it wise to take the profits from our winners and redeploy them to these names to diversify and profit as the market picks up steam.
It has been a rough five years for the online brokers, but if this rally shall continue then we could see the issues of past years forgotten and new uptrends achieved.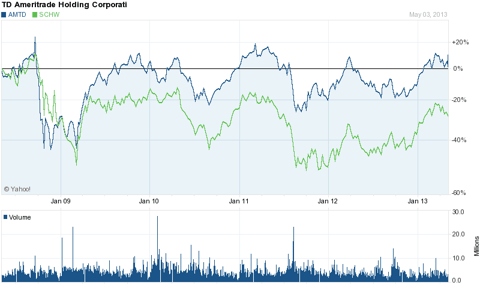 Chart courtesy of Yahoo Finance.
Technology
Something that is lost on many investors no matter how long they have been investing is the fact that history has a story, and if we do not look to history to learn the lessons of yesterday, then profiting from tomorrow's stories shall be that much more difficult. No matter how different railroads or manufacturing is from social networking, there are linkages in business models which must be acknowledged and applied, and when doing so one realizes that this past quarter was not altogether a bad one for LinkedIn (NYSE:LNKD). You see, to increase capacity in all businesses you have to increase headcount (and in some industries this is more dramatic than others). Even if headcount does not increase that much, then your infrastructure/capital assets must. This is where LinkedIn currently is, and where Google (NASDAQ:GOOG) was. They are building the necessary data centers, hiring the key personnel and further developing their product to fend off Facebook (NASDAQ:FB) and the others from venturing into their niche. Amazon (NASDAQ:AMZN) does this quarter after quarter, year after year. There is no reason to be down on LinkedIn, in fact investors should be embracing the fact that the company is planning for the future and setting the company up for success long-term at the expense of short-term numbers which really mean nothing.
Biotechnology
Arena Pharmaceuticals (NASDAQ:ARNA) finished Friday's session down $0.77 (9.17%) to close at $7.63/share on volume of 20.6 million shares. Although part of the blow was earned back during the rally on Friday, nothing was going to save the company from the news they released alongside their earnings. We were a bit surprised that there were not more comments from the bulls and bears in Arena as there usually is some good back and forth there, but maybe that speaks to just how mature and/or tired this trade is now. Either way, everyone is forced to wait on the Drug Enforcement Agency, DEA, which continues to be at the top of the potential news cycle list that could move the shares.
Conglomerates
Who are these people who continue to bet against Warren Buffett and Berkshire Hathaway (NYSE:BRK.B)? The man has made a career out of destroying the careers of those who bet against him and that alone should have been reason enough for Doug Kass to stay away from Omaha. The thing about great calls are that they are great calls on one thing. The thing about those considered to be all-time great investors is that they have made tremendous calls over a lifetime, not just once. How do you bet against those odds? You don't. Yes one day the Oracle of Omaha will head off into the sunset, but that is not the case today and he has assembled a cash generating machine which when he does leave Berkshire will provide a nice cash flow stream which could be used to pay a dividend or buy back shares should the investment managers not find suitable investments. Today though, investors should embrace the exposure to insurance (a recovering business) and transportation while riding this one higher. The stock hit new all-time highs on Friday and then got stronger in after hours trading where it set new all-time highs.
Steady gainer here. One would be wise to ride this one higher.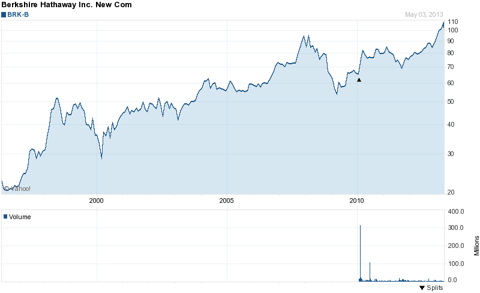 Chart courtesy of Yahoo Finance.
Disclosure: I have no positions in any stocks mentioned, and no plans to initiate any positions within the next 72 hours. I wrote this article myself, and it expresses my own opinions. I am not receiving compensation for it (other than from Seeking Alpha). I have no business relationship with any company whose stock is mentioned in this article.