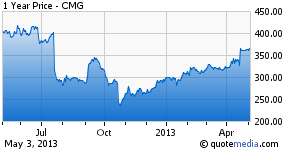 Chipotle Mexican Grill (CMG) has had a few years of stellar growth but my observations suggest that those days are over. My observations are based on two contributing factors, one a Random Walk Theory and the other fundamental observations of earnings and revenue growth trends.
First, Random Walk Theory suggests that we make observations during the course of our normal lives and use those observations to help formulate general opinions and in many cases translate those opinions to actionable investment strategy. Peter Lynch popularized this theory but I think we all applied this to our decisions to invest from time to time as well. In this specific example the feeling I get when I walk into a Chipotle Mexican Grill restaurant is cold, businesslike, and in all respects uninviting.
In addition, the price point is not inexpensive based on the competition, but as a businessman the efficient nature of the restaurants is appealing and understandable. The problem is that as a consumer I don't like it. Not only do I not appreciate the feeling I get when I am in one of the restaurants, but I also ask myself why I have just paid $12 for a burrito and a drink after being herded through what can only be compared to a machine like manufacturing process to sit in a cold and uninviting restaurant being run by employees who do not have the time to be friendly or inviting to patrons.
The employees are not to blame here because they are trained to be efficient, but in this particular case efficiency takes away from what otherwise could be a warm reception. Chipotle employees just want to take your order and pass you on to the next person as they manufacture your burrito, and although some may argue that there is no other way to approach this Starbucks (SBUX) has proven them wrong by using a similar process in a much better way.
Instead of being cold and uninviting Starbucks has created an environment that is actually warm and receptive while still being a systematic process. Employees might know you by name, they almost always remember what you want to drink, and that feels good, but Starbucks has also created a social environment that separates it from Chipotle or any other of its peers.
The second part of my observation is that the revenue and growth rates for Chipotle Mexican Grill are declining but the price earnings multiple for the stock is still 40 times earnings. This is a valuation call and although Chipotle continues to add revenue it is doing so at a much slower pace than it has in the past. This tells me that the high growth rate for this company is behind it and if that is true the stock does not deserve a multiple of 40 times earnings.
Below I offer two charts showing declines in both revenue and earnings growth trends. Although growth still exists it is happening at a slower pace and the stock is now back at lofty levels that seemed to be warranted when the growth rates were much higher, but no longer appear in line with current and future growth projections.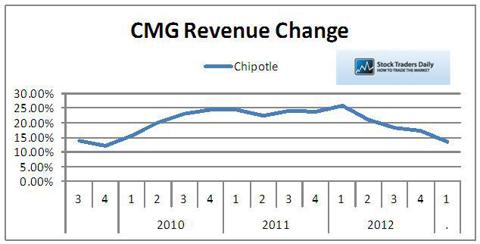 Click to enlarge
(Click to enlarge)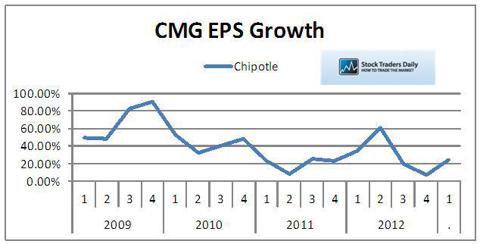 Click to enlarge
(Click to enlarge)
In conclusion, not only is Chipotle Mexican Grill uninviting based on a Random Walk Theory, but it is pricey on a valuation level with slower overall growth rates. This suggests to me that Chipotle Mexican Grill should be sold and if our real-time trading report flashes a short signal then I believe short positions should also be taken, but this observation is not intended to offer short signals immediately. My observation here is simply to point out that this stock is expensive and a price earnings multiple of 40 today is not warranted.
Unless Chipotle Mexican Grill starts adding items that can increase same-store sales like McDonald's (MCD) and Starbucks have, I believe the uninviting nature and comparatively high price point of Chipotle will result in a decline in same-store sales, but if it's able to improve the environment within its restaurants and offer additional items to increase same-store sales, my Random Walk Theory as it exists now may change and that eventually could be brought down to the bottom line.
Reluctantly, McDonald's has vastly improved its restaurants in an effort to be more warm and inviting too, that has resulted in significant growth improvements for this giant, Starbucks has done the same, and now Chipotle faces a hurdle that it must overcome to continue to thrive. My concern is that these changes will not happen anytime soon, not before the company starts to take a hit, and the trajectory for both earnings and revenue will continue on their current path, a downward slope, which will be followed by multiple contractions.
Disclosure: I have no positions in any stocks mentioned, and no plans to initiate any positions within the next 72 hours.
Business relationship disclosure: By Thomas H. Kee Jr. for Stock Traders Daily and neither receive compensation for writing this article from the publicly traded companies mentioned herein.