Last week, shares of Facebook (NASDAQ:FB) rose after the company reported its fiscal first quarter results. While the social media giant narrowly exceeded revenue estimates, earnings missed expectations. Right now, Facebook's expenses are rising much quicker than revenues, which is going to pressure margins for the time being. Until Facebook can get those expenses in check, this name will trade at a valuation that will seem rather extreme to many.
First Quarter Results:
For the quarter, Facebook reported revenues of $1.46 billion. This number topped analyst estimates for $1.44 billion, and represented growth of 37.8% over the prior-year period. On the bottom line, the company reported GAAP earnings per share of $0.09 and non-GAAP earnings per share of $0.12. Both figures matched the earnings numbers from the year-ago period. However, analysts were looking for $0.13 on a non-GAAP basis, so Facebook missed by a penny. Additionally, after Facebook mentioned on the Q4 call that expenses would rise by 50% this year, analysts took down their average estimate by a penny. Back in January, analysts were expecting $0.14 in Q1. They came down by a penny, and Facebook still missed.
Margins / rising expenses:
Facebook's statement about rising expenses this year was certainly true in Q1. The following table shows Facebook's Q1 margins against last year's period, and I'll use these numbers to further break down the quarter. Facebook's non-GAAP numbers exclude share-based compensation and related payroll tax expenses.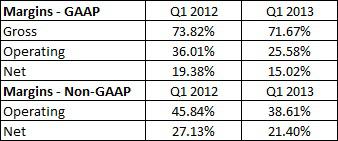 As I mentioned above, Facebook's revenues rose by 37.81% over the prior-year period. However, the cost of those revenues rose by 49.10%. Gross profit rose by 33.80%, but since that's a bit less than the rise in revenues, gross margins fell by 215 basis points.
I mentioned above the differences between GAAP and non-GAAP numbers. I'll discuss the GAAP numbers. Facebook's R&D expenses rose by 91.5% over the prior-year period, while marketing and sales expenses rose by 41.96%. General and administrative expenses rose by 69.23%. Overall, Facebook's GAAP operating expenses rose by 68% over the year-ago period. It will be hard for margins to rise when expenses are rising that fast. Facebook improved a little further down the income statement, thanks to a lower tax rate, which is why net margins did not fall as much. I won't go into a full discussion here on the non-GAAP results, because my readers know that I'd rather discuss GAAP results. Obviously, non-GAAP numbers will look better because you are taking out expenses.
Current estimates and fast rising expenses:
You saw above how fast expenses rose in Q1, and that trend is likely to continue going forward. It's likely that expenses won't rise as fast the rest of the year, if the 50% growth in expenses statement turns out to be true, since Q1 expenses (cost of revenues plus operating expenses) rose by 60.27% on a GAAP basis. Don't forget though, revenues rose by almost 38% in Q1. Estimates call for just 32% growth this year in revenues, meaning revenues won't rise as fast as Q1 saw either. Current estimates call for 36.2% growth in Q2 and 33.3% in Q3, with even less growth in Q4.
Now I want to show you how analyst estimates have changed over time, to show that expenses are expected to remain high. The following table shows the average analyst estimate for Facebook revenues and non-GAAP earnings in 2013, going back to June last year, not much after the IPO. Until Facebook reported its Q3 results, analysts kept taking down their estimates. The blue line is where estimates stood on the day they reported Q3 in 2012. Since then, revenue estimates have continued higher, however, earnings estimates peaked when Facebook reported Q4 in January, the yellow line below.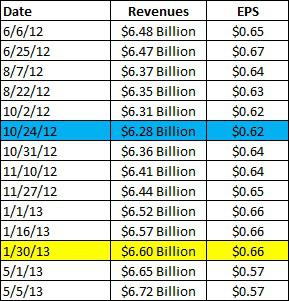 Despite Facebook's 2013 revenue estimates being at a new high currently, 2013 earnings estimates are at their lowest point. Now, these are non-GAAP earnings estimates, but you get the idea. Analysts believe that costs will remain high during 2013 at least. It's also important to note that ever since Facebook reported Q1 (the 5/1 date below), revenue estimates have come up by $70 million on average, but earnings estimates have stayed flat.
It seems that analysts do expect Facebook to get expenses under control a bit better in 2014. Currently, analysts see Facebook growing revenues by 26.7% in 2014. However, they see growth of nearly 37% in non-GAAP earnings, which implies some margin improvement. I'm not saying at this point that I don't believe analysts, but I think it is just too early to figure it out. With a business like Facebook that is constantly evolving, I don't think it is wise to make any sort of concrete judgments on 2014 this early. Maybe later this year we can start to do that, but not when we are almost eight months from that year even starting.
Making the valuation comparison:
Facebook and fellow social media darling LinkedIn (NYSE:LNKD) currently trade at extremely high multiples, regardless of what metric you use. Whether you compare these names on price to sales or price to earnings, you are paying a premium over more established names. I've compared the valuations of these two names against Apple (NASDAQ:AAPL), Amazon (NASDAQ:AMZN), and Google (NASDAQ:GOOG) in the table below. These are based on Friday's closing price market caps as well as currently expected growth forecasts from analysts.

*P/E based on non-GAAP earnings estimates.
**Uses fiscal year numbers. Apple's fiscal year ends in September.
Ignoring Amazon's P/E ratio for a moment, as I've always said to use P/S for Amazon, you'll notice how much of a premium Facebook and LinkedIn trade for. Don't forget, LinkedIn fell by 13% on Friday after they reported earnings! But think about it this way. For Facebook to get down to the current Google price to sales ratio for 2013 (4.71), Facebook would need $14.34 billion in yearly revenues. That number represents a figure 68% higher than current estimates for 2014! That also is comparing Facebook to Google, with Google having an above average price to sales valuation to begin with. You might talk about how Facebook is growing much faster than Google, but Google's revenue growth is fairly decent right now and almost close to that of Facebook, if you include the Motorola Mobility acquisition.
I'm not arguing that Facebook should be trading at a price to sales ratio of just 3 or 4 right now, but a price to sales ratio of 10, or even 8 times next year's expected revenues? That seems a bit much for my liking, which is why you won't see me buying Facebook shares anytime soon. Facebook is basically up 1% since the January 2nd close (remember, Facebook jumped on the 1st trading day of the year), and even at that point shares were elevated. Facebook is up more than 60% since its 52-week low, but bulls will tell you that it is nearly $10 below its IPO price. The problem is that when the stock started trading, expectations were for profits to be a bit higher. Revenues are great, but eventually these names will need to produce some kind of profits. Facebook's P/E on a GAAP basis is much higher, which is why I'm not a buyer. 50 times non-GAAP earnings for this year is just too much.
A bit elevated technically:
When it comes to Facebook's trading recently, the recent pop has pushed shares up to a short-term unreasonable level. The chart below shows Facebook over the past three months with its Bollinger bands. Facebook shares have been trending lower, and when they get towards the upper end of the range, they pull back. I think that the pullback may continue for the short term, and I think that technicals are just another way of showing Facebook is a bit overheated now.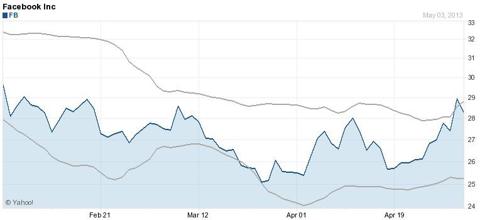 Click to enlarge
(Source: Yahoo! Finance)
Final Thoughts:
Facebook's Q1 results were not impressive. Revenues beat slightly, but earnings missed reduced expectations. Facebook's expenses are rising much quicker than its revenues right now, which is likely to pressure margins for at least the rest of this year. The valuation on Facebook is extremely high, like some others in the social media space, and I just don't see paying that much for names like this. It could take years for Facebook to get to a "reasonable" valuation. The recent pop in this name makes it a good short candidate, and if we pop even more this week, it might be a good idea to do so. Facebook doesn't look ready for a breakout to the upside here. I also think money flowing into other tech names like Microsoft (NASDAQ:MSFT) and Apple could lead to money coming out of names like Facebook. LinkedIn's fall on Friday could be the start of a pullback in this entire space.
Disclosure: I have no positions in any stocks mentioned, and no plans to initiate any positions within the next 72 hours. I wrote this article myself, and it expresses my own opinions. I am not receiving compensation for it (other than from Seeking Alpha). I have no business relationship with any company whose stock is mentioned in this article.
Additional disclosure: Investors are always reminded that before making any investment, you should do your own proper due diligence on any name directly or indirectly mentioned in this article. Investors should also consider seeking advice from a broker or financial adviser before making any investment decisions. Any material in this article should be considered general information, and not relied on as a formal investment recommendation.