The discussion involving Netflix (NASDAQ:NFLX) has certainly heated up in recent weeks after the company's first quarter earnings report. Netflix posted a strong quarter, with revenues mostly in-line on solid subscriber growth. The company was able to keep costs under control, which led to a huge beat on the bottom line, after subtracting out a one-time item. Netflix's Q2 guidance was fair, and the stock soared past $200, nearly touching $225 at one point. While the stock has come off its high a little, it closed Friday at $213.45, after beginning 2013 at just $92.59.
Today, I'm going to take another look at Netflix, but a different one this time. I'm not going to rant like many do about the sky high price to earnings valuation. I'm not going to describe how original programming will bring in new members and send this stock even higher. I'm going to look at the DVD business. Once the jewel of Netflix's business model, the unit has less importance by the day. Today, I'll examine the DVD segment, and see if a potential sale is warranted.
A brief overview:
The DVD segment has always been known as the profit monster of Netflix. In 2011, Netflix thought that it could split the DVD business off, but after tons of outrage, decided against it. The DVD business is still part of Netflix, but is completely separate from the streaming business at the moment. In fact, many investors, or even Netflix streaming customers, may not realize how the DVD segment pricing works. Here's a short clip from Netflix's recent 10-Q filing.
The price per plan for DVD-by-mail varies from $4.99 to $43.99 per month based on the number of DVDs that a member may have out at any given point. Customers electing access to high definition Blu-ray discs in addition to standard definition DVDs pay a surcharge ranging from $2 to $4 per month for our most popular plans.
Now I knew that pricing varied depending on how many discs were out, but I had no idea about a $43.99 per month plan! I'm guessing that most investors don't realize this either, and it probably isn't very popular. If Netflix had a lot of subscribers using high priced plans, DVD revenues would be a lot higher.
Current state of the DVD business:
Netflix hasn't killed off the DVD segment yet, but its relevance is getting smaller and smaller each quarter. The table below shows the DVD segment's revenues, against the company total for the quarter, and the percentage that DVD accounted for. Numbers in thousands.

Just in the past year, the DVD segment has gone from 36.76% of revenues to just 23.76% in the latest quarter. Depending on when Netflix enters their next international market, it is possible that the DVD percentage could go under 20% sometime this year and head to 15% or so by next year. It will also be interesting to see what impact Redbox Instant, the partnership between Coinstar (NASDAQ:CSTR) and Verizon (NYSE:VZ), has. I'll go into more detail on that later.
Not the profit machine it used to be:
The DVD business was always the most profitable one for Netflix, as DVD contribution margins have always been much higher than streaming margins. The chart below shows a breakdown of the DVD segment, its revenues and expenses, showing how things have changed over the past year or so. As a reminder, Netflix's contribution profit is calculated by taking a segment's revenue, and subtracting out the cost of goods sold and marketing expenses.

Yes, contribution margins did decline in Q1 of 2013 due to higher usage rates by subscribers and the USPS postage rate hike. Netflix believes that they can see contribution margins in this area, and I don't personally expect them to venture outside of the 45%-50% range anytime soon.
The important thing here is that DVD contribution profits are not what they once were. In fact, Q1 of 2013 was the first quarter in which domestic streaming contribution profits (dollars) were higher than domestic DVD contribution profits. In the year-ago quarter, domestic DVD contribution profits were 2.20 times that of domestic streaming. In this year's Q1, the ratio was down to 0.86. If current trends continue, which they are expected to do so, it is likely that later this year or early next year, domestic streaming contribution profits will be more than double that of DVD contribution profits. It's amazing how quickly this business can change in a short period of time.
Overall segment profitability:
When you hear the term contribution profit, don't think that is Netflix's bottom line. As I mentioned above, this term only takes out the cost of goods sold and marketing expenses. Netflix does have other expenses, like technology and content expenses, general and administrative expenses, interest costs, etc. It is a bit difficult when determining what a specific segment's bottom line is, because Netflix does not break down these other costs per segment. So if Netflix has $100 million in technology expenses, they don't tell us how much came from each segment.
So if we were to try and estimate a true bottom line for the DVD segment, I think the best way is to just allocate those expenses based on the percentage of revenues. So if technology expenses are $100 million, and the DVD segment accounts for 25% of revenues that quarter, we'll assign $25 million to the DVD segment. Additionally, Netflix sometimes records a gain on the sale of DVDs, which is hard to account for in overall expenses. This probably isn't how they do it, which is why I'll make an adjustment later. So the table below estimates the segment's profitability, and for simplicity, I'll use a 35% tax rate since the DVD business is only in the US, and I'll ignore the one-time loss on debt extinguishment.

So using this rough estimate, we get an estimated net income figure of $235.85 million over the past year for the DVD business. Since we know that this probably isn't the actual number, I think it would be appropriate to use a range, and we'll go 25% in each direction. That means that, rounded to the nearest million, Netflix's DVD segment has a trailing twelve month profit of $177 million to $295 million. This number is important when trying to determine a proper valuation, if you're trying to sell the business.
Determining a valuation:
When trying to determine a proper valuation for the segment, there are a number of ways you could calculate it. In this section, I'll examine some methods I've chosen to use. The table at the end of this section will summarize the results.
The first method would be price to sales. Netflix shares currently are trading for 2.76 times 2013 expected sales. Because the DVD business is seeing a decline in revenues, I'm going to assign a high P/S value of 2.75 and a low value of 2.00 for this business. I also expect the DVD business at best to do $950 million in revenues this year, and at worst to do $875 million.
The next number I'll look at is price to earnings, and I'm not going to assign some P/E in the hundreds that Netflix trades at. I'm going to use a high P/E of 20 and a low P/E of 10, because those would be reasonable ratios for companies of this size. Calculating forward earnings would be rather difficult, as I showed above how hard it is to just do trailing earnings. Thus, I'll apply the ratios of 10 and 20 to the range I found above for Netflix's trailing twelve month earnings.
The third and fourth metrics I'll use are a percentage of Netflix's market cap, and for this I'll use revenues and subscribers as a guide. Since we assume that the DVD segment will account for 15% to 20% of revenues over the next year or two, we'll assign those percentages of Netflix's current $11.98 billion market cap as the high and low. Also, the total amount of DVD subscribers (as a percentage of Netflix's overall subscriber number) over the next year or two should be somewhere in the 10% to 15% range, so we'll use that as the high and low for that category.
So the table below is a summary table of the valuation metrics I used, with the valuations in millions. After averaging all of the highs and lows for the six methods, we come up at a value of $2.5 billion. Does this seem reasonable? Well, Netflix's current market cap is $12 billion, so does it seem fair that the DVD business would be worth $2.5 billion? I think that valuation is fair, but would someone pay that? Let's examine potential buyers in the next section.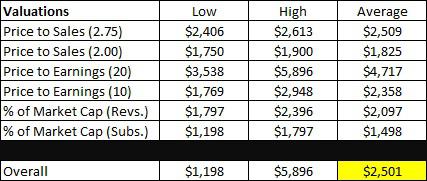 Who are potential buyers?
I'll start with the least likely in my opinion, and go from there. Over the past year or two, there have been many calling for Apple (NASDAQ:AAPL) to step in and buy Netflix. But those in favor of this deal have been calling for Apple to buy all of Netflix. They believe that Apple should be going after the more than 36 million streaming subscribers around the world. I've never been one that's said Apple should buy Netflix, although I thought it was much more possible when Netflix was trading at $55. At $213, I just don't see it possible. While Netflix would certainly boost Apple's revenues, the Netflix acquisition would lower Apple's margins even more.
But the part I put in bold above is the key here. While the DVD business is the more profitable one for Netflix, I think that Apple would shed that business right away if it did buy Netflix. Why would Apple buy a business that they essentially would be killing off by focusing on another product or service? They are already doing that with a product called the iPod. Apple might have been a potential acquirer for Netflix, but not for the DVD business.
A second potential acquirer would be Amazon (NASDAQ:AMZN), one of Netflix's main rivals in the streaming space. This would be a very interesting idea. Amazon has always been known to go for revenues, even if they aren't very profitable ones. But the interesting idea here is that if Amazon could get a better deal on shipping than Netflix does, Amazon could boost DVD margins a bit more. If Amazon could have a DVD segment with a "contribution margin" of 50%-60%, it might certainly be worth it. Yes, Amazon is working more on streaming, and it certainly wants to get into your living room. But for those that don't have internet capable TVs or devices in their living room, the DVD business would be one Amazon could use for a couple of years to generate some level of profitability. Amazon could use the DVD business to generate more cash to build out its streaming service. Also, Amazon could do a hybrid Prime program where you could get DVDs, and Amazon could ship the DVDs with your regular order, which would certainly save a little on shipping. If Amazon is looking to grab some revenues, this could certainly be a play to get them. The main question here is would Amazon really be interested in DVDs when they are so focused on streaming?
I promised that I would get back to Redbox Instant, so I'll discuss it here. Coinstar and Verizon partnered to bring this service which allows users to rent DVDs or stream online. The key here is that the four DVD credits you get per month allow you to pick up those DVDs at a Redbox kiosk. Since Coinstar has spent all that money on those machines (infrastructure), it really does not make sense that they would go after this Netflix segment. You might think that it makes the most sense by picking up the DVD segment, but I just don't see it. Coinstar would have to ditch all of those Redbox machines, and I just don't see them wanting to do that.
But while I'm on Redbox Instant, let me discuss another important item. While the service officially launched during Q1, Q2 will be the first full quarter of service. I mentioned in my post-earnings wrap that Netflix barely even mentioned Redbox in its quarterly information. It will certainly be interesting to see if Redbox Instant causes Netflix to lose some subscribers, primarily in the DVD segment. It's also interesting to note that Netflix stopped providing DVD revenue and subscriber guidance. Netflix is only providing contribution profit guidance for that segment now, as it is mainly focusing on the streaming business.
Higher growth rates, at a lower base:
Shedding the DVD business would improve Netflix's revenue growth rate, but this would certainly be at a lower revenue rate. Since the DVD business is losing subscribers each quarter, revenues are falling each quarter. The year over year declines are even larger. In Q1 of 2012, Netflix had DVD revenues of nearly $320 million. In this year's Q1, DVD revenues were a bit over $243 million.
The decline in DVD revenues is putting a bit of a ceiling on Netflix's revenue growth rate. In Q1 of 2013, Netflix reported a 17.72% rise in total revenues over the year-ago period. However, if you only look at the streaming business (domestic plus international), the growth rate was almost 42%. That's more than twice the overall total. Obviously, if you take out the DVD business, Netflix's total revenues would be a bit lower. So the question is would you rather see a lower growth rate at a higher revenue number, or a higher growth rate at a lower revenue number? It's an interesting question to ponder.
Conclusion - Should Netflix sell and why?
Anyone who thinks the DVD business is still critical to Netflix is a bit mistaken. The DVD segment in Q1 accounted for less than 24% of total revenues, down from almost 37% a year ago. As Netflix continues to focus on streaming and moves towards more international markets, the DVD segment's share of revenues will continue to decrease. Domestic streaming now counts for more contribution profits (in dollar terms) than the DVD segment. If Netflix loses enough DVD subscribers, it's not out of the question that the DVD segment could start losing them money within the next couple of years. The fact that Netflix has stopped providing DVD segment revenue and subscriber guidance tells you how much they really are focusing on the business.
So maybe it is time to part ways with the DVD segment, but should they? Well, it depends on what someone would pay for the business. Because Netflix would most likely have to pay taxes on a gain in the business, you have to look at the after-tax sum. If Netflix could get a significant amount of cash now for the DVD segment, it might be worth it. They could use that cash to pay back debt, acquire more streaming content, or expand to new international markets. It would allow them to completely enter the "new Netflix", a total focus on streaming.
If Netflix could get more cash now for the DVD segment than they think the business will generate going forward, a sale of the DVD business is definitely warranted. I don't think they would sell the business for a few hundred million. But if Netflix could get like a billion or two after taxes, it just might be the right decision. This would be a positive for Netflix because it would move them to an all-streaming business, and would give them a much needed capital boost that everyone certainly is looking for.
Disclosure: I have no positions in any stocks mentioned, and no plans to initiate any positions within the next 72 hours. I wrote this article myself, and it expresses my own opinions. I am not receiving compensation for it (other than from Seeking Alpha). I have no business relationship with any company whose stock is mentioned in this article.
Additional disclosure: Investors are always reminded that before making any investment, you should do your own proper due diligence on any name directly or indirectly mentioned in this article. Investors should also consider seeking advice from a broker or financial adviser before making any investment decisions. Any material in this article should be considered general information, and not relied on as a formal investment recommendation.