The last few weeks have not been kind to IBM. As recently as April 17, the blue-chip computer systems giant had seen its stock up by 8.6% in the year-to-date - certainly not spectacular given the almost 11% gain in the Dow (of which IBM is a component) - but very competitive vis-à-vis the return of the 8.1% on the S&P 500.
Then came its first-quarter earnings report at the close of trading on Thursday April 18: IBM beat both the top and bottom line of analysts' estimates, reporting revenues of $24.6 billion and earnings per share of $3.00. Those numbers were 5% and 5-cents shy of the consensus for revenues and earnings, respectively. That caused IBM shares to drop 8.3% on that Friday, essentially eliminating its gains for the year.
Mercifully for investors, IBM reiterated its profit forecast for $16.70 for the year.
The drop in earnings came as a result of currency effects, notably the yen. According to IBM, this caused a 7 cent per share charge against earnings so, absent the currency impact, IBM actually beat estimates by 2 cents per share. Indeed, on an operating basis, IBM actually saw its margins rise 100 basis points to 46.7% -- translating into a $100 million increase in operating income.
While IBM has returned almost half of the 8.3% sell-off, this is a good chance to see whether that makes it attractive.
A Look At The Numbers
Revenue. IBM didn't exactly do all that poorly in the first quarter. As mentioned, IBM actually saw its operating margin rise to 46.7%, bringing its net income margin to nearly 13%. By that measure, IBM is the second-most profitable company among its peer group. That's not bad considering that it happens to account for 81% of its peer group's market capitalization, meaning that it's able of scaling its profitability.
That said, IBM is expected to see a bit of a slowdown in its momentum. Its average earnings growth rate for the next five years is pegged at 10.5% -- quite a bit slower than the 13.3% growth rate of its peers.
However, that rate is higher than the 9.1% expected earnings growth rate of the S&P 500. That's important because IBM is not only a computer systems giant but also a mega-cap stock - earnings growth is harder to come by for very large companies, as the table below demonstrates:
IBM vs. Fellow "Mega-Cap" Stocks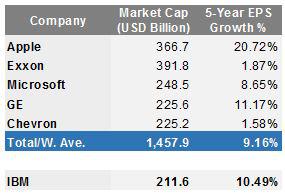 Source: Thomson-Reuters
Indeed, IBM's earnings are actually higher than the weighted average (using Market Capitalization for the weightings) earnings growth rate of the five largest corporations by market capitalization in the U.S., which not coincidentally hews closely to that of the S&P 500, implying that it is making better use of shareholder capital than three of them.
Unsurprisingly, IBM's gross margins, on a trailing five-year basis, are superior to the S&P 500's at 52.6% compared with 48.1%.
That earnings were impacted by currency translation effects should not deter investors, particularly since it could swing earnings either way. In our view, what is important is core profitability and IBM has shown that even though it has vast operations, it is adept at extracting considerable value from them, as evidenced by its higher margins.
It should also be noted that IBM has other potential areas of growth - notably flash storage and cloud services. On the latter, IBM has seen revenue rise by at least 65%. Meanwhile, it recently indicated that it was investing $1 billion on flash storage technology - one need only look at the performance of companies heavily into the flash storage space, such as Seagate (NASDAQ:STX), which has risen 13% in the year-to-date, to see the potential for IBM.
Indeed, as computing moves heavily into mobile, flash storage will become more ubiquitous and having a considerable footprint in the space could mean the difference between high double-digit growth and simply meeting expectations. Still, it is early days and this investment will probably not yield immediate dividends.
Valuation. IBM is currently trading at a forward P/E of about 10.3x earnings - a steep discount to the 14.1x forward earnings of the S&P 500 and the 62.1x forward earnings ratio of its peer group. While this may make IBM look cheap, its fellow mega-cap stocks are trading at a weighted-average P/E ratio of only 9.75x forward earnings. This seems to be the more relevant P/E ratio for IBM since, as Apple's (NASDAQ:AAPL) recent stock performance has shown, the valuation metrics of such large capitalization stocks are more closely aligned with one another than with their industry peer groups.
In that sense, IBM is not quite a value buy.
In fact, its dividend yield is on the low side: at 1.8%, it is lower than the average S&P 500 company's 2.1% yield - and certainly far more miserly than the 2.93% weighted-average dividend yield of its fellow mega-cap stocks.
Related to this, IBM is trading at a premium price-to-free cash flow ratio. While the company does have good operating income, its below-the-line costs are high and its cash ratios (current and quick) are below that of the S&P 500. We would like to see IBM generate more cash - not because it implies higher dividends but because it gives IBM more capital to invest in potentially lucrative technologies.
As it stands, IBM's capital spending has grown by an anemic 0.92% a year over its trailing five years. That's better than its peer group's negative investment rate but is only about a quarter of that of a typical S&P 500 company.
Other measures also point to IBM being on the expensive side: its price-to-book value is at 11.2x, which would make it pricey as a regular company, let alone as a blue chip or mega-cap and it is trading at 2x price-to-sales ratio. Given that the company recently missed revenue expectations, it stands to reason that it could see further price attrition on that front.
Conclusion
We like IBM and were hoping that its recent price action opened up a buying opportunity. Unfortunately, while it does have better earnings momentum than its fellow mega-cap stocks, its lack of capital investments could mean that it is not quite prepared for the future as its investment in flash storage would make it appear.
We are also skeptical regarding its current valuation: the spotlight is much harsher on mega-cap stocks such as IBM, and the fact that it recently missed market expectations puts pressure on company management to deliver a strong showing in the second quarter. That means that the stock could tread water in the near term, possibly dropping another 10 to 15% over the late spring and early summer months if there is a boarder market pullback.
Our advice, build your position slowly over the next few months and buy heavy if there is a big late spring early summer pullback.
Disclosure: I have no positions in any stocks mentioned, but may initiate a long position in IBM, STX over the next 72 hours.
Business relationship disclosure: Black Coral Research, Inc. is a team of writers who provide unique perspective to help inspire investors. This article was written Jonathan Lara, one of our Senior Analysts. We did not receive compensation for this article (other than from Seeking Alpha), and we have no business relationship with any company whose stock is mentioned in this article.
Disclaimer: Black Coral Research, Inc. is not a registered investment advisor or broker/dealer. Readers are advised that the material contained herein should be used solely for informational purposes. Investing involves risk, including the loss of principal. Readers are solely responsible for their own investment decisions.