Some time ago, online media professional Dave Haber emailed me an article from MediaPost, titled "How Can Independent Video Producers Compete In The Super-Premium Era?"
The article was written by Lewis Rothkopf, who is vice president of network development at BrightRoll, one of the pre-roll networks out there. As a side note, I really admire Brightroll's CEO Tod Sacerdoti. Unlike most of the pre-roll intermediaries who seem to be either in denial or out of touch about that the pre-roll format, Sacerdoti is realistic about the pros and cons of the format, not insulting people's intelligence about why his firm focuses on the unit.
Anyway, for some time, I was considering writing a related piece on indeed how independent video producers (such as WatchMojo.com, the company where I am the CEO) can compete in the super-premium era. It was the first time I'd seen someone else use those terms, because for some time, we've separated "premium content" (what new media producers like WatchMojo.com produce) from "super premium content" (what TV networks and film studios create).
Rothkop's three tips included:
1) Compete on quality.
2) Compete on price.
3) Compete on advertiser-friendliness.
As proud as I am about WatchMojo.com's content, I don't think that economics permit premium content quality to surpass that of super premium. It won't happen. After all, with text content, a kid in a basement can pass off for a Pulitzer-prize winning journalist. In video, that is pretty darn hard.
So while his ideas are good, I would add that you should also compete on:
4) Rights: giving partnerships the opportunity to go global and multi-platform
5) Frequency: the drawback with traditional media is that it does not really update as frequently as online consumers of media (be it listeners, viewers, readers) are grown accustom to.
I could list a few other things, but the purpose here is not to give away too much of our secret sauce.
The purpose of this article, in fact, is to look at how traditional media companies can avoid the music industry's fate by understanding how new media companies fit in their strategies and ecosystem.
Tenet 1: The Web Shrinks Traditional Media
Due to the economic meltdown and subseqent slowdown in advertising, a lot of cable companies are regretting putting their shows online for free.
It's not just the cable companies, though. From Michael Lynton, the CEO of Sony Pictures, via HuffPost:
I actually welcome the Sturm und Drang I've stirred, because it gives me an opportunity to make a larger point (one which I also made during that panel discussion, though it was not nearly as viral as the sentence above). And my point is this: the major content businesses of the world and the most talented creators of that content — music, newspapers, movies and books — have all been seriously harmed by the Internet.
Is that true? I think the Web shrinks the traditional media business (producers of super premium content) by giving an enormous opportunity for new media creators like WatchMojo.com (producers of premium content) to disrupt things.
Tenet 2: Amongst Traditional Media, With Online Video: Those Who Can, Won't. Those Who Want, Can't
I've long argued that online video can be a salvation to print media; they should at least care about online video. The problem is that print media lacks the DNA - be it in terms of asset or people - whereas TV-centric media firms have the DNA but lack the financial incentive.
Either way for traditional media, it does not look good. Those who can, won't; those who want, can't.
Tenet 3: Super Premium Content vs. Premium Content
On the traditional media video company side of things, you have companies who slant towards scripted entertainment, news and sports (CBS, ABC (NYSE:DIS), NBC (NYSE:GE) and FOX (NASDAQ:NWS)) and then the non-fiction ones, such as Discovery Communications (NASDAQ:DISCA), Liberty Media (LMDIA) (who owns the Travel Channel), Scripps (NYSE:SNI).
The advertising budgets in television are massive. As such, these companies spend what it takes to produce "super premium content".

Memo to New Media Guys: Know Your Role
I don't think new media producers have the budget or financial incentive to create super premium content. Startups who raise tons of venture capital money to do so end up making mistakes because they borrow traditional media's inefficient and wasteful ways and burn a lot of money early on, before the web video market (be it in the form of ads or subscriptions) materializes.
This is why, I think, you have seen companies like Mania TV shut down. I am not saying they were producing "super premium" content but by attacking the music category, they ended up adopting traditional media's bad habits.
At WatchMojo.com, we made a counter-intuitive decision to avoid focusing on one niche and produce content across the main verticals: Automotive, Business, Education, Fashion, Film, Food, Health, Music, Politics & Economy, Space, Sports, Technology, Travel, Video Game categories. A lot of accomplished people thought I was crazy to do so, but we are one of the few media companies (traditional of new media) that gets guaranteed, recurring licensing fees. Judging by our revenue breakdown, the bet paid off: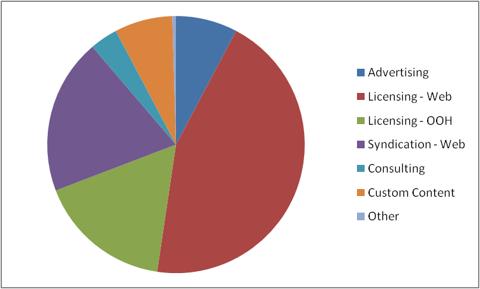 Click to enlarge
The proof is in the pudding: our content is of high enough quality to merit getting licensing fees, but in the really grand scheme of things, I am not delusional: I don't pretend that our travel content is going to trump The Travel Channel's, or that our Science videos will put the Discovery Channel on the brink of collapse, or that our cooking videos will put the kybosh on the Food Network.
Of course, that is not the point. Right now, our content beats 99.9% of the content out there, and the 0.1% that traditional media's super premium content represents is still only being tested online. I think Discovery's CEO David Zaslav is 100% right to say:
"I've spent a lot of time looking at the economics. If you take out a pen and you add it up, there's not a lot of economics there [of putting full shows online]. The business model is not that strong…we get substantial value by distributing our content on dual-revenue-stream platforms, domestically and around the world. We've been able to take the best of our content and use pieces of it through HowStuffWorks.com or on our other sites..there's no reason for us to take a fire hose and take a fantastically valuable library and make it available on the Web for free."
He's right. The web right now, (and potentially never (yes, I am saying never)), is not large enough to become bigger than TV today. However, I think that TV will shrink enough and online will grow enough for the Web to surpass everything else.
I've compiled the experts' projections and ran the numbers myself, it is highly possible that online video advertising will surpass search ads by 2018 as online ads altogether take over television advertisings by 2021.
Tenet 4: Is the Objective Not Maximizing Value?
If and when that happens, the television business will have shrank by so much and online video companies will have grown so much that the disparity in market value could very well be in the favor of new media players.
Right now, it is a given that Netflix (NASDAQ:NFLX) is worth more than Blockbuster (BBI). Netflix is worth $2.25 billion; Blockbuster all of $135 million. That's right. But ten years ago, that seemed impossible and 13 years ago, Netflix didn't even exist.
Mind you: in 2008, Blockbuster lost $375 million on revenues of $5 billion; Netflix earned $83 million on revenues of $1.3 billion. Ultimately, it's about each company's prospects.
Don't get me wrong, in 10 years, traditional media companies like Walt Disney (parent of ABC and ESPN), CBS, GE's NBC unit and News Corp.'s FOX division might make more money each year than any new media outfit, but mark my words, some of the new media outfits involved in the production and distribution of premium content (such as our own WatchMojo.com, but also the Revision3's and Next New Networks and countless others who get less coverage) will be worth more than some of those venerable traditional media brands.
I know, I sound crazy now, delusional. But you judge for yourself: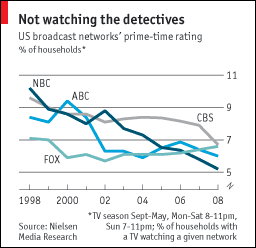 In all likelihood, there will be an enormous amount of consolidation and an outfit that amalgamates the pieces will be worth a lot. If the traditional media guys get it right, they will outright buy everything in sight now, and leave them alone for a while.
I respect the hell out of the CBS brass, but while they made a prescient bet on acquiring Wallstrip, they dropped the ball in the market meltdown of 2008 by rushing to shut it down. Again, this is not about CBS or Wallstrip per se, it is about the interaction between traditional media and new media content companies as one market shrinks rapidly and the other balloons faster than anything else.
Tenet 5: Actually, TV Can Avoid the Fate of the Music Industry
I came across this graph by Magna Insights via the GrowYourBusiness blog. If we were to extrapolate it to the video business (all filmed entertainment, be it theatrical releases, home entertainment, or television programming), you'd think that television is as doomed as music, but it need not be that way.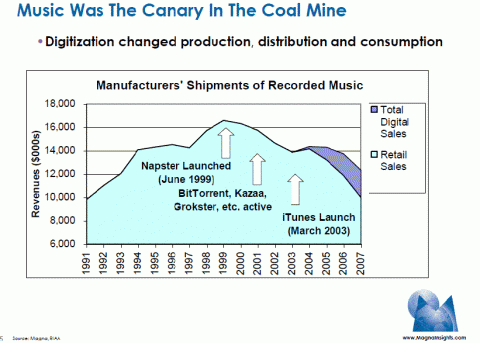 Regular readers know that I don't think anything will "kill" television outright, but this graph does suggest that online video will shrink traditional video, as was the case in music. There is a rationale to support this argument:- if the traditional media companies don't legally make their content available online, then there is the threat of piracy. Think of music labels.
If they do publish their content online, then they shrink their businesses via the threat of cannibalization. This is what happened to print companies, the more aggressive ones actually shrunk much quicker than those who weren't very aggressive (think NYTimes (NYSE:NYT), or the Chronicle).
But, I think it doesn't have to be this way.
Here's my thinking:
Music is one-dimensional in every sense of the word: it's just audio, meaning that despite what the crack-smoking analysts seem to think, advertising-supported music is dead on arrival. For music to generate revenue online, it would require subscriptions, and consumers don't want to pay. Media companies might pay record labels for the right to distribute music, but record labels want such massive fees that this becomes killer, too. So ultimately, because of music's limited scope, there is really no viable business model to support it.
This is why music is increasingly seen as promotional fodder to drive merchandising, ticket sales, etc. The artists get it, the labels are adapting to it.
Video content is different. Ad-supported economic models won't replace offline revenue streams, but they can grow to become material over time. Of course, this isn't enough to offset the losses in traditional revenue streams, I get it, but in music, the independent artists that used the Web to promote themselves did not generate any revenue for traditional record labels per se, however, in video, new artists can represent new revenue streams for traditional TV and film companies. As such, to illustrate the point, in addition to digital sales off traditional libraries (represented by the purple), there would be additional incremental revenues from new media studios (represented by the green), as I've tried to demonstrate in the make-shift graph below: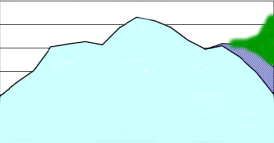 But the same way that music has become promotional for other, related activities (merchandising, ticket sales), I would argue that if traditional media companies use the promotional card right, they can actually stop the pace that traditional television is shrinking. Notice I didn't say reverse it. I don't think anything will reverse it, but with the web, they can optimize their inefficient production processes:
- You know what will be a hit and won't be a hit without having to burn tens of millions of dollars in production fees.
- You can advertise your television and theatrical releases online, which is cheaper than offline media.
- etc.
The point is, even if revenues get clipped, costs should fall too. If this is managed right, then the traditional media companies' can technically preserve their profit margins.
I think it is sheer lunacy to take a $1M production made for TV - where the economics are sound - and put that online and get nothing. But using the examples I outlined above, since audiences are increasingly online, I think there's an argument to be made for:
- the Travel Channel to partner with us on our travel content;
- for Discovery Channel to partner with us on our science content;
- for the Food Network to partner with us on our food content;
- etc.
Tenet 6: Gobble, or be Gobbled
Eventually, though, I think traditional media companies can use new media companies for much more than just promotional vehicles. In fact, they can use the CBS/Wallstrip example and outright acquire new media ventures and commercialize the new media library while protecting the core value of their offline stuff, which can be showcased online, but not in its entirety.
Does this open the door for some piracy? Sure. Wolverine was pirated but in the end, it probably helped augment buzz for the movie.
CBS is working now with EQAL, for example. Eventually it might outright buy them. It might not, of course.
Tenet 7: It's All About the Multiples
Ultimately though, as the traditional media companies become more digital, via
a) the acquisition of new media companies
b) the digitization of some of their traditional assets
c) the convergence between shrinking offline revenues and growing digital revenues
their price-to-sales and price-to-earnings multiples will grow… meaning that the companies can remain very valuable, avoiding Blockbuster's fate.
Tenet 8: Print Shall Strike Back
Of course, because print media companies lack the DNA to dive fully into video, and because online video is purely incremental, I suspect a lot of the print companies (both newspapers and magazine ones) will put the new media video companies in play on the M&A front.
It is possible that the current wave of managers in print still likes to stay within their comfort zone (behind a typewriter/computer) and not behind a camera, but the economic argument over time will be too great to overlook. To clarify on this point, it is not that I suggest that in 2009, online video revenue can make up for print loss of revenue. Rather, I suggest that print revenue will do dry up in the next decade and online video will so grow that these two will converge, and unlike for TV companies, this revenue will be incremental.
Tenet 9: The Reality Remains the Same, Though
But despite all of this, the reality remains the same: old media is fundamentally inefficient in today's digital and connected world. Perhaps the carnage of the past 6 months has forced traditional media companies to cut back, but many have not. The NYTimes has a staggeringly large newsroom, its relevance and survival is at risk by leaner new media outfits.
Tenet 10: History Repeats Itself
A decade ago, a lot of savvy media folks didn't quite recognize the full extent of online media's risk to print. Today, the writing is on the wall.
Ultimately, if television wants to avoid the fate of music labels, then maybe it can dive in to the history of newspapers.