In the last quarter of 2012, Buffett (and/or his two new lieutenants) added 4 new positions to the Berkshire Hathaway portfolio. Unlike most other institutional investors of interest, Buffett's top 10 positions really never change from quarter to quarter so most of the interesting activity is in the much smaller positions in the portfolio. While we'd normally focus on the larger "conviction" holdings for a filer of interest, Berkshire Hathaway is a notable exception to that rule.
Kraft Foods Group, Inc. (KRFT) and Mondelez (NASDAQ:MDLZ) both resulted from the spin-off of Kraft Foods (KFT). In October, KFT was re-branded as MDLZ and shareholders of MDLZ (who were previously shareholders of KFT) received 1 new share of KRFT for every 3 shares of MDLZ. Archer Daniels Midland (NYSE:ADM) was first mentioned by Buffett in a Bloomberg interview in 2011 as a possible company of interest for Berkshire and Verisign (NASDAQ:VRSN) is the 4th new name to find its way into Berkshire's portfolio. The next Berkshire 13F will reveal some very interesting information about these latest additions to the BRKB portfolio as well as which of these stocks represents the best opportunity for investors to invest alongside Buffett.
Berkshire Hathaway's Portfolio is shown below: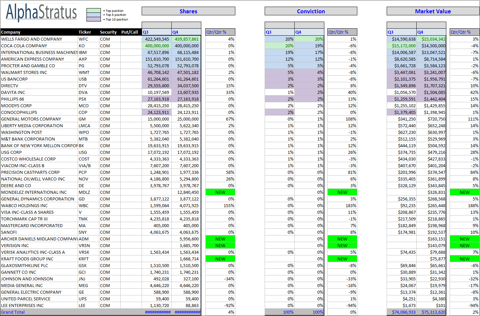 Modelez contains the Kraft brands focused on the candy & gum market including: Chips Ahoy, Oreo and Trident. Scout Capital (another notable value-focused hedge fund) was a top shareholder in this stock as of Q4 as well (with more shares than Berkshire Hathaway). The shares have risen steadily since the beginning of the year and currently sport a dividend yield of about 1.6% (although it was closer to 2.6% at the beginning of this year) and is trading at a forward P/E of about 18. Analysts cite the split from Kraft as a positive catalyst to unlock value in the direct-sale-delievery channel (specifically for Nabisco) since they aren't forced to cross-sell with groceries anymore. The bottom line is that there are compelling reasons to think management will continue to guide this company to higher earnings for the forseable future and this appears to be (or potentially be) a vote of confidence from Berkshire Hathaway.More recently, Bill Ackman of Pershing Sq. (who was a large holder of KFT previously) disclosed a $152M position in MDLZ in an amended 13F filing.
This will be an interesting position to note in latest Berkshire 13F: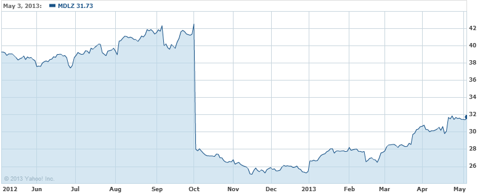 Verisign is a tech company that provides "network infrastructure services". Seeing as Buffett, himself, is famously averse to technology companies, this is likely the addition of one of his two newest managers, Todd Combs (former PM of Castle Point Capital Management) and Ted Weschler (former managing partner of hedge fund Peninsula Capital Advisors and the guy who paid over $5M to have lunch with Buffett). As Buffett noted in a 2011 letter to shareholders:
When our quarterly filings report relatively small holdings, these are not likely to be buys I made (though the media often overlook that point) but rather holdings denoting purchases by Todd or Ted.
A tech company that only makes up less than 20bps of Berkshire's total reported long positions is likely a purchase by Tod or Ted. Furthermore, it looks like they had an opportunity to add it at a bargain-basement price as the stock sold off significantly in Q4. This has been (and continues to be) a popular stock with the hedge fund crowd including: Lone Pine, Citadel, Hoplite, Blue Ridge, Coatue, Jana, Scout, Criterion, AQR and Wellington (just in the top 25 holders). VRSN improved its EPS by over 26% yoy which continues an impressive trend of positive EPS growth over the last 2 years. Net Income growth continues to beat both the S&P and the Internet Software & Services Index and revenue growth has increased 30% yoy. Finally, the company sports a whopping 36% Net Profit margin (significantly beating the industry average).
With such a strong performance in Q1, it will be interesting to see what Tod & Ted decided to do with this name when this quarter's filings are reported: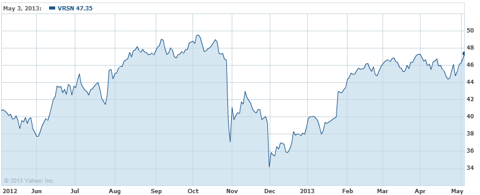 Archer-Daniels Midland Company is an agricultural company that manufactures (among other things) ethanol, biodiesel, vegetable oil and other food and feedstuffs. This is a company that Buffett, himself, has expressed interest in. Buffett started a position in Q4 by purchasing about $163M (less than a 1% position) that has since grown significantly. The stock currently yields about 2.2% and announced a dividend increase of 8.7% as well as strong EPS of $0.77. This is another name that will be interesting to observe in the Berkshire portfolio over time: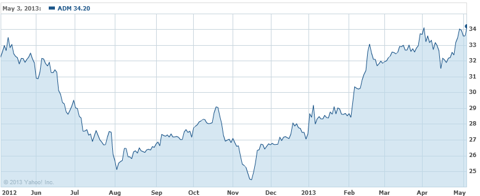 Given the nature of Berkshire's business these days (let alone the sheer size of the investment portfolio), many of the best insights come from taking a close look at the smaller, recently added positions - especially in the quarters immediately after being added to the portfolio. Buffett's 13F for Q1 2013 will be available shortly and these are the stocks that will be most interesting to us.
Disclosure: I have no positions in any stocks mentioned, and no plans to initiate any positions within the next 72 hours. I wrote this article myself, and it expresses my own opinions. I am not receiving compensation for it (other than from Seeking Alpha). I have no business relationship with any company whose stock is mentioned in this article.