SolarWinds, Inc. (NYSE:SWI) became just the 5th domestic IPO to be launched on the NYSE this year as the company sold 9 million shares raising more than $104 million. The offering was well accepted by the street with shares closing their first day of trading up 10% from the $12.50 offering price. After taking a week to consolidate gains, investors have gotten a bit more aggressive and Friday the stock closed at $15.00 as US indices closed in on their 2009 highs.
SolarWinds actually has nothing to do with the recently hot solar energy sector but is instead a network management company offering solutions to a wide assortment of business clients. The company boasts of more than 80,000 customers worldwide and claims that its software is employed by more than 1 million network engineers within that client base. Management must be doing something right as the company has seen their earnings grow sharply over the past three years. According to the IPO prospectus, SolarWinds grew earnings from just $9.6 million in 2006 to $22.3 million in 2008. The first quarter of 2009 also saw earnings growth which is impressive given how ugly the economic environment was during the three months ending March 31.
The IPO was underwritten by JPMorgan Chase & Co. (NYSE:JPM), Goldman Sachs Group, Inc. (NYSE:GS), and Morgan Stanley (NYSE:MS). All three of these underwriters have a history of turning out quality deals which should give investors a bit more confidence in the long-term success of this investment. The deal wasn't too bad for the underwriters either who received $0.875 for every share they sold (a grand total of more than $10.6 million). For underwriting firms and IPO investors alike, it is good to see a bit more activity as issues are brought to market. On a related note, Merrill Lynch / Bank of America Corporation (NYSE:BAC) brought OpenTable Inc (NASDAQ:OPEN) to market last week ans the IPO has also met with significant buying interest.
SolarWinds has stated that it will use the proceeds from the IPO to repay $50 million in debt, to pay primary shareholders $20 million, and use the rest of the proceeds for general purposes including the potential to acquire other companies. While I am a bit disappointed to see proceeds paying existing shareholders (these are the private investors present before the IPO - not the buyers of this deal), the payments toward debt should result in a better capitalized company.
Looking at earnings per share (the company reported EPS of $0.18 in 2008) the stock should actually be considered very expensive. While no analysts have issued formal estimates for upcoming years, it is probably not unreasonable to expect this strong small cap company to grow earnings by 50 to 80% annually over the next few years. Aggressive growth rates like this can attract momentum investors who care little about the fundamental value of a company and much more about the enticing growth rate. For this reason I think SWI could be an excellent trading vehicle as there are few new investment ideas showing this kind of exponential growth.
As a long-term investment, I have trouble rationalizing a purchase of SWI. The stock is likely to make a strong run this summer due to its "hot IPO" status, but will likely then settle back to a more reasonable fundamental valuation. Timing is everything in this type of market and with new issues specifically. For aggressive traders I would suggest taking a small speculative long position with the potential to see some excessive gains in a very short time. Once this stock has made a summer run, however, all bets are off. Much like solar companies saw huge drops in their market cap over the last 12 months, this network management IPO could eventually trade back to the IPO level or below. SolarWinds should be an excellent trading vehicle for today but as an investment it is a very difficult call.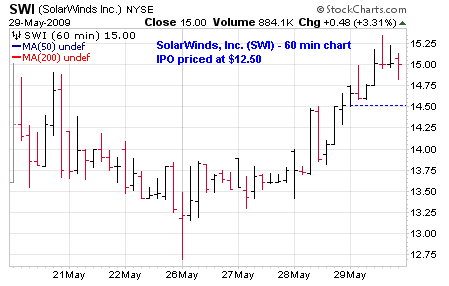 Disclosure: Author does not have a position in SWI.