Small-cap stocks offer safe and high yielding returns, such as Inter Parfums (NASDAQ:IPAR), where investors associate the stock with speculation and risk investing. But the prices are cheaper than many of the high-flying companies out there. Similarly, mid-cap stocks have the earnings capacity to grow much rapidly just like in the case of Iconix Brand Group (NASDAQ:ICON).
There is still much upside potential left and both Iconix Brand Group and Inter Parfums offer investors bargain-basement prices. We suggest buying the stocks of these companies while still cheap.

Click to enlarge
Source: Yahoo Finance
Inter Parfums innovates, manufactures and distributes high quality perfumes for over 19 brands. From its website, big names include Burberry, Lanvin, Jimmy Choo, Montblanc, S.T. Dupont, and Banana Republic.
Revenues. Inter Parfums Inc. reported $654.12 million in revenues in its latest earnings report. This is 95.7% lower than that of the Consumer Goods sector and 95.45% lower than that of total industry revenues. The revenue for all stocks is 91.91% higher than the firm.
Revenue Guidance. According to Jean Madar, Chairman and CEO, "Growth is from the continued strong sell-through of legacy fragrances for Inter Parfums' largest brands, including Lanvin, Jimmy

Choo an

d Montblanc. This year will also be one of IPAR's most ambitious for new product launchings, with new women's fragrance lines planned for Jimmy Choo, Lanvin, and Van Cleef & Arpels. Fall season initiatives are under development for the Boucheron, Balmain, Paul Smith, Repetto, Anna Sui and bebe brands."
Forex Risk. The strength of the U.S. dollar significantly impacted IPAR's sales and gross margins. The average U.S. dollar/euro exchange rate for the first three months of 2012 was 1.30 while the entire 12 months was 1.28. An estimated 40% of European-based net sales are denominated in dollars, while corresponding costs were incurred in Euro. Analysts expected an average $199.4 million in revenues, according to FactSet Research.
Non-Recurring Charge. Profitability was also affected by a $1.8 million goodwill impairment charge related to Nickel skin care business in 2012 versus 2011's goodwill impairment charge of $0.8 million.
Gross Margins. Gross margins were flat resulting from the weaker euro which was offset by sales of certain slow moving products sold at a discount. IPAR currently has a gross profit margin of 20.05%. This indicates that the company executes its competitive strategies well and has control over its expenditures. This is very large compared to the Consumer Goods sector's 5,176.32%, and 1,773.83% higher than that of the industry gross profit margin. The gross profit margin for all stocks is 3,032.81% lower than the company.
Operating Margins. IPAR has an operating margin of 12.44%, which is 3,987.5% lower than the Consumer Goods sector and 251.89% lower than the industry operating margin. Operating margin for all stocks is 468.05% lower than IPAR's. Operating expenses as a percentage of net sales decreased. This is primarily due to reduced promotional and advertising spending as compared to 2011 where there were several major new product launches including the largest product launch in history for Burberry Body.
Liquidity. IPAR began 2013 with cash and short-term investments of $250 million. Cash per Share is 10.05X. This is 25.47% higher than that of the Consumer Goods sector.
Price-to-Book Valuation. The price-to-book ratio of IPAR is roughly 2.13X. This is 82.81% lower than that of the Consumer Goods sector and 88.09% lower than that of industry price-to-book. The price-to-book for all stocks is 63.65% higher than IPAR's.
Iconix Brand Group is a retailer that specializes in licensing iconic brands, usually providing its licensees with marketing expertise and trend direction. Each licensee pays ICON contractually bound royalties based on the licensee's sales.
Brand Portfolio. ICON owns a diversified portfolio primarily made up of fashion brands that fall into a wide range of retail distribution channels from luxury to mass market. The company has an increasingly diversified portfolio of lifestyle brands, which continues to grow both organically and through acquisitions, and control of a strong and broad network of over 200 licensing partners.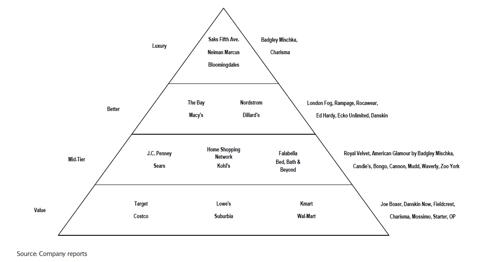 Click to enlarge
Revenue Base. The company has a solid revenue base secured by royalty payments and diverse portfolios. Licensing agreements with both retailers and wholesalers allow for further diversification of risk by the company. Direct-to-retail brands currently account for 50% of the company's total revenue, compared to just 25% in 2008.
Revenue Guidance. Barclays estimates 60% of the company's 2013 revenue guidance of $425 to $435 million is guaranteed by royalty payments.
Price-to-Book Valuation. ICON has a price-to-book ratio of 1.38X. This is 88.86% lower than that of the Consumer Goods sector, and 64.52% lower than that of industry price-to-book. The price-to-book for all stocks is 76.45% higher than the firm.
ICON Price-to-Book vs. Industry & All Equity P/B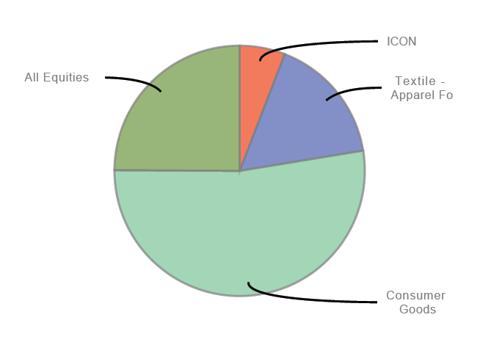 Click to enlarge
Source: Macroaxis
52-Week Highs. It has a one-year high of $26.31 over the past 52-week trading period.
Disclosure: I have no positions in any stocks mentioned, but may initiate a long position in ICON, IPAR over the next 72 hours.
Business relationship disclosure: Black Coral Research, Inc. is a team of writers who provide unique perspective to help inspire investors. This article was written Hans Centena, one of our Senior Analysts. We did not receive compensation for this article (other than from Seeking Alpha), and we have no business relationship with any company whose stock is mentioned in this article.
Additional disclosure: Black Coral Research, Inc. is not a registered investment advisor or broker/dealer. Readers are advised that the material contained herein should be used solely for informational purposes. Investing involves risk, including the loss of principal. Readers are solely responsible for their own investment decisions.