AudioCodes (NASDAQ:AUDC) didn't disappoint long-term holders and recent buyers of the shares when it reported its Q1 2013 earnings report last week. The company is poised to deliver exciting results and exciting new partnerships in the years to come.
The company reported revenue of $32.3 million, earnings per share (EPS) of $0.02 and positive cash flow of $2.7 million. In addition, the company reported that gross margins increased to 59.3% up from 57.5% last quarter. Overall, the company met expectations in what is a seasonally slow quarter for telecom.
Here are more specifics from the Q1 conference call:
· Core networking business represented 83% of the quarterly revenues.
· Legacy business (Technology group) represented 17% of the quarterly revenues.
· The company has 10 large Microsoft (NASDAQ:MSFT) Lync deals in the pipeline. This is the key theme for the shares of AudioCodes going into the 2nd half of 2013 as Microsoft launches Lync/Skype products this June 2013.
· The company is more comfortable with its legacy business at current levels coupled with the growth of its E-SBC products and Lync sales.
· The company believes Google's (NASDAQ:GOOG) WebRTC will provide a natural growth driver to AudioCodes as the quality of service will become key when calls are made browser to browser. Enterprises will seek the expertise and products of AudioCodes.
· The CEO is calling for "hockey stick" growth in 9-12 months time frame based on the increased pipeline over the past 30 days. In addition, the follow thru of Microsoft integrating Skype and Lync should bolster voice sales in late Q2 and beyond.
· Acme Packet being acquired by Oracle (NASDAQ:ORCL) has definitely opened up the door for AudioCodes at key accounts that may have been closed prior to the takeover. This could be a big revenue driver for the shares in the current quarter and beyond.
· The company reiterated its $135 million in guidance and EPS of $0.12.
Catalysts:
· The CEO stated on the call that he plans on making two key announcements in the coming months in the SBC market. It's important to note that this is where Acme Packet made its living and what Wall Street fell in love with. This could be a driver of the shares as institutional investors finally wake up to the next takeover candidate in the space.
· Carriers can now be open season to AudioCodes as MailVision brings Vonage (NYSE:VG), Telefonica (NYSE:VIV) and a few other large service providers to the table. I wouldn't rule out SBCs being cross sold into the carrier space by AudioCodes.
· Microsoft announcing details of the Skype/Lync launch in June can finally wake up Oppenheimer analyst to convince institutional investors to buy the shares.
Chart: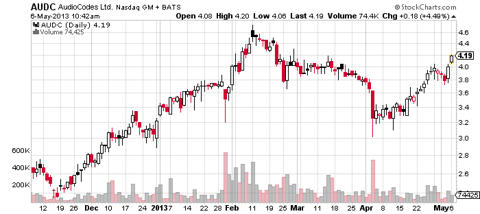 As we can see on the daily chart, AudioCodes made a base at $3.20 and run up to $4.00 where it saw a very small pullback to $3.80 and today gapped above resistance at $4.00 on higher volume. The uptrend move is on and we should see it move higher to $5.75 short term.
Conclusion:
AudioCodes conducted its first productive call in over a year. Actually, the company began its productive 10% stock buyback over a year ago at the $4 price tag it trades at today. I believe today the company is set to make those initial purchases look real smart and profitable as I have a short-term price target of $5.75 and a longer-term price of $8 - $10. The growth drivers are in place to make AudioCodes a leader in your portfolio.
Disclosure: I am long AUDC. I wrote this article myself, and it expresses my own opinions. I am not receiving compensation for it. I have no business relationship with any company whose stock is mentioned in this article.