The Mexican stock market has been an excellent performer over the last five years, surpassing many other developing nation markets as well as the S&P 500.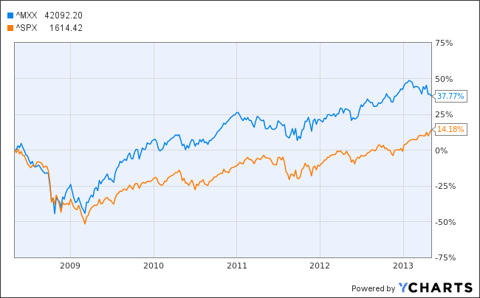 Although we are bullish overall on the Mexican market over the long-term, it has been breaking down since the beginning of this year. It's nice to have a hedge that will cover any further decline.
Luckily, the Mexico Fund (NYSE:MXF), a closed-end fund, provides a perfect hedging vehicle. For most of its existence MXF has traded at a chronic discount of nearly 10% to its Net Asset Value (NAV). That's fairly typical for a developing country CEF, because the discount has to make up for the substantial expense fee (1.48%) as well as the poor liquidity. In the last six months, MXF has switched from a big discount to a huge premium of nearly 13%.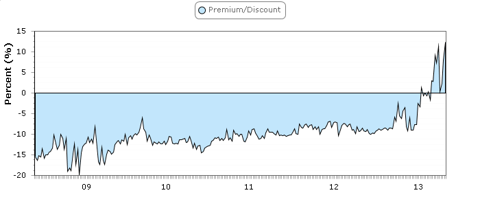 This premium is completely irrational. The other Mexico CEF, the Mexico Equity and Income Fund (MXE), continues to trade at a discount.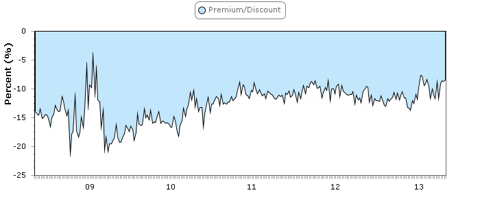 MXF doesn't contain anything special. In fact its holdings almost perfectly overlap the Mexico ETF (NYSEARCA:EWW). Below are some of the top holdings of the two funds.
| Company | MXF | EWW |
| --- | --- | --- |
| America Movil | 10.18 | 17.42% |
| Fomento Economico Mexicano | 7.75% | 8.76% |
| Wal-Mart De Mexico | 6.08% | 6.0% |
| Cemex | 6.07% | 5.0% |
| Alfa | 5.45% | 3.36% |
| Grupo Financiero Banorte | 4.53% | 4.77% |
In an nutshell the two funds are practically identical, except that you get to pay an extra 1% in expenses each year for MXF.
So why would anyone pay a huge premium for MXF? The answer: yield-chasing. MXF pays a "managed" distribution of 8.49%. Of course the portfolio companies don't yield anywhere near that much. So the payout is really just capital gains re-packaged into distributions.
The Trade
CEF pricing anomalies can persist for a long time. But then, they can evaporate overnight. All it takes is a catalyst. The Aberdeen Chile Fund (NYSEMKT:CH) closed-end fund is perfect case-study. CH, like MXF, traded at a big discount for years, until it suddenly became popular in 2012, shooting up to a massive premium. In April 2012, I wrote this article. You can see the effect of the article on the premium below.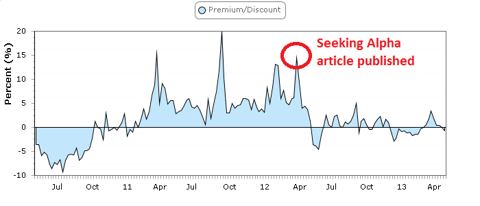 A year later, CH has still not recovered its big premium. Eventually, we can expect something similar to happen with MXF. That's why we like it as a Mexico hedge. However, if much the Mexican market goes down, we can expect MXF to go down a lot more.
Disclosure: I am short MXF. I wrote this article myself, and it expresses my own opinions. I am not receiving compensation for it (other than from Seeking Alpha). I have no business relationship with any company whose stock is mentioned in this article.