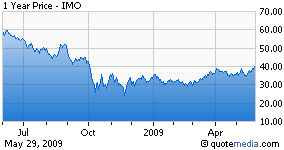 Hold-rated Imperial Oil (NYSEMKT:IMO) offers unlevered appreciation potential of 32% to a McDep Ratio of 1.0 and levered appreciation potential of 35% to Net Present Value (NPV) of US$48 a share. During the first quarter, according to results released today, IMO generated cash from oil and gas production of about US$12 a barrel of oil equivalent as the difference between price of about US$35 and cash operating costs of about US$23. Unlevered cash flow (Ebitda) was less than expectations from three months ago in oil production and more in oil refining and chemicals.
We project increases in Ebitda from oil production in the next few quarters. Following the company's disclosure of a 50% increase in proven reserves last year, we have reclassified about $10 billion of present value for the Kearl project to an expanded oil sands mining category combining Syncrude and Kearl. When practically all other major expansion projects in oil sands mining have shut down for a combination of current oil price and financing restraints, Imperial is proceeding with the design and construction of Kearl. Pointing to expected oil price recovery, futures prices for the next six years averaged US$66 a barrel recently.
Originally published on April 30, 2009.