In the last two months the Cable has appreciated 4.6% to lift prices to 3 1/2 month highs but prices are finding resistance at the 50% Fibonacci level just under 1.5600 in June futures. To put things into perspective this has not been a one way trade as prior to the latest appreciation the Pound got creamed, down nearly 9% in just over two months before bottoming out March 12th.
Wade into a bearish trade willing to weather the trade up to the 61.8% Fibonacci level at 1.5755 if necessary. .. add to the position when confirmed futures are moving south. This would be delivered on a close under 1.5400 on this contract.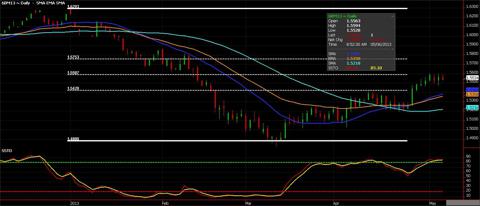 Click to enlarge
The BoE meets on Thursday but is expected to keep rates at current levels at 0.50%. They are not the only Central Bank meeting this week as the BoC and the RBA also meet so we may experience some volatility this week. Because of this I would advise scaling into the trade or utilizing the sale of put options 1:1 to cushion your futures positions.
My initial target is the 20 day MA (dark blue line) though I see an intermediate objective at the 50 day MA (light blue line) in the coming weeks. If fortunate enough to see futures roll over from here once futures settle under 1.5200 trail stops and try to capitalize on a move back to the March lows just under 1.4900.
Risk Disclaimer: The opinions contained herein are for general information only and not tailored to any specific investor's needs or investment goals. Any opinions expressed in this article are as of the date indicated. Trading futures, options, and Forex involves substantial risk of loss and is not suitable for all investors. Past performance is not necessarily indicative of future results.
Disclosure: I have no positions in any stocks mentioned, and no plans to initiate any positions within the next 72 hours. I wrote this article myself, and it expresses my own opinions. I am not receiving compensation for it. I have no business relationship with any company whose stock is mentioned in this article.