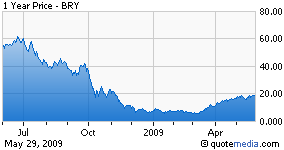 Hold-rated Berry Petroleum (BRY) offers unlevered appreciation potential of 60% to a McDep Ratio of 1.0 and levered appreciation potential of 136% to Net Present Value (NPV) of $40 a share. During the first quarter, according to results released on April 30, Berry generated unlevered cash flow (Ebitda) from oil and gas production of about $9 a barrel as the difference between price of about $29 and cash operating costs of about $20. Hedging gains added about $18 a barrel, which made it possible for Berry to carry its high debt load.
The quarter just ended may have been a low point as we project Ebitda gains in the quarters ahead. While our present value estimate remains reasonable for a long-term oil price of $75 a barrel, the implied unlevered multiple (PV/Ebitda) looks high because of low Ebitda for 2009. Pointing to expected oil price recovery, futures prices for the next six years averaged US$66 a barrel recently.
Originally published on May 1, 2009.