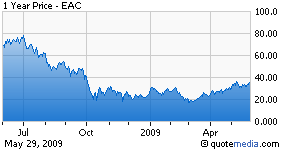 The stock of buy-recommended Encore Acquisition (NASDAQ:EAC) is trading above its 200-day average again for the first time in more than nine months. While stock price is the catalyst for us to restore our buy recommendation, a low McDep Ratio provides the fundamental rationale. By our analysis, EAC stock offers unlevered appreciation potential of 17% to a McDep Ratio of 1.0 and levered appreciation potential of 27% to Net Present Value (NPV) of $44 a share.
Among other stocks in this weekly analysis, the U.S. Royalty Trusts and the Canadian Income Trusts offer some of the lowest McDep Ratios while the stocks remain out of favor with stock prices below the 200-day average. Income stocks sometimes have their own cycle. Contrarian investors may take advantage of the delay as ultimately income stocks respond to the same fundamental factors that are improving for the independent producers.
Originally published on May 8, 2009.