On April 30, 2009, Dolby Laboratories (NYSE:DLB) declared financial results for the second quarter 2009 reporting an EPS of $0.60 (Call Transcript). Not surprisingly, the results were ahead of street expectations of $0.46. Further, Dolby tightened the full year earnings outlook and now expects to earn between $1.76 and $1.91 a share. Previously, it had forecast an EPS in the range of $1.66 to $1.91. At close, the stock was trading at approximately $41 a share.
In the past month, despite the absence of any major development, the stock has lost more than 10% of its value and currently trades just above $36. I believe that this offers an opportunity to accumulate shares of a 'best of the breed' sound technologies company.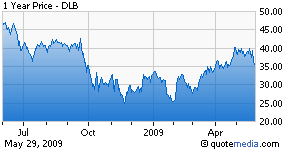 Dolby has an impeccable balance sheet with a debt to equity ratio of less than 0.01. It finished the second quarter with approximately $810 million in cash and other marketable securities. Dolby has historically maintained strong financials and boasts an industry leading gross margin of 88.5%. Key financial information for Dolby is shown below:
Market Cap = $4.1 Billion
Sales = $701.8 Million
EPS = $2.11
Net Profit Margin = 34.8%
Debt to Equity ratio = 0.01
Return on Equity = 22.6%
Current Ratio = 4.90
Dolby has several avenues for growth. During the past 5-years, Dolby grew its earnings at an annual rate of approximately 37%. Analysts expect a growth rate of 17% for the next 5 years. This growth is conservative in my opinion.
I anticipate revenue growth coming primarily from the European and Asian markets. At the end of last year, about 20% of the total European television shipments contained Dolby technology. The company projects to increase this number to about 33% by the end of the year. Dolby is currently in negotiations with several countries in Europe to adopt technologies from Dolby as standards. It is also looking into expanding in Asia which should support a higher growth rate.
Dolby is also making huge strides in mobile business with Dolby Mobile being used by carriers such as Vodafone (NASDAQ:VOD) and Orange to deliver audio for multimedia files. Dolby is in the process of expanding in this area by negotiating deals with other carriers, handsets and mobile service providers.
Valuation:

Current and Projected Earnings
TTM EPS = $2.11
TTM P/E = 17.1
2009 EPS estimate - average = $1.89
2010 EPS estimate - average = $1.90
Relative Valuation
Fair value calculation was performed using relative valuation. The estimated fair value using various methods is presented in the table that follows. It should be noted that the data from the last four financial years was taken in calculating the averages shown in the table.

Valuation
Dolby

Existing

Average

Fair Value

P/E

17.11

26.27

$49

P/S

5.81

6.35

$39

P/FCF

15.27

23.53

$55

(P/E) / (P/E – S&P 500)

1.00

1.25

$41

The Call:
I am initiating coverage of Dolby Laboratories with a BUY rating and a 12-month price target of $44. At these levels DLB would be at a P/E of 23 modestly below its historic multiples.
Disclosure: Long DLB